Pareve Sweet Noodle Kugel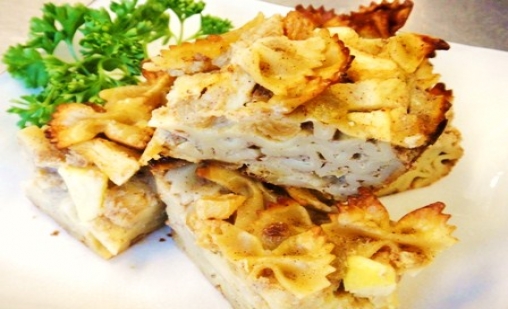 Over the 10 years that the bakery was open, our kugel selection was intentionally pareve. It wasn't only because of the dairy with meat meals issue. We kept in mind the large Chabad community who is strict about cholov Israel, extra kosher milk products. Pareve kugels are just easier to retail in this demographic.
During the recent Kugel Throwdown, I observe that Orthodox entrants are more likely to make pareve kugels while Conservative and Reform Jews create dairy entries. Orthodox Jews often feel compelled to celebrate Shabbat and holidays with meat. There are many vegetarian Conservative and Reform Jews for whom dairy is the new meat. Other than this observation, I draw no other conclusions except it is hard to win a kugel throwdown with a pareve kugel!
That said, my sweet noodle kugel has sold thousands of units over the years. I generally use applesauce but for this photo op I also add diced Granny Smiths and golden raisins. Cinnamon is a must. Medium wide egg noodles are the best choice but I don't have any on hand. So, I use bowties to see what will happen. The sun doesn't rise in the West but for overall uniformity, or perhaps conformity, flat egg noodles are better. When you want a sweet noodle kugel and brisket, this is a great recipe.
Kosher Status:
Parve
Number of servings:
9" x 12" pan, 16 - 20 servings
Main Ingredient(s):
Pasta, Eggs , Applesauce
Preparation Time:
00:30
Cooking Time:
00:50
Skill Level:
1 - Easy

(1 Easy - 5 Hard)

Estimated POINT value:
Average Rating:
2.5/5


Ingredients:


1 pound medium wide egg noodles

1/4 cup canola oil

8 eggs

1 cup sugar

2 cups applesauce

4 teaspoon salt

4 teaspoons cinnamon

1/2 cup golden raisins (optional)

1 Granny Smith apple, peeled and diced small (optional)


Steps:


Put a pot of water on to boil to cook the pasta as per the manufacturer's instructions. Pasta should be just done. Rinse in cold water and drain. Set aside.

Preheat the oven to 350'.

Mix eggs, oil, sugar, applesauce, cinnamon and salt together in a large bowl.
| | |
| --- | --- |
| | Add the apples and raisins. Mix well to blend. |
Add the cooked pasta to the egg mixture. Toss well to coat. Grease a 9" x 13" baking dish well. Add the kugel mixture to the pan. Spray a piece of foil with oil and cover the kugel loosely.

Bake for 45 minutes. Remove the foil and bake until the kugel is set and is lightly browned, about another 10 minutes.

Remove from the oven and set aside for a few minutes. Cut and serve warm or at room temperature.

And that is how you make a Kosher Pareve Sweet Noodle Kugel!


Recently viewed recipes:



Pareve Sweet Noodle Kugel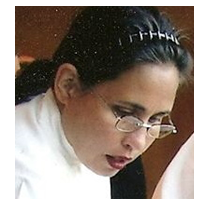 About Leah
Hi! Thank you for stopping by to watch me, Leah, cook kosher. I've been the owner operator of my boutique catering firm in Seattle, Leah's Catering, for the past 14 years.
Read more...
Leah's Blog

Aviva Makes Aliyah and The Sandwich Generation

Happy Chinese New Year! Happy Super Bowl! Go Hawks!

Tradition! Fun with the Seattle International Film Festival

Where Have I Been in My Life???

Making Kosher Salads

Blog Categories
Leah's Kosher Pantry

View what is in the pantry
Recipes

Appetizers
(44)

Appetizers - Dips and Sauces
(11)

Appetizers - Starter Courses
(10)

Beverages - Cold
(1)

Breads - Yeast
(10)

Breakfast Pastries
(7)

Dessert - Frostings
(6)

Desserts - Cakes
(13)

Desserts - Cookies and Brownies
(29)

Desserts - Dairy
(42)

Desserts - Pareve
(71)

Desserts - Pies and Tarts
(14)

Desserts - Tea Breads, Quick Breads
(8)

Desserts and Baked Goods - Gluten Free
(18)

Main Dish - Beef
(7)

Main Dish - Dairy
(3)

Main Dish - Eggs and Fritattas
(6)

Main Dish - Fish
(11)

Main Dish - Poultry
(14)

Main Dish - Vegetarian and Vegan
(9)

Salads - Dressing
(8)

Salads - Fruit
(4)

Salads - Grains & Legumes
(7)

Salads - Green
(1)

Salads - Pasta and Rice
(10)

Salads - Potatoes and Eggs
(5)

Salads - Vegetable
(15)

Side Dishes - Kugels and Souffles
(7)

Side Dishes - Potatoes and Vegetables
(17)

Side Dishes - Rice, Grains and Pasta
(7)

Soups, Stews and Cholent
(9)
Special Considerations

Dairy-Free Recipes
(230)

Gluten-Free Recipes
(134)

High Fiber Recipes
(18)

Low-fat Recipes
(11)

Nut-Free Desserts Recipes
(48)

Vegan Recipes
(101)

Vegetarian Recipes
(207)
Holidays

Rosh Hashana Recipes
(23)

Yom Kippur Recipes
(3)

Sukkot Recipes
(26)

Simchat Torah Recipes
(9)

Chanukah Recipes
(20)

Tu B'shevat Recipes
(16)

Purim Recipes
(9)

Passover Recipes
(44)

Lag Ba'omer Recipes
(6)

Shavuot Recipes
(24)

Shabbat Recipes
(34)
Cookbook Library

New Releases

Jewish Classics

Other Favorites
Kitchen Gadgets

Essentials

Small Appliances
Chef Of The Week

Barbara Williamson
Congratulations to our chef of the week.