Easy Vanilla Buttercream Frosting (Dairy or Pareve)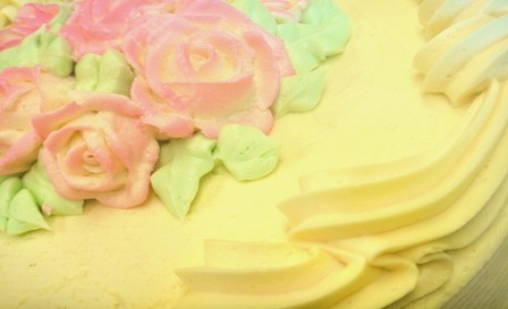 There is a large group of customers from the old bakery who love this basic, easy to make frosting. Back then, needing a pareve frosting for Shabbat cakes and wedding cakes, we make this by the giant mixing bowl full. It is the same recipe I made as a kid; put everything in a bowl and beat. I discover that the longer it is beaten, the lighter and fluffier it is. The stick variety of butter or margarine should be used as the whipped stuff is too soft. Adding other flavors like lemon or mint and tinting with food colors makes this an all purpose decorating frosting.
I'm reflecting on how AFTER I opened the basement bakery I received an order for a decorated cake. It caught me off guard as I had never decorated a cake in my life. Growing up, we simply slapped frosting on the cake and made swirls with a butter knife. I need help!
I discover "the Cake Lady", Griel, at The Home Cake Shop. Nearby on Roosevelt at about 92nd, it is a throwback to the 1950's. Actually, Griel inherited the shop from her mother so it might date before then. The store is stacked and stuffed with all manner of cake and confection making supplies. Pans, boards, boxes, decorations, figurines, candles, ribbons, books, whatever...it is there if you know where to look or can wait while Griel pulls it from the back. I doubt there has ever been a close-out sale; new inventory is just added to the old. Wedding toppers featuring 2 men sit in the case with dusty Miss Havisham. Spools of retro ribbons mingle with the real thing. In short, the place is a trip. I love it.
Griel is even more cool. Slightly edgy, slightly impatient, she's my kind of woman. Totally knows her stuff about cakes. She sets me up with cake pans, books, decorating tips and I am out there doing my thing. Friday morning, wanting to make my Rebbetzen a birthday cake, I stop into The Home Cake shop. Picking up orange and lime green cupcake papers for my event next week, I also grab Wilton's spray cans of color. It's my new BFF. I like the airbrush lightness it adds to a cake and it saves me mixing colors. Griel asks me how I like the product because she has never used it. Ha! The only thing I know that Griel doesn't. Works fabulously!
For this cake, I make the roses on the decorator's nail and then gently blast the edges with a hit of color. Done...Simple. The only color I mix is the for the leaves. You've come a long way, baby!
Kosher Status:
Dairy
Number of servings:
enough for an 8' double layer cake
Main Ingredient(s):
Sugar - Confectioner's
Preparation Time:
00:20
Cooking Time:
00:00
Skill Level:
1 - Easy

(1 Easy - 5 Hard)

Estimated POINT value:


Ingredients:


1/2 pound stick butter or margarine, unsalted and at room temperature

1/4 teaspoon salt (omit if your margarine is salted)

2 teaspoons vanilla extract

2 pounds (about 8 cups) powdered sugar

1/3 cup milk or soy milk for pareve
For other flavored extracts, omit the vanilla and add the alternate extract.
For Orange Frosting, omit the milk and use fresh orange juice
For Lemon Frosting, use 1/2 milk and 1/2 lemon juice
For full coloring, use only a small dab of coloring at a time. The color will darken with time.


Steps:


Put everything into the bowl and beat with a flat beater, not a whip. Once the ingredients are combined, scrape the bowl down and continue to beat. If the frosting is too stiff, add a little more milk a bit at a time. If it is too loose, add a little more sugar. Beat until it is light and fluffy with a texture that is easy to spread.

Cover with plastic wrap until ready to use. If you refrigerate it, bring it to room temperature and beat it to get it fluffy again. Keep it covered while you work as this frosting will set up and feel firm to the touch.

Sometimes for decorating, I may need to adjust the stiffness by adding a tad more sugar. When piping from a bag, the frosting should glide out but still have enough body to support the layers. Pracice makes perfect.

And, that is how you make Kosher Easy Buttercream Frosting!


Recently viewed recipes:



Easy Vanilla Buttercream Frosting (Dairy or Pareve)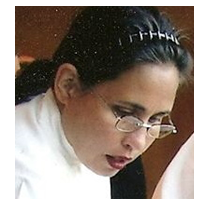 About Leah
Hi! Thank you for stopping by to watch me, Leah, cook kosher. I've been the owner operator of my boutique catering firm in Seattle, Leah's Catering, for the past 14 years.
Read more...
Leah's Blog

Aviva Makes Aliyah and The Sandwich Generation

Happy Chinese New Year! Happy Super Bowl! Go Hawks!

Tradition! Fun with the Seattle International Film Festival

Where Have I Been in My Life???

Making Kosher Salads

Blog Categories
Leah's Kosher Pantry

View what is in the pantry
Recipes

Appetizers
(44)

Appetizers - Dips and Sauces
(11)

Appetizers - Starter Courses
(10)

Beverages - Cold
(1)

Breads - Yeast
(10)

Breakfast Pastries
(7)

Dessert - Frostings
(6)

Desserts - Cakes
(13)

Desserts - Cookies and Brownies
(29)

Desserts - Dairy
(42)

Desserts - Pareve
(71)

Desserts - Pies and Tarts
(14)

Desserts - Tea Breads, Quick Breads
(8)

Desserts and Baked Goods - Gluten Free
(18)

Main Dish - Beef
(7)

Main Dish - Dairy
(3)

Main Dish - Eggs and Fritattas
(6)

Main Dish - Fish
(11)

Main Dish - Poultry
(14)

Main Dish - Vegetarian and Vegan
(9)

Salads - Dressing
(8)

Salads - Fruit
(4)

Salads - Grains & Legumes
(7)

Salads - Green
(1)

Salads - Pasta and Rice
(10)

Salads - Potatoes and Eggs
(5)

Salads - Vegetable
(15)

Side Dishes - Kugels and Souffles
(7)

Side Dishes - Potatoes and Vegetables
(17)

Side Dishes - Rice, Grains and Pasta
(7)

Soups, Stews and Cholent
(9)
Special Considerations

Dairy-Free Recipes
(230)

Gluten-Free Recipes
(134)

High Fiber Recipes
(18)

Low-fat Recipes
(11)

Nut-Free Desserts Recipes
(48)

Vegan Recipes
(101)

Vegetarian Recipes
(207)
Holidays

Rosh Hashana Recipes
(23)

Yom Kippur Recipes
(3)

Sukkot Recipes
(26)

Simchat Torah Recipes
(9)

Chanukah Recipes
(20)

Tu B'shevat Recipes
(16)

Purim Recipes
(9)

Passover Recipes
(44)

Lag Ba'omer Recipes
(6)

Shavuot Recipes
(24)

Shabbat Recipes
(34)
Cookbook Library

New Releases

Jewish Classics

Other Favorites
Kitchen Gadgets

Essentials

Small Appliances
Chef Of The Week

Barbara Williamson
Congratulations to our chef of the week.