Chocolate Coconut Cheesecake with Nanaimo Crust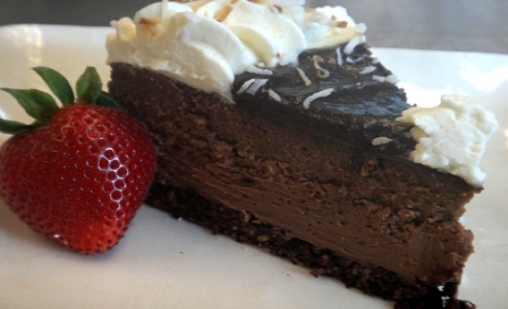 Typing the name of this cheesecake makes me want to run from the room screaming, "It can't be!" It's an Almond Joy, Mounds Bar, triple chocolate hit topped with coconut infused Decorator's Whipped Cream and toasted coconut. Does this make up for the tropical vacation I didn't take this May? Maybe, just maybe.
Chocolate coconut cheesecake with Nanaimo crust....need I say more? Rabbi, ye who was looking for a chocolate cheesecake recipe....does this work for you? Stop by the kitchen tomorrow and I'll give you a sample!
Kosher Status:
Dairy
Number of servings:
8" or 9" springform pan, 12 - 16 servings
Main Ingredient(s):
Cheese - Cream
Preparation Time:
00:40
Cooking Time:
01:00
Skill Level:
2

(1 Easy - 5 Hard)

Estimated POINT value:


Ingredients:


Crust:
3 tablespoons butter, melted

3 tablespoons sugar

3 tablespoons Dutch processed cocoa

1 egg

2/3 cup graham cracker crumbs

2/3 cup ground almonds

2/3 cup sweetened coconut
Filling:
1/3 cup chocolate chips

1/3 cup heavy whipping cream

2 pounds cream cheese, room temperature

1 1/4 cup sugar

1/4 cup cornstarch

1/2 cup Dutch process cocoa

4 eggs

1 teaspoon vanilla extract
1 cup Chocolate Ganache (see recipe archives)
1 recipe Decorator's Whipping Cream (see recipe archives) with a little coconut extract
1/4 cup toasted coconut (optional)


Steps:


Preheat the oven to the 350'. Grease an 8" or 9" springform pan.

Toss all the crust ingredients together in a bowl. Spread into the bottom of the springform pan. Gently press into place going up the side about 1/2".

Bake for about 10 minutes. Remove from the oven and place onto a piece of plastic wrap. This will shrink and tighten around the pan. Wrap again with foil.
Make the filling:

In a glass measuring cup, melt the chocolate chips with the whipping cream in the microwave. Set aside.
| | |
| --- | --- |
| | Beat the cream cheese and sugar until smooth. Add the cocoa and beat slowly until combined. Add the eggs and beat slowly just until blended. Stir in the chocolate mixture and the vanilla. Beat until just blended. |
| | |
| --- | --- |
| | Pour into the pan over the crust. Place pan into a larger pan and fill with water to halfway up the side of the cake pan. Bake for 45 minutes to 60 minutes until the edges are firm and the center is almost set. |
| | |
| --- | --- |
| | After baking, remove the pan from the water bath. Let sit at room temperature for an hour. Place in the refrigerator to cool thoroughly. |
Make the Decorator's Whipping Cream as per the recipe. Add 1/2 teaspoon coconut extract. Chill for 30 minutes before using.

When the cake is chilled, pipe a border of Decorator's Whipping Cream around the top edge. Heat the ganache until just pourable. Pour onto the cheesecake and guide it to the piped border.

Pipe a border along the lower edge. Sprinkle toasted coconut onto the borders.

And, that is how you make a Kosher Chocolate Coconut Cheesecake with Nanaimo Crust!


Recently viewed recipes:



Chocolate Coconut Cheesecake with Nanaimo Crust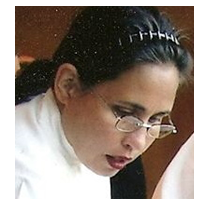 About Leah
Hi! Thank you for stopping by to watch me, Leah, cook kosher. I've been the owner operator of my boutique catering firm in Seattle, Leah's Catering, for the past 14 years.
Read more...
Leah's Blog

Aviva Makes Aliyah and The Sandwich Generation

Happy Chinese New Year! Happy Super Bowl! Go Hawks!

Tradition! Fun with the Seattle International Film Festival

Where Have I Been in My Life???

Making Kosher Salads

Blog Categories
Leah's Kosher Pantry

View what is in the pantry
Recipes

Appetizers
(44)

Appetizers - Dips and Sauces
(11)

Appetizers - Starter Courses
(10)

Beverages - Cold
(1)

Breads - Yeast
(10)

Breakfast Pastries
(7)

Dessert - Frostings
(6)

Desserts - Cakes
(13)

Desserts - Cookies and Brownies
(29)

Desserts - Dairy
(42)

Desserts - Pareve
(71)

Desserts - Pies and Tarts
(14)

Desserts - Tea Breads, Quick Breads
(8)

Desserts and Baked Goods - Gluten Free
(18)

Main Dish - Beef
(7)

Main Dish - Dairy
(3)

Main Dish - Eggs and Fritattas
(6)

Main Dish - Fish
(11)

Main Dish - Poultry
(14)

Main Dish - Vegetarian and Vegan
(9)

Salads - Dressing
(8)

Salads - Fruit
(4)

Salads - Grains & Legumes
(7)

Salads - Green
(1)

Salads - Pasta and Rice
(10)

Salads - Potatoes and Eggs
(5)

Salads - Vegetable
(15)

Side Dishes - Kugels and Souffles
(7)

Side Dishes - Potatoes and Vegetables
(17)

Side Dishes - Rice, Grains and Pasta
(7)

Soups, Stews and Cholent
(9)
Special Considerations

Dairy-Free Recipes
(230)

Gluten-Free Recipes
(134)

High Fiber Recipes
(18)

Low-fat Recipes
(11)

Nut-Free Desserts Recipes
(48)

Vegan Recipes
(101)

Vegetarian Recipes
(207)
Holidays

Rosh Hashana Recipes
(23)

Yom Kippur Recipes
(3)

Sukkot Recipes
(26)

Simchat Torah Recipes
(9)

Chanukah Recipes
(20)

Tu B'shevat Recipes
(16)

Purim Recipes
(9)

Passover Recipes
(44)

Lag Ba'omer Recipes
(6)

Shavuot Recipes
(24)

Shabbat Recipes
(34)
Cookbook Library

New Releases

Jewish Classics

Other Favorites
Kitchen Gadgets

Essentials

Small Appliances
Chef Of The Week

Barbara Williamson
Congratulations to our chef of the week.