Classic Plain Cheesecake with Blueberry Topping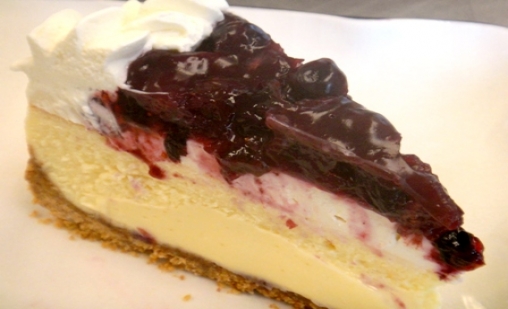 This is a classic plain cheesecake dolled up with a fresh blueberry topping and trimmed in whipped cream. What part of that needs defining??!! We make plenty of these in the bakery back in the day but I should confess. I didn't make them. Sure, I cringe when I think of cracks, raw centers, insufficient height...on and on. Pulling up my sleeves, I delve into cheesecakes today with a vengeance. Mastery is at hand. I can feel it.
I have my own recipes but I speed read through the "Junior's Cheesecakes" chart of possible mishaps and their causes. I decide cheesecakes are like life; consciousness goes a long way in minimizing the pitfalls. I'm going to do this correctly. Eggs and cream cheese at room temperature, I'm ready.
I'll put the step by step tips along with the instructions. No need to bore you here. Just get into the zone and you'll make an amazing cheesecake!
Kosher Status:
Dairy
Number of servings:
8" or 9" springform pan, 12 - 16 servings
Main Ingredient(s):
Cheese - Cream, Cheese - Cottage
Preparation Time:
00:40
Cooking Time:
00:50
Skill Level:
2

(1 Easy - 5 Hard)

Estimated POINT value:


Ingredients:


Crust:
1 1/2 cups graham cracker crumbs

2 tablespoons sugar

6 tablespoons butter, melted
Filling:
2 pounds cream cheese at room temperature

1 1/4 cup sugar

1/4 cup cornstarch

5 large eggs

2 1/2 teaspoons vanilla extract
Sour Cream Topping:
1 1/2 cup sour cream

1 tablespoon sugar

1 teaspoon vanilla
Blueberry Topping:
1 pound fresh blueberries

3 tablespoons sugar

3 tablespoons cornstarch

1 tablespoon lemon juice


Steps:


| | |
| --- | --- |
| | Preheat the oven to 350'. In a bowl, combine the graham cracker crumbs, sugar and melted margarine. Toss to form a damp mixture. |
| | |
| --- | --- |
| | Butter the inside of the springform pan. Put the crumbs into the pan and spread evenly over the bottom going a little up the side. Once evenly disbursed, press firmly into place. Bake for 8 minutes. |
| | |
| --- | --- |
| | Remove the pan from the oven. Place directly onto a piece of plastic wrap. With gloved hands, wrap the plastic wrap around the sides of the pan. The heat will cause it to shrink tightly around the pan. This will stop water from getting into the pan when it is in the water bath while the cake bakes. |
| | |
| --- | --- |
| | Wrap the pan in foil. Crimp tightly around the sides. Set aside. |
| | |
| --- | --- |
| | Put the cream cheese into a large mixing bowl. At medium speed, beat until softened. Add the sugar and cornstarch. Mix until blended. Don't overbeat. |
| | |
| --- | --- |
| | Add the eggs a couple at a time. Beat well after each addition, scraping side and bottom of the mixing bowl. |
| | |
| --- | --- |
| | Stir in the vanilla. Mix until blended. Mixture should be smooth. |
| | |
| --- | --- |
| | Put the filling into the springform pan. Place pan into a pan large enough to hold the springform pan. Fill 1/2 way with warm water. |
Bake for an hour or until the edge is firm to the touch and the center is almost set. It shouldn't be hard but it shouldn't shake too much either.

Tip: make sure the water pan doesn't run dry. If necessary, add more warm water to the pan. Also, the water shouldn't boil. Add ice or cold water if it does.
| | |
| --- | --- |
| | While the cake bakes, mix the sour cream with the sugar and vanilla until smooth. Set aside. |
When the cake is firm around the edges, almost set in the center and has nice color, remove from the oven. Spread the sour cream mixture over the top. Put it back into the oven, water pan and all, for another 10 minutes.

When the cake is done, remove from the oven. Take a small paring knife and loosen the cake at the top edge so that as it cools, it'll be able to pull away from the side of the pan. Otherwise, it'll stick and the cooling will cause a big crack in the middle of the cake.

Let the cake cool at room temperature for at least an hour. Place into the refrigerator to complete the chill.
| | |
| --- | --- |
| | If you'd like to use a blueberry topping, put the fresh blueberries, 1 cup of water, cornstarch, sugar and lemon juice into a pot. Over medium heat, stirring constantly, bring to a boil. |
| | |
| --- | --- |
| | The mixture will thicken and boil. It is important to stir so it doesn't burn. Adjust heat if necessary. Cook until the juices run clear. If the sauce is too thick, thin with more water. When it is done, set aside to cool before putting it on the cheesecake. |
When the cheesecake is cold and the topping is cold, spread the blueberries over the top. If you'd like to use Decorator's Whipped Topping for a border, leave about 1" free around the edge. Make the whipped topping (see recipe) and pipe as desired.

And that is how you make a Kosher Classic Plain Cheesecake with Blueberry Topping!


Recently viewed recipes:



Classic Plain Cheesecake with Blueberry Topping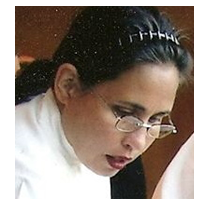 About Leah
Hi! Thank you for stopping by to watch me, Leah, cook kosher. I've been the owner operator of my boutique catering firm in Seattle, Leah's Catering, for the past 14 years.
Read more...
Leah's Blog

Aviva Makes Aliyah and The Sandwich Generation

Happy Chinese New Year! Happy Super Bowl! Go Hawks!

Tradition! Fun with the Seattle International Film Festival

Where Have I Been in My Life???

Making Kosher Salads

Blog Categories
Leah's Kosher Pantry

View what is in the pantry
Recipes

Appetizers
(44)

Appetizers - Dips and Sauces
(11)

Appetizers - Starter Courses
(10)

Beverages - Cold
(1)

Breads - Yeast
(10)

Breakfast Pastries
(7)

Dessert - Frostings
(6)

Desserts - Cakes
(13)

Desserts - Cookies and Brownies
(29)

Desserts - Dairy
(42)

Desserts - Pareve
(71)

Desserts - Pies and Tarts
(14)

Desserts - Tea Breads, Quick Breads
(8)

Desserts and Baked Goods - Gluten Free
(18)

Main Dish - Beef
(7)

Main Dish - Dairy
(3)

Main Dish - Eggs and Fritattas
(6)

Main Dish - Fish
(11)

Main Dish - Poultry
(14)

Main Dish - Vegetarian and Vegan
(9)

Salads - Dressing
(8)

Salads - Fruit
(4)

Salads - Grains & Legumes
(7)

Salads - Green
(1)

Salads - Pasta and Rice
(10)

Salads - Potatoes and Eggs
(5)

Salads - Vegetable
(15)

Side Dishes - Kugels and Souffles
(7)

Side Dishes - Potatoes and Vegetables
(17)

Side Dishes - Rice, Grains and Pasta
(7)

Soups, Stews and Cholent
(9)
Special Considerations

Dairy-Free Recipes
(230)

Gluten-Free Recipes
(134)

High Fiber Recipes
(18)

Low-fat Recipes
(11)

Nut-Free Desserts Recipes
(48)

Vegan Recipes
(101)

Vegetarian Recipes
(207)
Holidays

Rosh Hashana Recipes
(23)

Yom Kippur Recipes
(3)

Sukkot Recipes
(26)

Simchat Torah Recipes
(9)

Chanukah Recipes
(20)

Tu B'shevat Recipes
(16)

Purim Recipes
(9)

Passover Recipes
(44)

Lag Ba'omer Recipes
(6)

Shavuot Recipes
(24)

Shabbat Recipes
(34)
Cookbook Library

New Releases

Jewish Classics

Other Favorites
Kitchen Gadgets

Essentials

Small Appliances
Chef Of The Week

Barbara Williamson
Congratulations to our chef of the week.