Decorator's Whipped Cream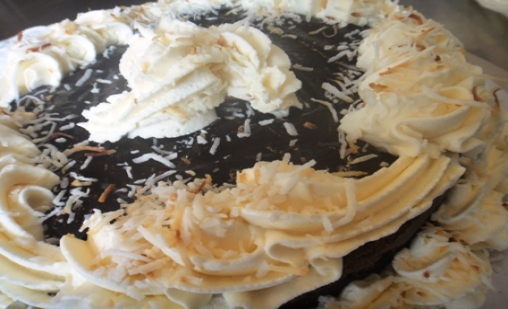 For years, running the pareve bakery, we use non-dairy whipped toppings on our pies and tarts. Resisting the urge to investigate exactly what ingredients make up a non-dairy whipped topping, I simply shrug and pretend that in moderation it won't kill anyone. I have a vague understanding that the stuff is made from fossil fuels with price fluctuations based on oil commodity markets. I think that if it lasts forever, it should hold over a two day yontif.
Thinking about whipped cream for these photos, I want to find out how the pros make whipped cream hold for days. Last summer, standing in line at Whole Foods, I see a "Junior's Cheesecakes" magazine for a whopping $12.99. I know that someday it'll come in handy, someday around Shavuot. The day has arrived.
I skip over 20+ pages of great information about cheesecakes to page 30. "Decorator's Whipped Cream".....just what I'm looking for. The first ingredient is unflavored granulated gelatin. Hmmm, I hope the kosher version works.
Whipping the cream and following the directions, all seems well. I have a cheesecake in the refrigerator as part of my research and development. So far, so good. Now I can make extravagant, over-the-top cheesecakes with confidence that they'll hold until the festive meal. Whoo-hoo!
Kosher Status:
Dairy
Number of servings:
enough for an 8" or 9" cake
Main Ingredient(s):
Cream Topping - Dairy and Non-dairy
Preparation Time:
00:20
Cooking Time:
00:00
Skill Level:
1 - Easy

(1 Easy - 5 Hard)

Estimated POINT value:


Ingredients:


1 1/2 teaspoon unflavored gelatin powder

4 teaspoons cold water

1 1/2 cup cold heavy whipping cream

2 tablespoon sugar

1 1/2 teaspoon vanilla extract


Steps:


| | |
| --- | --- |
| | Dissolve the gelatin in the water. Set aside. |
| | |
| --- | --- |
| | Whip the heavy cream until is starts to thicken. Slowly add the sugar and beat the cream until it is stiff. We don't want it too soft but we don't want it to curdle. |
Add the gelatin mixture and beat until combined. Chill for 30 minutes before using. It will hold on your dessert for a few days, longer than the dessert will last.

And, that is how you make Kosher Decorator's Whipped Cream!


Recently viewed recipes:



Decorator's Whipped Cream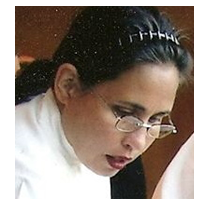 About Leah
Hi! Thank you for stopping by to watch me, Leah, cook kosher. I've been the owner operator of my boutique catering firm in Seattle, Leah's Catering, for the past 14 years.
Read more...
Leah's Blog

Aviva Makes Aliyah and The Sandwich Generation

Happy Chinese New Year! Happy Super Bowl! Go Hawks!

Tradition! Fun with the Seattle International Film Festival

Where Have I Been in My Life???

Making Kosher Salads

Blog Categories
Leah's Kosher Pantry

View what is in the pantry
Recipes

Appetizers
(44)

Appetizers - Dips and Sauces
(11)

Appetizers - Starter Courses
(10)

Beverages - Cold
(1)

Breads - Yeast
(10)

Breakfast Pastries
(7)

Dessert - Frostings
(6)

Desserts - Cakes
(13)

Desserts - Cookies and Brownies
(29)

Desserts - Dairy
(42)

Desserts - Pareve
(71)

Desserts - Pies and Tarts
(14)

Desserts - Tea Breads, Quick Breads
(8)

Desserts and Baked Goods - Gluten Free
(18)

Main Dish - Beef
(7)

Main Dish - Dairy
(3)

Main Dish - Eggs and Fritattas
(6)

Main Dish - Fish
(11)

Main Dish - Poultry
(14)

Main Dish - Vegetarian and Vegan
(9)

Salads - Dressing
(8)

Salads - Fruit
(4)

Salads - Grains & Legumes
(7)

Salads - Green
(1)

Salads - Pasta and Rice
(10)

Salads - Potatoes and Eggs
(5)

Salads - Vegetable
(15)

Side Dishes - Kugels and Souffles
(7)

Side Dishes - Potatoes and Vegetables
(17)

Side Dishes - Rice, Grains and Pasta
(7)

Soups, Stews and Cholent
(9)
Special Considerations

Dairy-Free Recipes
(230)

Gluten-Free Recipes
(134)

High Fiber Recipes
(18)

Low-fat Recipes
(11)

Nut-Free Desserts Recipes
(48)

Vegan Recipes
(101)

Vegetarian Recipes
(207)
Holidays

Rosh Hashana Recipes
(23)

Yom Kippur Recipes
(3)

Sukkot Recipes
(26)

Simchat Torah Recipes
(9)

Chanukah Recipes
(20)

Tu B'shevat Recipes
(16)

Purim Recipes
(9)

Passover Recipes
(44)

Lag Ba'omer Recipes
(6)

Shavuot Recipes
(24)

Shabbat Recipes
(34)
Cookbook Library

New Releases

Jewish Classics

Other Favorites
Kitchen Gadgets

Essentials

Small Appliances
Chef Of The Week

Barbara Williamson
Congratulations to our chef of the week.