Smoked Salmon, Spinach and Leek Frittata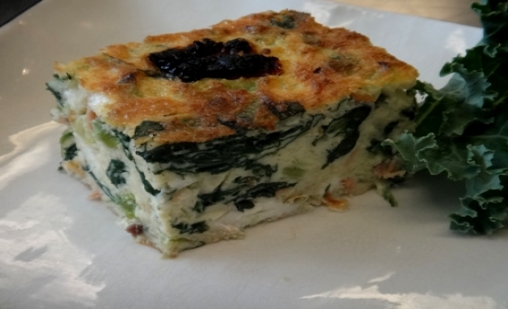 I'm staring at a small scrap of yellow legal pad. Last Tuesday, at 5:00 am, I need to whip up a frittata for a brunch. Without a recipe, I decide to just toss ingredients into a bowl and hope it fills the pan. I grab my camera, scrap of paper and a Sharpie pen. I'm proud of myself for actually getting the recipe down. Why? The frittata receives rave reviews and it is a keeper. My only complaint is that the sun-dried tomato I put on the top gets too brown during baking. Next time, I'll oven roast tomato rings and then lay them on the top of the frittata. Meanwhile......
Kosher Status:
Dairy
Number of servings:
9 x 13 pan, 16 - 20 servings
Main Ingredient(s):
Eggs
Preparation Time:
00:30
Cooking Time:
00:30
Skill Level:
1 - Easy

(1 Easy - 5 Hard)

Estimated POINT value:


Ingredients:


15 large eggs

2 cups milk

1 cup panko crumbs

2 teaspoons salt

1 teaspoon pepper

1/2 pound kippered salmon, flaked

1/2 pound baby spinach, wilted

4 cups of sliced leeks, sauteed in a little olive oil

1/2 pound cream cheese

Slices of roasted Roma tomatoes for the top (optional)


Steps:


| | |
| --- | --- |
| | Beat the eggs in a large bowl. |
| | |
| --- | --- |
| | Add panko crumbs, milk, salt and pepper. Blend to combine. |
| | |
| --- | --- |
| | Break up the chunk of kippered salmon. Remove pin bones if there are any. Discard the skin. Add to the egg mixture. |
| | |
| --- | --- |
| | Wilt the spinach in a little water. Drain. Wash, slice and saute the leeks until tender. Add everything to the egg mixture. |
Add the cream cheese, breaking it up by squishing it between my fingers: I use gloves. Mix well. Pour into pan that has been coated with cooking spray. If you want to top with roasted tomatoes, add them to the top now.

Bake at 350' until the center is firm and the top is lightly browned. When done, remove from the oven and let rest for about 10 minutes before cutting and serving. May also be served at room temperature.

And that is how you make Kosher Smoked Salmon, Spinach and Leek Frittata!


Recently viewed recipes:



Smoked Salmon, Spinach and Leek Frittata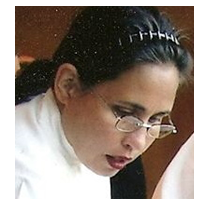 About Leah
Hi! Thank you for stopping by to watch me, Leah, cook kosher. I've been the owner operator of my boutique catering firm in Seattle, Leah's Catering, for the past 14 years.
Read more...
Leah's Blog

Aviva Makes Aliyah and The Sandwich Generation

Happy Chinese New Year! Happy Super Bowl! Go Hawks!

Tradition! Fun with the Seattle International Film Festival

Where Have I Been in My Life???

Making Kosher Salads

Blog Categories
Leah's Kosher Pantry

View what is in the pantry
Recipes

Appetizers
(44)

Appetizers - Dips and Sauces
(11)

Appetizers - Starter Courses
(10)

Beverages - Cold
(1)

Breads - Yeast
(10)

Breakfast Pastries
(7)

Dessert - Frostings
(6)

Desserts - Cakes
(13)

Desserts - Cookies and Brownies
(29)

Desserts - Dairy
(42)

Desserts - Pareve
(71)

Desserts - Pies and Tarts
(14)

Desserts - Tea Breads, Quick Breads
(8)

Desserts and Baked Goods - Gluten Free
(18)

Main Dish - Beef
(7)

Main Dish - Dairy
(3)

Main Dish - Eggs and Fritattas
(6)

Main Dish - Fish
(11)

Main Dish - Poultry
(14)

Main Dish - Vegetarian and Vegan
(9)

Salads - Dressing
(8)

Salads - Fruit
(4)

Salads - Grains & Legumes
(7)

Salads - Green
(1)

Salads - Pasta and Rice
(10)

Salads - Potatoes and Eggs
(5)

Salads - Vegetable
(15)

Side Dishes - Kugels and Souffles
(7)

Side Dishes - Potatoes and Vegetables
(17)

Side Dishes - Rice, Grains and Pasta
(7)

Soups, Stews and Cholent
(9)
Special Considerations

Dairy-Free Recipes
(230)

Gluten-Free Recipes
(134)

High Fiber Recipes
(18)

Low-fat Recipes
(11)

Nut-Free Desserts Recipes
(48)

Vegan Recipes
(101)

Vegetarian Recipes
(207)
Holidays

Rosh Hashana Recipes
(23)

Yom Kippur Recipes
(3)

Sukkot Recipes
(26)

Simchat Torah Recipes
(9)

Chanukah Recipes
(20)

Tu B'shevat Recipes
(16)

Purim Recipes
(9)

Passover Recipes
(44)

Lag Ba'omer Recipes
(6)

Shavuot Recipes
(24)

Shabbat Recipes
(34)
Cookbook Library

New Releases

Jewish Classics

Other Favorites
Kitchen Gadgets

Essentials

Small Appliances
Chef Of The Week

Barbara Williamson
Congratulations to our chef of the week.