Chocolate Peanut Butter Rice Krispie Treats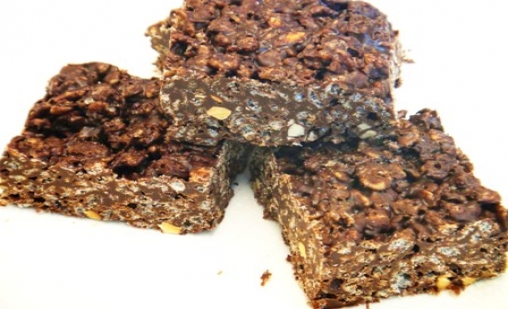 A customer gives me this recipe for a party. I want to go the natural peanut butter route and use one free of the added oils. I have a tough time getting these bars to get firm enough to slice until I put them into the refrigerator. This time around, I use a chunky peanut butter that some choosy mothers pick. Still slow to get firm, I refrigerate the pan and soon the treats are ready. So, go figure. Maybe the more natural peanut butter is just fine to use.
Unlike their more original first cousins, these treats are made without the marshmallow. Puffed rice, peanut butter and melted chocolate chips...that's it. Taste pretty good! Be sure to let folks know that they contain nuts. Either sprinkle them with chopped peanuts before they firm up or garnish them with nuts. So many people have allergies these days that I never put out foods with nuts without them being very obvious.
Kosher Status:
Parve
Number of servings:
9 x 13 pan, 30
Main Ingredient(s):
Peanut Butter, Chocolate Chips
Preparation Time:
00:10
Cooking Time:
00:00
Skill Level:
1 - Easy

(1 Easy - 5 Hard)

Estimated POINT value:


Ingredients:


8 cups puffed rice

2 x 12 ounce bags of semi-sweet chocolate chips

2 cups chunky peanut butter


Steps:


| | |
| --- | --- |
| | In the microwave, melt the chocolate chips. Stir in the peanut butter. |
| | |
| --- | --- |
| | Add melted chocolate mixture to the puffed rice. Stir until blended. |
Gently press into an ungreased 9 x 13 pan. If desired, sprinkle with chopped peanuts. Chill. When the treats are firm, slice.

And that is how you make Kosher Chocolate Peanut Butter Rice Krispie Treats


Recently viewed recipes:



Chocolate Peanut Butter Rice Krispie Treats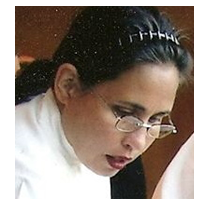 About Leah
Hi! Thank you for stopping by to watch me, Leah, cook kosher. I've been the owner operator of my boutique catering firm in Seattle, Leah's Catering, for the past 14 years.
Read more...
Leah's Blog

Aviva Makes Aliyah and The Sandwich Generation

Happy Chinese New Year! Happy Super Bowl! Go Hawks!

Tradition! Fun with the Seattle International Film Festival

Where Have I Been in My Life???

Making Kosher Salads

Blog Categories
Leah's Kosher Pantry

View what is in the pantry
Recipes

Appetizers
(44)

Appetizers - Dips and Sauces
(11)

Appetizers - Starter Courses
(10)

Beverages - Cold
(1)

Breads - Yeast
(10)

Breakfast Pastries
(7)

Dessert - Frostings
(6)

Desserts - Cakes
(13)

Desserts - Cookies and Brownies
(29)

Desserts - Dairy
(42)

Desserts - Pareve
(71)

Desserts - Pies and Tarts
(14)

Desserts - Tea Breads, Quick Breads
(8)

Desserts and Baked Goods - Gluten Free
(18)

Main Dish - Beef
(7)

Main Dish - Dairy
(3)

Main Dish - Eggs and Fritattas
(6)

Main Dish - Fish
(11)

Main Dish - Poultry
(14)

Main Dish - Vegetarian and Vegan
(9)

Salads - Dressing
(8)

Salads - Fruit
(4)

Salads - Grains & Legumes
(7)

Salads - Green
(1)

Salads - Pasta and Rice
(10)

Salads - Potatoes and Eggs
(5)

Salads - Vegetable
(15)

Side Dishes - Kugels and Souffles
(7)

Side Dishes - Potatoes and Vegetables
(17)

Side Dishes - Rice, Grains and Pasta
(7)

Soups, Stews and Cholent
(9)
Special Considerations

Dairy-Free Recipes
(230)

Gluten-Free Recipes
(134)

High Fiber Recipes
(18)

Low-fat Recipes
(11)

Nut-Free Desserts Recipes
(48)

Vegan Recipes
(101)

Vegetarian Recipes
(207)
Holidays

Rosh Hashana Recipes
(23)

Yom Kippur Recipes
(3)

Sukkot Recipes
(26)

Simchat Torah Recipes
(9)

Chanukah Recipes
(20)

Tu B'shevat Recipes
(16)

Purim Recipes
(9)

Passover Recipes
(44)

Lag Ba'omer Recipes
(6)

Shavuot Recipes
(24)

Shabbat Recipes
(34)
Cookbook Library

New Releases

Jewish Classics

Other Favorites
Kitchen Gadgets

Essentials

Small Appliances
Chef Of The Week

Barbara Williamson
Congratulations to our chef of the week.