Tarragon Crepe Wrapped Salmon with Lemon Sauce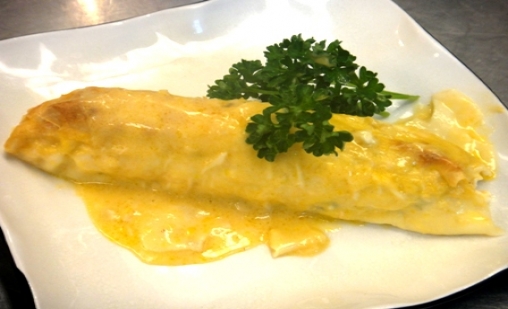 Serving these salmon filled crepes this past week, I'm reminded how sublime they are with their hint of tarragon and subtle lemon burst. I have to close my eyes as I chew. Standing in the kitchen, braced against the counter I can breathe a sigh of relief. We did it; dinner is served and I can relax. It's been a break neck pace all afternoon with 2 events simultaneously being served. As I chew, I'm thinking 'wow'. This makes the craziness okay, justified. Wow.
I first found this recipe online in February 2008. Hunting for menu ideas for Hillel's "Hillelfest", I want recipes for an Italian themed dinner that don't contain pasta. I see that the recipe is first featured in Gourmet Magazine in 2007. They call the crepe a crespelle, a crepe-like pasta. They say crespelle, Benoit says crepe, I say "wow".
Of course, like all recipes I stare at as I cook, all manner of treif is converted to kosher and the oral tradition is born. If successful, notes of conversions pepper the margins for future deciphering. And so it goes with this recipe. We nix the clam juice and compensate with vegetable stock and a little more salt. The Sephardim make a salmon in a very lemony egg sauce. I add lemon juice to this cream sauce to mimic that tradition. It is very fabulous and a big hit.
Rushing around the kitchen, I neglect to take photos of Benoit making the crepes. With 45 minutes until serving, I hastily bone salmon fillet and smother it with shallot butter. Ninja slicing the fillets into portions, I place them on the crepes with lightening speed. Rolling the crepes and laying them into the baking pans, I'm faster than any shutter speed. NO PICTURES! Frank makes the lemon sauce. It has been a real team effort. Baking in the oven they are beautiful. Fabulous. Served, the guests love them. I have to put them on the website; NO PICTURES for the steps. Oh well.
Make these in full sized portions for a main course. Cut them in half and you have a great starter course. This is a must try recipe.
Kosher Status:
Dairy
Number of servings:
6
Main Ingredient(s):
Salmon - Fresh
Preparation Time:
00:30
Cooking Time:
00:40
Skill Level:
2

(1 Easy - 5 Hard)

Estimated POINT value:


Ingredients:


Crepes:
3 eggs

1 cup water

3/4 cup flour

1/2 teaspoon salt

4 teaspoons finely chopped fresh tarragon

butter or oil for crepe pan
For sauce:
3 tablespoons unsalted butter

3 tablespoons flour

12 ounces vegetable stock

1 teaspoon salt

1/2 cup water

1/2 cup heavy cream

1 tablespoon grated lemon zest (about 2 lemons)

juice of 2 lemons (about 3 - 4 tablespoons

1/2 teaspoon black pepper
Salmon butter:
3 tablespoons unsalted butter

1 tablespoon finely chopped shallot

1 teaspoon salt

1/2 teaspoon black pepper

6 x 5 ounce center cut salmon fillet


Steps:


| | |
| --- | --- |
| | For the crepes, blend the eggs, water and salt in a bowl with an electric mixer or whisk. Stir in the chopped tarragon. Set aside while you prep the other ingredients. |
| | |
| --- | --- |
| | For the sauce, make a roux by melting the butter and adding the flour. Stir constantly to brown the flour. Whisk in the stock, salt, and water until smooth. Whisk in the heavy cream. Stir in the lemon zest, lemon juice and black pepper. Heat through to thicken stirring constantly to prevent burning. Remove from heat and set aside. |
| | |
| --- | --- |
| | Make the shallot butter by mixing together the softened butter and minced shallot. |
| | |
| --- | --- |
| | Prep the salmon by skinning (if necessary) and boning the fillet. Salt and pepper the fillet. Smear with the shallot butter. Cut the fillet into 5 ounce pieces. |
| | |
| --- | --- |
| | Make the crepes by heating the crepe pan and brushing it with some melted butter or oil. Use about 1/4 cup batter per crepe. Cook until crepe is set and lightly browned on the underside. Remove from pan and place cooked side down on parchment paper. Repeat until you have 6 crepes (or as many as portions you are making). |
| | |
| --- | --- |
| | Place buttered salmon on crepe. Roll up the crepe. |
Place 1/2 of the sauce into a baking dish. Place the salmon filled crepes into the baking dish. Top with remaining sauce. Bake for about 20 minutes or until the fish is firm to the touch and cooked through. Serve hot.

And, that is how you make Kosher Tarragon Crepe Wrapped Salmon with Lemon Sauce!


Recently viewed recipes:



Tarragon Crepe Wrapped Salmon with Lemon Sauce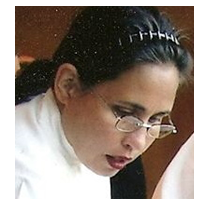 About Leah
Hi! Thank you for stopping by to watch me, Leah, cook kosher. I've been the owner operator of my boutique catering firm in Seattle, Leah's Catering, for the past 14 years.
Read more...
Leah's Blog

Aviva Makes Aliyah and The Sandwich Generation

Happy Chinese New Year! Happy Super Bowl! Go Hawks!

Tradition! Fun with the Seattle International Film Festival

Where Have I Been in My Life???

Making Kosher Salads

Blog Categories
Leah's Kosher Pantry

View what is in the pantry
Recipes

Appetizers
(44)

Appetizers - Dips and Sauces
(11)

Appetizers - Starter Courses
(10)

Beverages - Cold
(1)

Breads - Yeast
(10)

Breakfast Pastries
(7)

Dessert - Frostings
(6)

Desserts - Cakes
(13)

Desserts - Cookies and Brownies
(29)

Desserts - Dairy
(42)

Desserts - Pareve
(71)

Desserts - Pies and Tarts
(14)

Desserts - Tea Breads, Quick Breads
(8)

Desserts and Baked Goods - Gluten Free
(18)

Main Dish - Beef
(7)

Main Dish - Dairy
(3)

Main Dish - Eggs and Fritattas
(6)

Main Dish - Fish
(11)

Main Dish - Poultry
(14)

Main Dish - Vegetarian and Vegan
(9)

Salads - Dressing
(8)

Salads - Fruit
(4)

Salads - Grains & Legumes
(7)

Salads - Green
(1)

Salads - Pasta and Rice
(10)

Salads - Potatoes and Eggs
(5)

Salads - Vegetable
(15)

Side Dishes - Kugels and Souffles
(7)

Side Dishes - Potatoes and Vegetables
(17)

Side Dishes - Rice, Grains and Pasta
(7)

Soups, Stews and Cholent
(9)
Special Considerations

Dairy-Free Recipes
(230)

Gluten-Free Recipes
(134)

High Fiber Recipes
(18)

Low-fat Recipes
(11)

Nut-Free Desserts Recipes
(48)

Vegan Recipes
(101)

Vegetarian Recipes
(207)
Holidays

Rosh Hashana Recipes
(23)

Yom Kippur Recipes
(3)

Sukkot Recipes
(26)

Simchat Torah Recipes
(9)

Chanukah Recipes
(20)

Tu B'shevat Recipes
(16)

Purim Recipes
(9)

Passover Recipes
(44)

Lag Ba'omer Recipes
(6)

Shavuot Recipes
(24)

Shabbat Recipes
(34)
Cookbook Library

New Releases

Jewish Classics

Other Favorites
Kitchen Gadgets

Essentials

Small Appliances
Chef Of The Week

Barbara Williamson
Congratulations to our chef of the week.