Baklava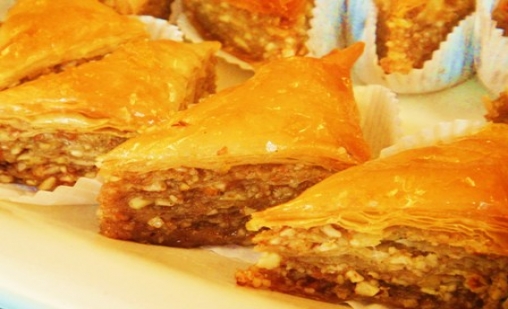 Layers of fillo separate ground nuts tossed with spices, repeated to a stack of yum and drizzled with a lemony syrup. I should make baklava more often. Always disappearing from buffet tables, I love to team these sweet triangles with biscochos and date nut pinwheels paying homage to the areas of the Mediterranean touching Jewish life.
Using boxed filo dough that comes frozen, I have my favorite brands. Filo Factory is an organic product and Sinbad is always pliable. I prefer the longer boxes of filo dough to the short one housing a two pack. There is also something called 'country style' filo dough but it is too thick for baklava; although great for meat triangles or spanikopita.
I've developed yet another food allergy; I can't eat walnuts anymore. Baklava can be made with any type of nuts. Mostly I use the walnuts and only eat the filo dough trimmings on the edges. Sometimes I combine walnuts and almonds. Pistachios and almonds sound appealing and I might have to put it on my 'bucket list'. Any which way, baklava is a favorite and simple to make.
This recipe has its roots in "The Jewish Holiday Cookbook, An International Collection of Recipes and Customs" by Gloria Kaufer Greene. Taking this recipe, I double the ingredients to form a taller stack. Using the full sized filo dough, this yields about 72 - 96 triangles. This may be more than you need BUT, you can freeze half of the stack and bake it off later. Or, you can buy the shorter double pack of filo and cut my recipe in half. This should give you the same height with half the quantity of baklava. It is difficult to mess this up so give it a try.
Kosher Status:
Parve
Number of servings:
72 - 96 (full recipe)
Main Ingredient(s):
Fillo Dough
Preparation Time:
00:30
Cooking Time:
00:30
Skill Level:
1 - Easy

(1 Easy - 5 Hard)

Estimated POINT value:
Average Rating:
5/5


Ingredients:


Filling:
8 cups of finely chopped walnuts (or a combination of walnuts and almonds)

1/2 cup sugar

4 teaspoons ground cinnamon

1/2 teaspoon allspice

1/2 teaspoon cloves
Pastry:
2 x 1 pound filo sheets, thawed at room temperature

1 1/4 cup margarine (or butter for dairy)

3 tablespoons vegetable

4 teaspoons water
Honey Syrup:
1 1/2 cup sugar

1 1/2 cup water

Zest of 2 lemons

3/4 cup honey plus 1/4 cup honey

Juice of 2 lemons


Steps:


| | |
| --- | --- |
| | Grind the nuts in the food processor. Empty into a mixing bowl. |
| | |
| --- | --- |
| | Add the sugar and spices to the nuts and mix well to combine. Set aside. |
| | |
| --- | --- |
| | Organize all the ingredients; combine the margarine/butter, oil and water in a measuring cup. Set aside with a pastry brush. Remove filo dough from the box and open package. Cover with a damp (not wet) dish cloth. I use a full sized sheet pan in my catering kitchen. You may use a jelly roll or 1/2 sheet pan. If the filo is too large for the pan, it can be trimmed later. No worries. Line pan with parchment paper. Preheat oven to 350'. |
| | |
| --- | --- |
| | For the bottom, lay one sheet of filo into the pan. LIGHTLY brush with the margarine mix. Repeat to a stack of 5 layers. Sprinkle 1 cup of ground nut mixture onto top. |
| | |
| --- | --- |
| | With your hands, lightly spread the nuts evenly over the filo dough. Repeat using three layers of dough alternating with the nuts. |
When you have about 10 sheets of filo left, you should have used up all the nuts. So, when you have used about 1/2 of the 2nd pound of filo, pace yourself. You'll want to end by brushing the last 10 layers of filo without any nuts between them.

Note: When I dip the pastry brush into the margarine mix, I don't have it dripping wet. Also, when you go to brush it on the filo, start the brush in different areas of the surface. This will eliminate the tendency to have one area that is more saturated than the rest of the stack.
| | |
| --- | --- |
| | With a sharp knife, and a ruler if you don't have a good eye, score about 3/4 of the way through the stack. I start by trimming the edge but it is optional. Form 2" x 2" squares and then cut diagonals to from triangles. Bake for about 30 minutes until light golden brown. |
| | |
| --- | --- |
| | While the baklava bakes, make the syrup. Put the sugar and water into a small sauce pan. Add the lemon peel and 3/4 cup of the honey. Over a medium heat, slowly bring to a boil. Swirl the mixture to dissolve the sugar. When it comes to a boil, remove from the heat and add lemon juice and remaining honey. Set aside. |
| | |
| --- | --- |
| | Pour the syrup evenly over the baklava. |
| | |
| --- | --- |
| | Cut all the way through the baklava. |
Trim the edges away from the main stack (if you are trying to make really clean and neat baklava). Let the baklava sit at room temperature for a few hours before serving. Baklava stores well in an airtight container for up to a week. Otherwise, wrap well and freeze.

Note: Unbaked baklava freezes very well. Score and wrap well. Remove from the freezer and put into the oven. Make the syrup while the baklava bakes.

And that is how you make Kosher Baklava!


Recently viewed recipes:



Baklava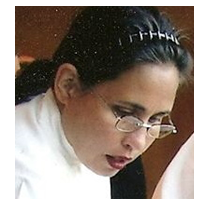 About Leah
Hi! Thank you for stopping by to watch me, Leah, cook kosher. I've been the owner operator of my boutique catering firm in Seattle, Leah's Catering, for the past 14 years.
Read more...
Leah's Blog

Aviva Makes Aliyah and The Sandwich Generation

Happy Chinese New Year! Happy Super Bowl! Go Hawks!

Tradition! Fun with the Seattle International Film Festival

Where Have I Been in My Life???

Making Kosher Salads

Blog Categories
Leah's Kosher Pantry

View what is in the pantry
Recipes

Appetizers
(44)

Appetizers - Dips and Sauces
(11)

Appetizers - Starter Courses
(10)

Beverages - Cold
(1)

Breads - Yeast
(10)

Breakfast Pastries
(7)

Dessert - Frostings
(6)

Desserts - Cakes
(13)

Desserts - Cookies and Brownies
(29)

Desserts - Dairy
(42)

Desserts - Pareve
(71)

Desserts - Pies and Tarts
(14)

Desserts - Tea Breads, Quick Breads
(8)

Desserts and Baked Goods - Gluten Free
(18)

Main Dish - Beef
(7)

Main Dish - Dairy
(3)

Main Dish - Eggs and Fritattas
(6)

Main Dish - Fish
(11)

Main Dish - Poultry
(14)

Main Dish - Vegetarian and Vegan
(9)

Salads - Dressing
(8)

Salads - Fruit
(4)

Salads - Grains & Legumes
(7)

Salads - Green
(1)

Salads - Pasta and Rice
(10)

Salads - Potatoes and Eggs
(5)

Salads - Vegetable
(15)

Side Dishes - Kugels and Souffles
(7)

Side Dishes - Potatoes and Vegetables
(17)

Side Dishes - Rice, Grains and Pasta
(7)

Soups, Stews and Cholent
(9)
Special Considerations

Dairy-Free Recipes
(230)

Gluten-Free Recipes
(134)

High Fiber Recipes
(18)

Low-fat Recipes
(11)

Nut-Free Desserts Recipes
(48)

Vegan Recipes
(101)

Vegetarian Recipes
(207)
Holidays

Rosh Hashana Recipes
(23)

Yom Kippur Recipes
(3)

Sukkot Recipes
(26)

Simchat Torah Recipes
(9)

Chanukah Recipes
(20)

Tu B'shevat Recipes
(16)

Purim Recipes
(9)

Passover Recipes
(44)

Lag Ba'omer Recipes
(6)

Shavuot Recipes
(24)

Shabbat Recipes
(34)
Cookbook Library

New Releases

Jewish Classics

Other Favorites
Kitchen Gadgets

Essentials

Small Appliances
Chef Of The Week

Barbara Williamson
Congratulations to our chef of the week.