Trifle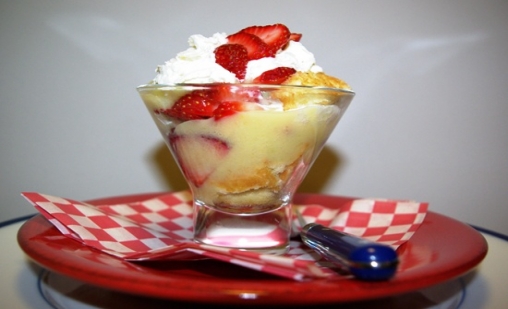 What's a trifle? Scrumptious dollops of custard and whipped cream layered with sponge cake and fresh strawberries. This is fabulous when real DAIRY is used and works surprisingly well as a pareve dessert. It is very easy to put together especially using canned whipped topping and instant custard mix.
It is quick to whip up the sponge cake if you aren't lucky enough to live where they sell them in the bakery. I'm using a sponge cake recipe from The McCall's Cookbook. My mom used this recipe when I was growing up and it came to mind for this dessert. It isn't necessary to create a fancy sponge cake. A basic layer is all that is necessary as it'll be cut into chunks. The only work is slicing strawberries. Simple. I think that next time I'd sprinkle the strawberries with a little sugar to get their juices running.
Trifles are often made in one big mass in a clear glass bowl, sometimes with a pedestal base. I received a trifle bowl when I first married (or married the first time!) back in the same month as Lady Di and Prince Charles. I prefer using the Cosmo glasses. It is easier to serve and very elegant to present individual portions. The only draw back is the portion control (I want more!).
Kosher Status:
Parve
Number of servings:
8 - 12
Main Ingredient(s):
Eggs
Preparation Time:
00:30
Cooking Time:
00:30
Skill Level:
1 - Easy

(1 Easy - 5 Hard)

Estimated POINT value:


Ingredients:


For the custard:
2 boxes pareve instant custard mix

3 cups soy milk
Non-dairy whipped topping (canned or whip your own)
2 pints strawberries, trimmed, washed, sliced and sprinkled with a little sugar
Sponge Cake:
1/2 cup soy milk

1 cup flour

1 teaspoon baking powder

1/4 teaspoon salt

3 eggs

1 cup sugar

1 teaspoon vanilla


Steps:


Pre heat the oven to 350 degrees.

Sift flour with baking powder and salt; set aside.

In mixing bowl, beat eggs at high speed until thick and lemon-colored. Gradually add the sugar as you beat. Beat until the mixture is smooth and well blended. This could take about 5 minutes. You are creating the volume here so it is important to beat the full amount of time.
| | |
| --- | --- |
| | At low speed, beat in flour mixture just until combined. Add the soy milk and vanilla and beat just until combined. Wipe down the bowl with a rubber spatula. |
| | |
| --- | --- |
| | Pour the batter into an ungreased 8' x 8' pan. I actually don't keep much equipment at home so this is some weird shaped pan. Bake for about 25 - 30 minutes. The cake will rise, and should feel spongy to the touch when lightly pressed and will be lightly golden on top. |
Remove from the oven and quickly invert over a couple of glasses. Cool the cake in this position for at least 15 minutes. This prevents the cake from collapsing.

When cool and you are ready to assemble the trifle, remove the cake from the pan and cut into 3/4" chunks. Layer with the custard, whipped cream and strawberries.


Recently viewed recipes:



Trifle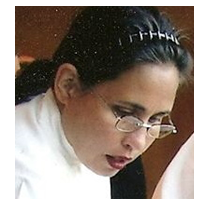 About Leah
Hi! Thank you for stopping by to watch me, Leah, cook kosher. I've been the owner operator of my boutique catering firm in Seattle, Leah's Catering, for the past 14 years.
Read more...
Leah's Blog

Aviva Makes Aliyah and The Sandwich Generation

Happy Chinese New Year! Happy Super Bowl! Go Hawks!

Tradition! Fun with the Seattle International Film Festival

Where Have I Been in My Life???

Making Kosher Salads

Blog Categories
Leah's Kosher Pantry

View what is in the pantry
Recipes

Appetizers
(44)

Appetizers - Dips and Sauces
(11)

Appetizers - Starter Courses
(10)

Beverages - Cold
(1)

Breads - Yeast
(10)

Breakfast Pastries
(7)

Dessert - Frostings
(6)

Desserts - Cakes
(13)

Desserts - Cookies and Brownies
(29)

Desserts - Dairy
(42)

Desserts - Pareve
(71)

Desserts - Pies and Tarts
(14)

Desserts - Tea Breads, Quick Breads
(8)

Desserts and Baked Goods - Gluten Free
(18)

Main Dish - Beef
(7)

Main Dish - Dairy
(3)

Main Dish - Eggs and Fritattas
(6)

Main Dish - Fish
(11)

Main Dish - Poultry
(14)

Main Dish - Vegetarian and Vegan
(9)

Salads - Dressing
(8)

Salads - Fruit
(4)

Salads - Grains & Legumes
(7)

Salads - Green
(1)

Salads - Pasta and Rice
(10)

Salads - Potatoes and Eggs
(5)

Salads - Vegetable
(15)

Side Dishes - Kugels and Souffles
(7)

Side Dishes - Potatoes and Vegetables
(17)

Side Dishes - Rice, Grains and Pasta
(7)

Soups, Stews and Cholent
(9)
Special Considerations

Dairy-Free Recipes
(230)

Gluten-Free Recipes
(134)

High Fiber Recipes
(18)

Low-fat Recipes
(11)

Nut-Free Desserts Recipes
(48)

Vegan Recipes
(101)

Vegetarian Recipes
(207)
Holidays

Rosh Hashana Recipes
(23)

Yom Kippur Recipes
(3)

Sukkot Recipes
(26)

Simchat Torah Recipes
(9)

Chanukah Recipes
(20)

Tu B'shevat Recipes
(16)

Purim Recipes
(9)

Passover Recipes
(44)

Lag Ba'omer Recipes
(6)

Shavuot Recipes
(24)

Shabbat Recipes
(34)
Cookbook Library

New Releases

Jewish Classics

Other Favorites
Kitchen Gadgets

Essentials

Small Appliances
Chef Of The Week

Barbara Williamson
Congratulations to our chef of the week.