Quinoa Stuffed Tomatoes (or chef's choice of vegetable)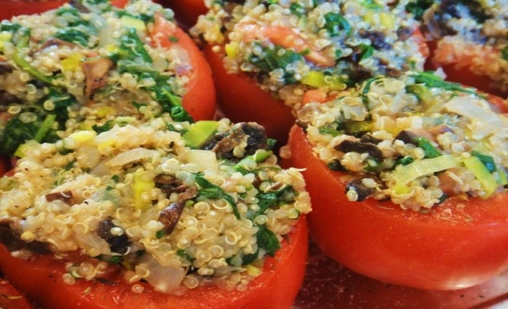 We served 350 lunches at Hillel on Thursday. Friday's crowd was slightly less at about 300 guests. Having 6 hours before serving 125 for Shabbat dinner, I send my exhausted crew home. Dinner is prepped and ready for last minute blasting in the oven. It's a two man or one woman job; I stay since I'm such a control freak anyway.
Benoit sticks around and we begin cleaning up the Passover kitchen. The matzoh balls are in the freezer for the contest on Monday. There isn't anything left to cook. Time to pack up this act and get ready to kasher the kitchen back for general use. All the equipment is run through the dishwasher for the 200 degree cleaning cycle. Opening the kitchen doors to feel the first spring day, I use the fresh air to dry dozens and dozens of sheet pans, bus tubs and utensils. It is a great feeling to pack things away after an event well done.
Time closes in on Shabbos and I have to get the vegetarian entree made. The eggplant crop was ruined so there are few available in town. What's available is expensive so I opt to use tomatoes. I have 2 small bags of quinoa left. Time to 'walk the fridge' - see what is leftover to use as filling. Anything that isn't a potato or carrot is fair game. I have a case of 12 portabello mushrooms I've asked Frank to slice and roast in the oven earlier. I have a large bag of spinach that has been wilted. I find a few leeks, white onions, and minced garlic. Everything else is a carrot, potato or egg.
In years past, we've done stuffed vegetables. Needing a binder, I'd use leftover matzoh balls from the soup. But, they are gebrokts, and have gluten and eggs. Quinoa is a much better option; looks beautiful and is a complete protein. Quinoa is also very simple to make. This is great because while making these I'm going cross-eyed with fatigue.
This is a recipe without ingredients. Consider it a basic framework for filling any vegetable you may have on hand; zucchini, onion or if you're wealthy, eggplant. I'm filling 36 large tomatoes so need a substantial amount of filling. Decide what you are stuffing and how much filling you need and just make that much. Having 2 jars of ready to use marinara sauce, I know that I'm topping the tomatoes off with it before baking. Next to putting away equipment, I love using my Passover ingredients down to the last drop of oil, last chocolate chip and last drop of energy.
Kosher Status:
Parve
Number of servings:
prep the number of servings you need
Main Ingredient(s):
Preparation Time:
00:30
Cooking Time:
00:30
Skill Level:
1 - Easy

(1 Easy - 5 Hard)

Estimated POINT value:


Ingredients:


Any vegetable you want to stuff
Filling suggestions: Quinoa, mushrooms, spinach, leeks, onions, garlic, and tomatoes. Swiss chard and kale could be good. Whatever you want.


Steps:


| | |
| --- | --- |
| | Prep leeks and toss them into a saute pan containing some hot oil. |
| | |
| --- | --- |
| | Prep onions and add to pan with leeks. Saute until tender. |
| | |
| --- | --- |
| | When leeks and onions are tender, add the minced garlic and saute for a minute. Remove from heat. |
| | |
| --- | --- |
| | While the leeks and onions saute, start the quinoa. 1 cup of quinoa to 1 1/2 cups of water is the general ratio. Bring the quinoa to a boil and reduce the heat. Let the quinoa absorb the water over a low heat. Remove from heat when it is done. |
| | |
| --- | --- |
| | I had oven roasted portabello mushrooms and wilted spinach on hand. Prepare any other vegetables you may opt to use. Place into a bowl. |
| | |
| --- | --- |
| | Slice the top off the tomatoes and remove the insides into a bowl. Set aside. Place tomatoes in a baking dish. Sprinkle with salt, pepper and dried herbs if desired. |
| | |
| --- | --- |
| | Take the insides of the tomatoes and chop. Add to the bowl with other ingredients. If using zuchini, the insides may need to be sauteed with the onions and leeks for a bit. |
| | |
| --- | --- |
| | Add chopped tomatoes, and everything else to the bowl of prepped vegetables. Toss, season with salt and pepper. Add fresh basil or other herbs if you have any on hand. |
| | |
| --- | --- |
| | We also strained some of the tomato juice into the filling. |
| | |
| --- | --- |
| | Fill the tomatoes. |
| | |
| --- | --- |
| | Top with tomato sauce. Bake until heated through. |


Recently viewed recipes:



Quinoa Stuffed Tomatoes (or chef's choice of vegetable)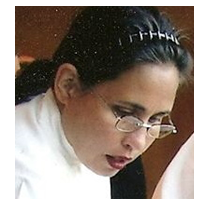 About Leah
Hi! Thank you for stopping by to watch me, Leah, cook kosher. I've been the owner operator of my boutique catering firm in Seattle, Leah's Catering, for the past 14 years.
Read more...
Leah's Blog

Aviva Makes Aliyah and The Sandwich Generation

Happy Chinese New Year! Happy Super Bowl! Go Hawks!

Tradition! Fun with the Seattle International Film Festival

Where Have I Been in My Life???

Making Kosher Salads

Blog Categories
Leah's Kosher Pantry

View what is in the pantry
Recipes

Appetizers
(44)

Appetizers - Dips and Sauces
(11)

Appetizers - Starter Courses
(10)

Beverages - Cold
(1)

Breads - Yeast
(10)

Breakfast Pastries
(7)

Dessert - Frostings
(6)

Desserts - Cakes
(13)

Desserts - Cookies and Brownies
(29)

Desserts - Dairy
(42)

Desserts - Pareve
(71)

Desserts - Pies and Tarts
(14)

Desserts - Tea Breads, Quick Breads
(8)

Desserts and Baked Goods - Gluten Free
(18)

Main Dish - Beef
(7)

Main Dish - Dairy
(3)

Main Dish - Eggs and Fritattas
(6)

Main Dish - Fish
(11)

Main Dish - Poultry
(14)

Main Dish - Vegetarian and Vegan
(9)

Salads - Dressing
(8)

Salads - Fruit
(4)

Salads - Grains & Legumes
(7)

Salads - Green
(1)

Salads - Pasta and Rice
(10)

Salads - Potatoes and Eggs
(5)

Salads - Vegetable
(15)

Side Dishes - Kugels and Souffles
(7)

Side Dishes - Potatoes and Vegetables
(17)

Side Dishes - Rice, Grains and Pasta
(7)

Soups, Stews and Cholent
(9)
Special Considerations

Dairy-Free Recipes
(230)

Gluten-Free Recipes
(134)

High Fiber Recipes
(18)

Low-fat Recipes
(11)

Nut-Free Desserts Recipes
(48)

Vegan Recipes
(101)

Vegetarian Recipes
(207)
Holidays

Rosh Hashana Recipes
(23)

Yom Kippur Recipes
(3)

Sukkot Recipes
(26)

Simchat Torah Recipes
(9)

Chanukah Recipes
(20)

Tu B'shevat Recipes
(16)

Purim Recipes
(9)

Passover Recipes
(44)

Lag Ba'omer Recipes
(6)

Shavuot Recipes
(24)

Shabbat Recipes
(34)
Cookbook Library

New Releases

Jewish Classics

Other Favorites
Kitchen Gadgets

Essentials

Small Appliances
Chef Of The Week

Barbara Williamson
Congratulations to our chef of the week.