Matzoh Balls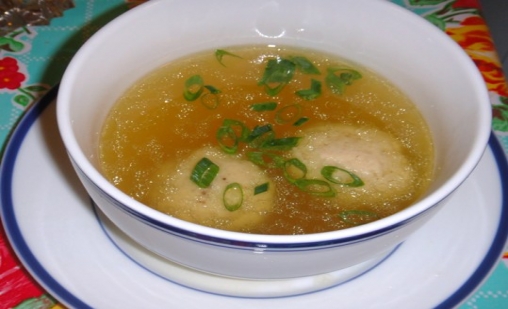 I prefer matzoh balls to be 'floaters', light and fluffy. My recipe makes 200 matzoh balls, a little excessive for home use. Just a little. We are making 2,500 pieces this Passover season. Hillel UW ends the holiday with a matzoh ball eating contest. I learned something after last year's competition; 1) light and fluffy balls are good and 2) boiling hot is not. Hard to eat a couple dozen if you have to stop and blow.
Matzoh balls can be made ahead and frozen. As they cool, they shrink and you might be tempted to think they are ruined. Not so! Drop them into your simmering soup stock and they'll become just as light and fluffy as ever. I don't make my matzoh balls in the soup stock. Rather, we boil them for 45 minutes in salted water or water flavored with a little instant soup stock. Boiling matzoh balls as long as necessary causes the water to be both absorbed and evaporated. If you use your soup stock, it'll become reduced in quantity and intense in flavor. I prefer to make them separately and then let them simmer in the soup until ready to serve.
Ultimately, there isn't a secret recipe to our matzoh balls. I think it comes from the side of the box. I buy matzoh meal in the 25# bags and there isn't a recipe on the bag to double check. I believe that it is important to boil them, not simmer, but actually keep a low boil on the matzoh balls for a full 45 minutes for a walnut sized ball of mixture. I also believe "it's the water". They used to say that about the Rainier Beer that was brewed (is brewed?) here in Seattle. However, we don't use Tumwater water, we use either Perrier or San Pellegrino Sparkling Water. So there you have it, I use imported water from France or Italy to make matzoh balls. Didn't I say it before ~ "I'm such a snob."
Kosher Status:
Parve
Number of servings:
12 pieces, depending on the size
Main Ingredient(s):
Matzo Meal
Preparation Time:
00:10
Cooking Time:
00:50
Skill Level:
1 - Easy

(1 Easy - 5 Hard)

Estimated POINT value:


Ingredients:


1/4 cup vegetable oil

3 eggs beaten

3/4 cup matzoh meal

1 1/2 teaspoon salt

3 tablespoons seltzer water


Steps:


| | |
| --- | --- |
| | Mix the eggs, oil and salt until well blended. |
| | |
| --- | --- |
| | Add matzoh meal and seltzer water. Mix until blended. I have a small whisk in this picture...better to use a spoon. |
| | |
| --- | --- |
| | Let the mixture sit in the fridge for an hour before using. |
| | |
| --- | --- |
| | Put a large pot of water on to boil. Add a little salt or chicken soup mix to the water. |
| | |
| --- | --- |
| | Shape the matzo mix into walnut sized balls. We don't really bother with this step. We use a portion scoop and just drop them directly into the water. |
| | |
| --- | --- |
| | When the water is boiling, drop the matzoh balls into the water. Don't over crowd the balls. They'll first sink to the bottom and then rise to the top. They'll double in size so leave about 1/2 the space on top of the water's surface empty for the balls to expand. |
| | |
| --- | --- |
| | Cover and boil. |
| | |
| --- | --- |
| | Boil for 45 minutes. If you doubt if they are done, simply remove one from the water and cut it open. It should be light and fluffy all the way through. If it still looks dense and darker in color, toss it back into the water and boil another 5 minutes or so. |
| | |
| --- | --- |
| | Remove the balls from the water and let cool. They can be added to your soup if being served immediately (or soon). |
| | |
| --- | --- |
| | It is okay to freeze matzoh balls until ready to use. Simply drop them frozen into your slow boiling soup to revive them. |


Recently viewed recipes:



Matzoh Balls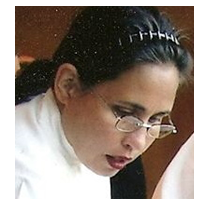 About Leah
Hi! Thank you for stopping by to watch me, Leah, cook kosher. I've been the owner operator of my boutique catering firm in Seattle, Leah's Catering, for the past 14 years.
Read more...
Leah's Blog

Aviva Makes Aliyah and The Sandwich Generation

Happy Chinese New Year! Happy Super Bowl! Go Hawks!

Tradition! Fun with the Seattle International Film Festival

Where Have I Been in My Life???

Making Kosher Salads

Blog Categories
Leah's Kosher Pantry

View what is in the pantry
Recipes

Appetizers
(44)

Appetizers - Dips and Sauces
(11)

Appetizers - Starter Courses
(10)

Beverages - Cold
(1)

Breads - Yeast
(10)

Breakfast Pastries
(7)

Dessert - Frostings
(6)

Desserts - Cakes
(13)

Desserts - Cookies and Brownies
(29)

Desserts - Dairy
(42)

Desserts - Pareve
(71)

Desserts - Pies and Tarts
(14)

Desserts - Tea Breads, Quick Breads
(8)

Desserts and Baked Goods - Gluten Free
(18)

Main Dish - Beef
(7)

Main Dish - Dairy
(3)

Main Dish - Eggs and Fritattas
(6)

Main Dish - Fish
(11)

Main Dish - Poultry
(14)

Main Dish - Vegetarian and Vegan
(9)

Salads - Dressing
(8)

Salads - Fruit
(4)

Salads - Grains & Legumes
(7)

Salads - Green
(1)

Salads - Pasta and Rice
(10)

Salads - Potatoes and Eggs
(5)

Salads - Vegetable
(15)

Side Dishes - Kugels and Souffles
(7)

Side Dishes - Potatoes and Vegetables
(17)

Side Dishes - Rice, Grains and Pasta
(7)

Soups, Stews and Cholent
(9)
Special Considerations

Dairy-Free Recipes
(230)

Gluten-Free Recipes
(134)

High Fiber Recipes
(18)

Low-fat Recipes
(11)

Nut-Free Desserts Recipes
(48)

Vegan Recipes
(101)

Vegetarian Recipes
(207)
Holidays

Rosh Hashana Recipes
(23)

Yom Kippur Recipes
(3)

Sukkot Recipes
(26)

Simchat Torah Recipes
(9)

Chanukah Recipes
(20)

Tu B'shevat Recipes
(16)

Purim Recipes
(9)

Passover Recipes
(44)

Lag Ba'omer Recipes
(6)

Shavuot Recipes
(24)

Shabbat Recipes
(34)
Cookbook Library

New Releases

Jewish Classics

Other Favorites
Kitchen Gadgets

Essentials

Small Appliances
Chef Of The Week

Barbara Williamson
Congratulations to our chef of the week.