Leah's Famous Coconut Macaroons, Chocolate Dipped (optional)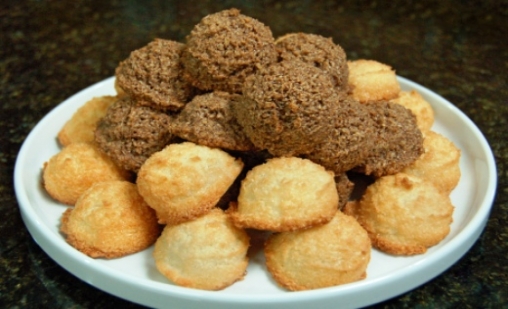 *This recipe is one of my classics for Passover. Video now available!
This is my famous, even if only in my own mind, coconut macaroon recipe. Years ago, I knew what I wanted in a macaroon. Somewhere in my subconscious I carried a memory of the perfect macaroon and I wanted to recreate it. These macaroons have nothing to do with the stuff made in November that comes in a can. These in the picture are fresh from the oven made only 4 hours ago. I think that 2 of them no longer exist outside of my physical body. Pulling them from the oven, I ask Rabbi Aryeh if we should say the traditional blessing thanking The King of the Universe for keeping us alive to reach this season; in this case - the macaroon season.
These macaroons are made of coconut, sugar, egg whites and real vanilla extract. They are light, a little fluffy, slightly chewy and not overly sweet. The recipe is the result of trial and error; and Roland's expert advise. Roland is a German master baker, trained from his youth to bake the most amazing breads and especially pretzels. He worked with me when I first opened the bakery and then went back to his wholesale business.
Frustrated with a few attempts at cookbook recipes, I decide to take matters into my own hands. I come up with a ratio for the ingredients but the execution isn't working. Adding the coconut to the egg white/sugar locks up the mixture. This yields hard, dry macaroons that are difficult to work. It's sad.
Running across the street to Roland at his business, I explain my situation. He tells me to cook the egg whites and sugar first. Ahh, yes - such a simple thing; the starting process of Swiss Meringue. How do I know this? Bo Friberg's GIANT book, "The Professional Pastry Chef" explains everything. I have it on my lap as I type this; I may never walk again. The book is 1200 pages of fine print with references and cross-references. I love this book. I love these macaroons.....
Anyway, I'm not a chemist and don't know the scientific reason of why the molecular structure is altered when heated. I do know that the coconut does not lock up and is easy, easy to work with. Thank you Roland!
Kosher Status:
Parve
Number of servings:
approximately 36
Main Ingredient(s):
Eggs , Coconut - Dessicated
Preparation Time:
00:20
Cooking Time:
00:20
Skill Level:
1 - Easy

(1 Easy - 5 Hard)

Estimated POINT value:


Ingredients:


My recipe:
8.65 pounds of egg whites

8 pounds of sugar

8 pounds of dessicated coconut

4 teaspoons vanilla
Your recipe:
15 egg whites

2 cups of sugar

1 pound of dessicated coconut

1/2 teaspoon vanilla
For Chocolate Dipping:
Melt 12 oz. of chocolate chips in a bowl over simmering water. When it is smooth and melted, dip the top of the coconut macaroon and set down onto parchment paper. It isn't necessary to dip the bottom.


Steps:


| | |
| --- | --- |
| | In a glass or metal bowl that will sit securely over the top of a pot of simmering water, combine the egg whites and sugar. Whip or stir with your fingers. |
| | |
| --- | --- |
| | Stirring constantly over the heat, cook to 140 degrees. That is hot enough so that you can't really put your fingers into it anymore. Remove from the heat. |
| | |
| --- | --- |
| | Measure out the coconut. This is an insane picture of 8 pounds. |
| | |
| --- | --- |
| | Add the coconut to the egg white/sugar mixture. |
| | |
| --- | --- |
| | Stir the coconut and vanilla until well incorporated. |
| | |
| --- | --- |
| | I use a scoop to form the macaroons. |
| | |
| --- | --- |
| | Bake in a 290 degree oven for 12 minutes. Rotate the tray and bake for about another 12 minutes (depending on the size of your macaroons, time may vary). |
| | |
| --- | --- |
| | Bake until golden brown. Cool. I like to store these loosely wrapped. Here in the Northwest, the air is damp and can cause the macaroons to turn a tad gummy. |


Recently viewed recipes:



Leah's Famous Coconut Macaroons, Chocolate Dipped (optional)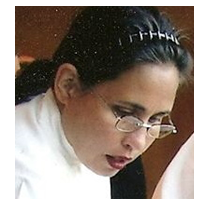 About Leah
Hi! Thank you for stopping by to watch me, Leah, cook kosher. I've been the owner operator of my boutique catering firm in Seattle, Leah's Catering, for the past 14 years.
Read more...
Leah's Blog

Aviva Makes Aliyah and The Sandwich Generation

Happy Chinese New Year! Happy Super Bowl! Go Hawks!

Tradition! Fun with the Seattle International Film Festival

Where Have I Been in My Life???

Making Kosher Salads

Blog Categories
Leah's Kosher Pantry

View what is in the pantry
Recipes

Appetizers
(44)

Appetizers - Dips and Sauces
(11)

Appetizers - Starter Courses
(10)

Beverages - Cold
(1)

Breads - Yeast
(10)

Breakfast Pastries
(7)

Dessert - Frostings
(6)

Desserts - Cakes
(13)

Desserts - Cookies and Brownies
(29)

Desserts - Dairy
(42)

Desserts - Pareve
(71)

Desserts - Pies and Tarts
(14)

Desserts - Tea Breads, Quick Breads
(8)

Desserts and Baked Goods - Gluten Free
(18)

Main Dish - Beef
(7)

Main Dish - Dairy
(3)

Main Dish - Eggs and Fritattas
(6)

Main Dish - Fish
(11)

Main Dish - Poultry
(14)

Main Dish - Vegetarian and Vegan
(9)

Salads - Dressing
(8)

Salads - Fruit
(4)

Salads - Grains & Legumes
(7)

Salads - Green
(1)

Salads - Pasta and Rice
(10)

Salads - Potatoes and Eggs
(5)

Salads - Vegetable
(15)

Side Dishes - Kugels and Souffles
(7)

Side Dishes - Potatoes and Vegetables
(17)

Side Dishes - Rice, Grains and Pasta
(7)

Soups, Stews and Cholent
(9)
Special Considerations

Dairy-Free Recipes
(230)

Gluten-Free Recipes
(134)

High Fiber Recipes
(18)

Low-fat Recipes
(11)

Nut-Free Desserts Recipes
(48)

Vegan Recipes
(101)

Vegetarian Recipes
(207)
Holidays

Rosh Hashana Recipes
(23)

Yom Kippur Recipes
(3)

Sukkot Recipes
(26)

Simchat Torah Recipes
(9)

Chanukah Recipes
(20)

Tu B'shevat Recipes
(16)

Purim Recipes
(9)

Passover Recipes
(44)

Lag Ba'omer Recipes
(6)

Shavuot Recipes
(24)

Shabbat Recipes
(34)
Cookbook Library

New Releases

Jewish Classics

Other Favorites
Kitchen Gadgets

Essentials

Small Appliances
Chef Of The Week

Barbara Williamson
Congratulations to our chef of the week.