Nanaimo Bars (Dairy or Pareve)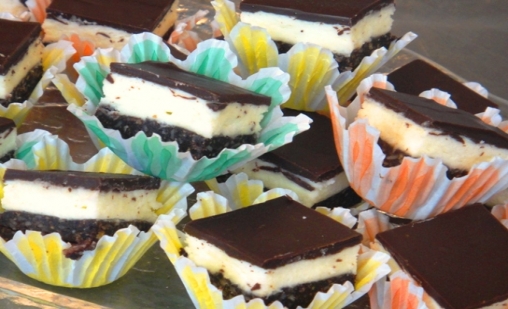 Supposedly, this bar cookie originates from Nanaimo Island located somewhere off Vancouver Island here in the Northwest. If so, it must be because a creative cook had cabin fever as none of the ingredients are indigenous to the region. The bar consists of 3 layers; the base of graham crackers, coconut and ground almonds. The middle section is the boxed pudding powder combined with butter and powdered sugar. The top layer is melted chocolate chips and butter. What could be bad?
We sold these in the bakery for years as individually wrapped bars. For parties, I like to cut small squares and put the Nanaimo cookies into paper cups. I remember someone coming into the bakery and asking if I knew the POINTS value of the bar. I didn't know anything about Weight Watchers at that time (yep, do now!) but instinctively I knew that if you had to ask, a Nanaimo Bar is probably off the point chart for any given day. They are rich and a little goes a long way. The good news is that they freeze well. Keep them on hand for a quick chocolate fix or for unexpected company...if you are up for sharing!
I did make a kosher for Passover version replacing the graham crackers with kosher for Passover breakfast cereal I whizzed in the food processor. The chocolate, almonds and coconut are rich enough so it might be feasible to use matzoh meal instead of the cereal. If someone out there tries it, please let me know. I'm going to upload the recipe for Passover separately as there are other points to note.
Kosher Status:
Parve
Number of servings:
96 small cookies, 36 bars
Main Ingredient(s):
Coconut - Dessicated, Chocolate Chips
Preparation Time:
00:40
Cooking Time:
00:00
Skill Level:
1 - Easy

(1 Easy - 5 Hard)

Estimated POINT value:


Ingredients:


The base:
3/4 pound unsalted margarine (or butter for dairy)

3/4 cup sugar

7/8 cup cocoa

3 eggs

3 cups graham crackers crumbs

2 cups ground almonds

8 ounces dessicated coconut
The filling:
1 1/4 cups butter

1/2 cup milk

1 box custard powder

7 cups powdered sugar
The top:
12 ounces pareve chocolate chips

1/2 cup unsalted margarine (or butter for dairy)

1 teaspoon shortening


Steps:


| | |
| --- | --- |
| | Place the margarine, sugar and cocoa into a large bowl. Place over a pot of simmering water. Melt the margarine and stir ingredients until smooth. |
| | |
| --- | --- |
| | As the margarine melts, combine the graham cracker crumbs, ground almonds and shredded coconut in a large bowl. |
| | |
| --- | --- |
| | When the margarine mixture is smooth, stir in the eggs. Continue to heat over the simmering water until the mixture is 140', somewhat hot to the touch. We are trying to 'cook' the eggs. |
| | |
| --- | --- |
| | Continue to stir until the mixture is smooth. |
| | |
| --- | --- |
| | Add the chocolate mixture to the bowl of dry ingredients. |
| | |
| --- | --- |
| | Stir until well combined. |
| | |
| --- | --- |
| | Line a jelly roll pan with parchment paper. Leave edges of paper extended over the sides of the pan. This will help get the slab of cookies out of the pan. Empty the base mixture into the jelly roll pan. With an off-set spatula, press the base into an even layer. Set aside while you make the filling. |
| | |
| --- | --- |
| | Combine all the filling ingredients into a mixing bowl. Mix until the filling is light and fluffy. Rub a dab of the filling between your fingers. If you feel the sugar, continue to beat until it is smooth. |
| | |
| --- | --- |
| | Spread filling evenly over the base. Set aside while you make the top glaze. |
| | |
| --- | --- |
| | Melt the glaze ingredients over the simmering water. It should be smooth and shiny but not too hot or it'll melt the filling layer. Pour over the filling and using and off-set spatula, quickly smooth the glaze over the filling. When pushing the glaze, glide the spatula over the chocolate while lightly pushing it around. If you push too hard, you'll get the filling into the chocolate. Refrigerate until ready to cut. |
| | |
| --- | --- |
| | To cut, remove the slab of Nanaimo Bars from the pan. You may need to loosen the edges with a paring knife. To cut, dip the knife into hot water and wipe with a damp towel. Cut down into the slab but don't lift and drag the knife. If you do, the filling that sticks a bit to the knife will then get stuck to the top of the glaze. Mine look clean between cuts as I have cut, dipped, wiped and cut again without dragging the knife. |
| | |
| --- | --- |
| | Cut across the slab to create smaller cookies. |
| | |
| --- | --- |
| | These bars should be refrigerated until about 1/2 hour before serving. |


Recently viewed recipes:



Nanaimo Bars (Dairy or Pareve)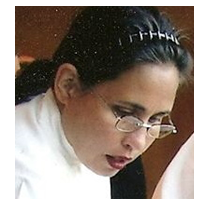 About Leah
Hi! Thank you for stopping by to watch me, Leah, cook kosher. I've been the owner operator of my boutique catering firm in Seattle, Leah's Catering, for the past 14 years.
Read more...
Leah's Blog

Aviva Makes Aliyah and The Sandwich Generation

Happy Chinese New Year! Happy Super Bowl! Go Hawks!

Tradition! Fun with the Seattle International Film Festival

Where Have I Been in My Life???

Making Kosher Salads

Blog Categories
Leah's Kosher Pantry

View what is in the pantry
Recipes

Appetizers
(44)

Appetizers - Dips and Sauces
(11)

Appetizers - Starter Courses
(10)

Beverages - Cold
(1)

Breads - Yeast
(10)

Breakfast Pastries
(7)

Dessert - Frostings
(6)

Desserts - Cakes
(13)

Desserts - Cookies and Brownies
(29)

Desserts - Dairy
(42)

Desserts - Pareve
(71)

Desserts - Pies and Tarts
(14)

Desserts - Tea Breads, Quick Breads
(8)

Desserts and Baked Goods - Gluten Free
(18)

Main Dish - Beef
(7)

Main Dish - Dairy
(3)

Main Dish - Eggs and Fritattas
(6)

Main Dish - Fish
(11)

Main Dish - Poultry
(14)

Main Dish - Vegetarian and Vegan
(9)

Salads - Dressing
(8)

Salads - Fruit
(4)

Salads - Grains & Legumes
(7)

Salads - Green
(1)

Salads - Pasta and Rice
(10)

Salads - Potatoes and Eggs
(5)

Salads - Vegetable
(15)

Side Dishes - Kugels and Souffles
(7)

Side Dishes - Potatoes and Vegetables
(17)

Side Dishes - Rice, Grains and Pasta
(7)

Soups, Stews and Cholent
(9)
Special Considerations

Dairy-Free Recipes
(230)

Gluten-Free Recipes
(134)

High Fiber Recipes
(18)

Low-fat Recipes
(11)

Nut-Free Desserts Recipes
(48)

Vegan Recipes
(101)

Vegetarian Recipes
(207)
Holidays

Rosh Hashana Recipes
(23)

Yom Kippur Recipes
(3)

Sukkot Recipes
(26)

Simchat Torah Recipes
(9)

Chanukah Recipes
(20)

Tu B'shevat Recipes
(16)

Purim Recipes
(9)

Passover Recipes
(44)

Lag Ba'omer Recipes
(6)

Shavuot Recipes
(24)

Shabbat Recipes
(34)
Cookbook Library

New Releases

Jewish Classics

Other Favorites
Kitchen Gadgets

Essentials

Small Appliances
Chef Of The Week

Barbara Williamson
Congratulations to our chef of the week.