Chocolate Chip Cookies (Gluten-free or Not)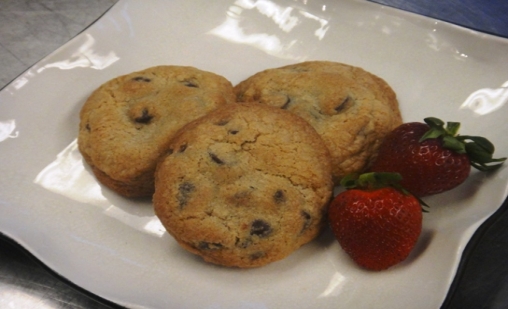 What does 'or not' mean? I have many requests to share gluten-free recipes. This means I have to develop some recipes. Fine with me as I love to learn new stuff. My basic philosophy is if you can read, you can bake...and, if you can think you can create. Following that is all the stuff my mother said about not knowing unless you try. So, I'm testing my theory that I can substitute the flour with the gluten-free mix and add 1/4 teaspoon xanthan gum for every cup used. So far, so good.
My choice flour blend for gluten-free recipes is the Wendy Wark's Flour Mix which I tweaked a bit. You can find her's on the web, mine in the recipe archive. It isn't that different except it made more sense given the size of the retail packaging I purchased of the various flours.
This is a basic chocolate chip cookie recipe. It can be pareve or dairy. It can be all butter, all margarine or even combined with 1/2 shortening. It can be dairy chocolate chips or pareve chocolate chips, nuts or no nuts. BUT, BUT - it can't be over beaten. That is when you get runny, flat, odd shaped, burnt edges, and G-d forbid, HOMEMADE looking cookies! I like to use a portion scoop to get even sizes, #50 for buffets and #10 for box lunches. You may do whatever you like ~ just don't over beat them!
Kosher Status:
Dairy
Number of servings:
about 24 cookies depending on the size
Main Ingredient(s):
Chocolate Chips
Preparation Time:
00:20
Cooking Time:
00:10
Skill Level:
1 - Easy

(1 Easy - 5 Hard)

Estimated POINT value:


Ingredients:


2 1/4 cups flour (or gluten-free flour mix + 1/2 teaspoon xanthan gum)

1 teaspoon salt

1 teaspoon baking soda

1 cup brown sugar, firmly packed

1/2 cup white sugar

1 cup softened butter or margarine (or 1/2 shortening)

1 teaspoon vanilla extract

2 eggs

12 oz. chocolate chips (about 1 1/2 cups)

1 cup nuts (optional)


Steps:


| | |
| --- | --- |
| | Assemble the dry ingredients in a bowl and set aside. |
| | |
| --- | --- |
| | Combine the brown sugar, white sugar, softened butter and vanilla. Beat until just combined and creamy. |
| | |
| --- | --- |
| | Add the eggs and beat just until blended....that's enough! |
| | |
| --- | --- |
| | Add creamed mixture to the dry ingredients. I like to mix by hand. Stir in the chocolate chips. Refrigerate for 15 minutes or so. Meanwhile, preheat the oven to 350 degrees. |
| | |
| --- | --- |
| | Scoop or spoon onto non-greased cookie sheet. I like to use parchment paper. Bake, depending on the size of your cookies, until the edges are colored and the middle is starting to lightly brown. Remove and let cool. Enjoy! |


Recently viewed recipes:



Chocolate Chip Cookies (Gluten-free or Not)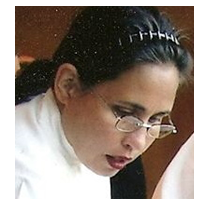 About Leah
Hi! Thank you for stopping by to watch me, Leah, cook kosher. I've been the owner operator of my boutique catering firm in Seattle, Leah's Catering, for the past 14 years.
Read more...
Leah's Blog

Aviva Makes Aliyah and The Sandwich Generation

Happy Chinese New Year! Happy Super Bowl! Go Hawks!

Tradition! Fun with the Seattle International Film Festival

Where Have I Been in My Life???

Making Kosher Salads

Blog Categories
Leah's Kosher Pantry

View what is in the pantry
Recipes

Appetizers
(44)

Appetizers - Dips and Sauces
(11)

Appetizers - Starter Courses
(10)

Beverages - Cold
(1)

Breads - Yeast
(10)

Breakfast Pastries
(7)

Dessert - Frostings
(6)

Desserts - Cakes
(13)

Desserts - Cookies and Brownies
(29)

Desserts - Dairy
(42)

Desserts - Pareve
(71)

Desserts - Pies and Tarts
(14)

Desserts - Tea Breads, Quick Breads
(8)

Desserts and Baked Goods - Gluten Free
(18)

Main Dish - Beef
(7)

Main Dish - Dairy
(3)

Main Dish - Eggs and Fritattas
(6)

Main Dish - Fish
(11)

Main Dish - Poultry
(14)

Main Dish - Vegetarian and Vegan
(9)

Salads - Dressing
(8)

Salads - Fruit
(4)

Salads - Grains & Legumes
(7)

Salads - Green
(1)

Salads - Pasta and Rice
(10)

Salads - Potatoes and Eggs
(5)

Salads - Vegetable
(15)

Side Dishes - Kugels and Souffles
(7)

Side Dishes - Potatoes and Vegetables
(17)

Side Dishes - Rice, Grains and Pasta
(7)

Soups, Stews and Cholent
(9)
Special Considerations

Dairy-Free Recipes
(230)

Gluten-Free Recipes
(134)

High Fiber Recipes
(18)

Low-fat Recipes
(11)

Nut-Free Desserts Recipes
(48)

Vegan Recipes
(101)

Vegetarian Recipes
(207)
Holidays

Rosh Hashana Recipes
(23)

Yom Kippur Recipes
(3)

Sukkot Recipes
(26)

Simchat Torah Recipes
(9)

Chanukah Recipes
(20)

Tu B'shevat Recipes
(16)

Purim Recipes
(9)

Passover Recipes
(44)

Lag Ba'omer Recipes
(6)

Shavuot Recipes
(24)

Shabbat Recipes
(34)
Cookbook Library

New Releases

Jewish Classics

Other Favorites
Kitchen Gadgets

Essentials

Small Appliances
Chef Of The Week

Barbara Williamson
Congratulations to our chef of the week.