Pareve Chocolate Mousse (Kosher for Passover)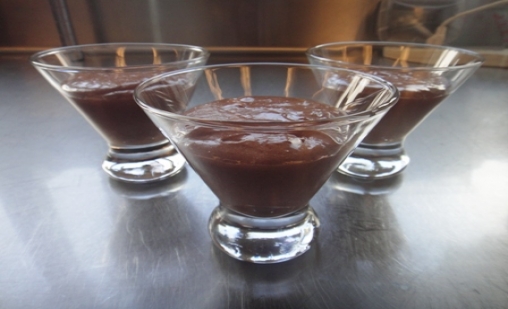 Years ago, before I started catering, some friends and I decide to do a series of fundraiser dinners for Chabad. Utilizing the cooking skills of women in the community, we develop menus based on their cultural backgrounds. We create a French night, an Italian night and an amazing Thai night. This recipe for pareve chocolate mousse is from Naomi Leah who now lives in England. She had attended school in France and worked on the French menu. This was, of course, pre-Benoit!
None of us had experience cooking for 120 guests, the maximum the old Chabad House could hold seated at tables. I remember Naomi Leah beating the eggs in very small batches to make this mousse. I've graduated to 50 servings at a time but think that there are advantages to smaller batches. For one, there is less folding of the egg whites at the end. The result is a lighter mousse.
I like serving the mousse on buffets in small chocolate cups. They are dainty and elegant, especially with a dusting of cocoa powder. For seated meals, I like to serve the mousse in Cosmo glasses. Sadly, this photo was taken without the garnish as I was loading the glasses back into the crates for transport to an event. You'll have to imagine the dollop of whipped cream, mint leaf and strawberry garnish. I also like serving a plate of cookies family style, my favorite being the Sephardic Biscocho.
The good news here is that this mousse can be made kosher for Passover! Whoo-hoo ~ something light and chocolate after a large meal.
Kosher Status:
Parve
Number of servings:
12 servings, about 1/2 cup each
Main Ingredient(s):
Chocolate Chips
Preparation Time:
00:30
Cooking Time:
00:20
Skill Level:
1 - Easy

(1 Easy - 5 Hard)

Estimated POINT value:


Ingredients:


1 pound chocolate chips

1 1/4 cups unsalted margarine

10 egg yolks

2/3 cups sugar

2 1/2 teaspoons vanilla extract

8 egg whites

1/2 teaspoons cream of tartar


Steps:


| | |
| --- | --- |
| | Place the margarine and chocolate chips in a bowl and place over a pot of simmering water. When melted, stir until smooth. Remove from heat and set aside to cool slightly. We don't want it to get hard again but don't want it blazing hot. |
| | |
| --- | --- |
| | Combine egg yolks and 1/2 of the sugar in a mixing bowl fitted with a paddle beater. Beat the yolks and sugar. |
| | |
| --- | --- |
| | Continue beating the yolks and sugar until very light and a slowly dissolving 'ribbon' forms when some of the mixtuxe is lifted back and forth. Beat in the vanilla. |
| | |
| --- | --- |
| | Add the melted chocolate to the beaten egg mixture. |
| | |
| --- | --- |
| | Using a rubber spatula, gently fold in the chocolate using a lifting over and under motion, rotating the bowl as you blend. Do not beat or stir. Gently 'romance it' over and under. |
| | |
| --- | --- |
| | Continue folding until well blended. Gently transfer to another large bowl and wash the mixing bowl. We need a clean bowl to whip the egg whites. |
| | |
| --- | --- |
| | In a clean mixing bowl, add egg whites and cream of tarter. With a whip attachement (or beaters if you don't have a whip), beat egg whites until frothy. Turn up the speed and continue to beat until soft peaks form. Slowly add the sugar beating well to dissolve the sugar until stiff, glossy peaks form. |
| | |
| --- | --- |
| | Add 1/3rd of the beaten egg whites to the chocolate mixture. With a rubber spatula, gently fold the whites into the chocolate. Do not beat or stir. We want to keep as much volume as possible. Add the rest of the egg whites. |
| | |
| --- | --- |
| | Continue to fold until well combined, being careful to use a very light hand. |
| | |
| --- | --- |
| | Scoop into cups. The mousse will set up in the refrigerator. Garnish as desired before serving. |


Recently viewed recipes:



Pareve Chocolate Mousse (Kosher for Passover)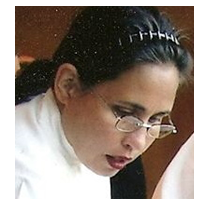 About Leah
Hi! Thank you for stopping by to watch me, Leah, cook kosher. I've been the owner operator of my boutique catering firm in Seattle, Leah's Catering, for the past 14 years.
Read more...
Leah's Blog

Aviva Makes Aliyah and The Sandwich Generation

Happy Chinese New Year! Happy Super Bowl! Go Hawks!

Tradition! Fun with the Seattle International Film Festival

Where Have I Been in My Life???

Making Kosher Salads

Blog Categories
Leah's Kosher Pantry

View what is in the pantry
Recipes

Appetizers
(44)

Appetizers - Dips and Sauces
(11)

Appetizers - Starter Courses
(10)

Beverages - Cold
(1)

Breads - Yeast
(10)

Breakfast Pastries
(7)

Dessert - Frostings
(6)

Desserts - Cakes
(13)

Desserts - Cookies and Brownies
(29)

Desserts - Dairy
(42)

Desserts - Pareve
(71)

Desserts - Pies and Tarts
(14)

Desserts - Tea Breads, Quick Breads
(8)

Desserts and Baked Goods - Gluten Free
(18)

Main Dish - Beef
(7)

Main Dish - Dairy
(3)

Main Dish - Eggs and Fritattas
(6)

Main Dish - Fish
(11)

Main Dish - Poultry
(14)

Main Dish - Vegetarian and Vegan
(9)

Salads - Dressing
(8)

Salads - Fruit
(4)

Salads - Grains & Legumes
(7)

Salads - Green
(1)

Salads - Pasta and Rice
(10)

Salads - Potatoes and Eggs
(5)

Salads - Vegetable
(15)

Side Dishes - Kugels and Souffles
(7)

Side Dishes - Potatoes and Vegetables
(17)

Side Dishes - Rice, Grains and Pasta
(7)

Soups, Stews and Cholent
(9)
Special Considerations

Dairy-Free Recipes
(230)

Gluten-Free Recipes
(134)

High Fiber Recipes
(18)

Low-fat Recipes
(11)

Nut-Free Desserts Recipes
(48)

Vegan Recipes
(101)

Vegetarian Recipes
(207)
Holidays

Rosh Hashana Recipes
(23)

Yom Kippur Recipes
(3)

Sukkot Recipes
(26)

Simchat Torah Recipes
(9)

Chanukah Recipes
(20)

Tu B'shevat Recipes
(16)

Purim Recipes
(9)

Passover Recipes
(44)

Lag Ba'omer Recipes
(6)

Shavuot Recipes
(24)

Shabbat Recipes
(34)
Cookbook Library

New Releases

Jewish Classics

Other Favorites
Kitchen Gadgets

Essentials

Small Appliances
Chef Of The Week

Barbara Williamson
Congratulations to our chef of the week.