Chocolate Raspberry Truffle Cake (Kosher for Passover)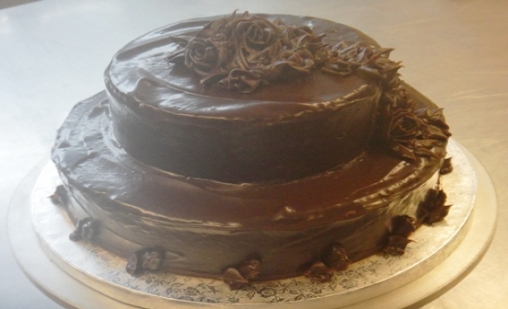 The Chocolate Raspberry Truffle Cake is to Passover what the Apple Crown Cake is to Rosh Hashana. We make it yearly for individual seder packages and by the 1/2 sheet pan for the Hillel lunches. It is very rich and a little goes a long way, especially after a large seder meal. I've made the cake photographed in 2 layers. It is glazed in chocolate ganache and decorated with ganache roses and leaves. Generally, we just glaze the single layer with chocolate ganache and call it good...I mean great.
We usually make this cake with unsalted margarine, even the kosher for Passover margarine which I think is somewhat weird....lots of water or something in it. I don't think all brands of kosher for Passover chocolate chips are the same either; some don't want to melt. But, no matter what I think, the cake always gets rave reviews. Slathered in chocolate ganache, what could be bad?
The baking and cooling times are important. Ovens being what they are, it is impossible to give an exact baking time. The edge of the cake should be set, the middle mostly set. It'll firm up in the refrigerator. If it gets over baked, then the cake wants to crack when cut....yep, seen that before. So, a little under baked is better. Also, use the best raspberry jam you can find. Kosher for Passover is a little limited. For other times, I have to call out Hero brand from France.
Okay, here it is.....the famous Chocolate Raspberry Truffle Cake recipe. Enjoy!
Kosher Status:
Parve
Number of servings:
9" cake, 12 - 16 servings
Main Ingredient(s):
Eggs , Chocolate Chips
Preparation Time:
01:20
Cooking Time:
00:40
Skill Level:
2

(1 Easy - 5 Hard)

Estimated POINT value:


Ingredients:


6 large eggs
1 3/4 pounds chocolate chips (about 3 1/2 cups)
1 pound unsalted stick margarine (must be unsalted, not whipped)
1/3 cup raspberry jam


Steps:


| | |
| --- | --- |
| | This recipe will make a 9", single layer cake. Cut a piece of parchment to fit the bottom of a 2" cake pan. Spray bottom and lay parchment disk in the bottom. Stand a 'cake nail' upside down in the center of the cake. Set aside. Preheat the oven to 350 degrees. |
| | |
| --- | --- |
| | Put eggs in the mixing bowl and whip until light and spongy, about 20 minutes. |
| | |
| --- | --- |
| | Place butter or margarine in a large bowl with the chocolate chips. Set over a pot of water on the stove and heat over medium heat to melt chocolate chips and butter or margarine. |
| | |
| --- | --- |
| | Keep beating the eggs until they hold a very soft peak and are light and spongy. |
| | |
| --- | --- |
| | Melt chocolate and butter/margarine and stir until very smooth. Set aside until the eggs are done. |
| | |
| --- | --- |
| | Add 1/4th of the eggs to the chocolate mixture. Use a whisk and an over and under hand motion to blend in the eggs. |
| | |
| --- | --- |
| | Add the rest of the eggs and gently whisk. |
| | |
| --- | --- |
| | Use a rubber spatula to gently fold the eggs into the chocolate mixture until blended. |
| | |
| --- | --- |
| | Fill cake pan 1/2 way with chocolate mixture. Dollop on the raspberry jam. Add chocolate mixture to the top of the pan. |
| | |
| --- | --- |
| | Gently drag a small spatula through the chocolate mixture to even out the raspberry jam. Don't over do it. |
| | |
| --- | --- |
| | Place the cake into a larger cake pan or jelly roll pan. Add water as far as possible to 1/2 way up the side of the cake pan. Place into the oven and bake until the sides are firm and the center is almost firm. The center will still move a little but will firm up in the refrigerator. |
Remove cake from the oven, carefully drain any leftover water in the water pan. Let the cake cool at room temperature until almost cool. Place in refrigerator to cool thoroughly.

When cooled, level by taking a sharp knife across the top of the cake pan from edge to edge. If the cake has sunk too much in the center, you may have to level the cake after it is removed from the pan.
| | |
| --- | --- |
| | I pop the cake in a hot oven for about 30 seconds when I want to remove it from the pan. That is just enough to melt the outer edge a bit. Invert the cake on the board and give it a few good pounds to the table top to loosen. Watch the nail that is still in the center of the cake. The cake should slide out when held straight upside down. It is firm enough to gently move once out of the pan if it is off center of the board. Remove the cake nail. |
| | |
| --- | --- |
| | As per the Chocolate Ganache recipe, heat and pour onto cake, gently but quickly spreading the ganache over the cake. |
| | |
| --- | --- |
| | Decorate as desired. Remember, I've increased the recipe and made a double layer cake. You'll have a single layer cake. To serve, use a knife heated by dipping into hot water. Wipe the water from the knife before slicing so the ganache doesn't get spotted. |


Recently viewed recipes:



Chocolate Raspberry Truffle Cake (Kosher for Passover)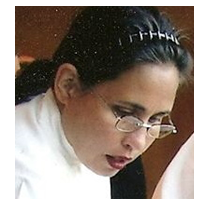 About Leah
Hi! Thank you for stopping by to watch me, Leah, cook kosher. I've been the owner operator of my boutique catering firm in Seattle, Leah's Catering, for the past 14 years.
Read more...
Leah's Blog

Aviva Makes Aliyah and The Sandwich Generation

Happy Chinese New Year! Happy Super Bowl! Go Hawks!

Tradition! Fun with the Seattle International Film Festival

Where Have I Been in My Life???

Making Kosher Salads

Blog Categories
Leah's Kosher Pantry

View what is in the pantry
Recipes

Appetizers
(44)

Appetizers - Dips and Sauces
(11)

Appetizers - Starter Courses
(10)

Beverages - Cold
(1)

Breads - Yeast
(10)

Breakfast Pastries
(7)

Dessert - Frostings
(6)

Desserts - Cakes
(13)

Desserts - Cookies and Brownies
(29)

Desserts - Dairy
(42)

Desserts - Pareve
(71)

Desserts - Pies and Tarts
(14)

Desserts - Tea Breads, Quick Breads
(8)

Desserts and Baked Goods - Gluten Free
(18)

Main Dish - Beef
(7)

Main Dish - Dairy
(3)

Main Dish - Eggs and Fritattas
(6)

Main Dish - Fish
(11)

Main Dish - Poultry
(14)

Main Dish - Vegetarian and Vegan
(9)

Salads - Dressing
(8)

Salads - Fruit
(4)

Salads - Grains & Legumes
(7)

Salads - Green
(1)

Salads - Pasta and Rice
(10)

Salads - Potatoes and Eggs
(5)

Salads - Vegetable
(15)

Side Dishes - Kugels and Souffles
(7)

Side Dishes - Potatoes and Vegetables
(17)

Side Dishes - Rice, Grains and Pasta
(7)

Soups, Stews and Cholent
(9)
Special Considerations

Dairy-Free Recipes
(230)

Gluten-Free Recipes
(134)

High Fiber Recipes
(18)

Low-fat Recipes
(11)

Nut-Free Desserts Recipes
(48)

Vegan Recipes
(101)

Vegetarian Recipes
(207)
Holidays

Rosh Hashana Recipes
(23)

Yom Kippur Recipes
(3)

Sukkot Recipes
(26)

Simchat Torah Recipes
(9)

Chanukah Recipes
(20)

Tu B'shevat Recipes
(16)

Purim Recipes
(9)

Passover Recipes
(44)

Lag Ba'omer Recipes
(6)

Shavuot Recipes
(24)

Shabbat Recipes
(34)
Cookbook Library

New Releases

Jewish Classics

Other Favorites
Kitchen Gadgets

Essentials

Small Appliances
Chef Of The Week

Barbara Williamson
Congratulations to our chef of the week.