Strawberry Rhubarb Tart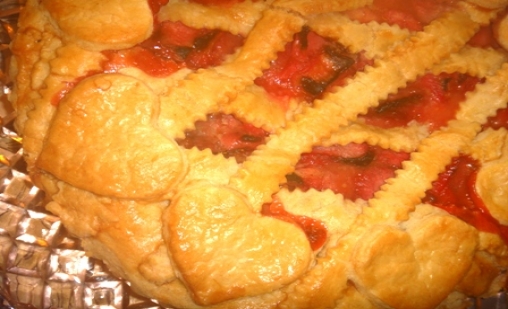 In the spring, just as Passover is approaching, I start looking for rhubarb. One of our more popular desserts that time of year is Apple Rhubarb Crisp. I make it ritually for the Hillel Passover lunches. I begin to add Strawberry Rhubarb Tarts to my dinner party menus and other events. Aviva and I can polish off an entire tart in an evening; by breakfast at the latest.
June rolls around in the Northwest and we utter frustrations at the weather. Usually enough sun has broken through to bring the local strawberries to market. I haven't seen any yet and the season is almost over. How sad! My three favorite pies are local strawberry rhubarb in June, local blackberry in August and not-so-local Meyer Lemon in December. Forget conspiracy theories; if I haven't made a local strawberry rhubarb pie in June then global warming is NOT a hoax.
Individual Strawberry Rhubarb Tartlets
Back in the day, the Japanese farmers from Fall City would send a 'berry bus' to Beacon Hill to pick up kids at 6:00 am. One June between 5th and 6th grades, I spend 2 weeks with my older sisters riding the berry bus an hour each way to pick strawberries. The only silence on the bus is during the minute it takes to go through the tunnel leading to the bridge over Lake Washington. Everyone is holding their breath, or trying to before sputtering with laughter. Under the hot sun for 8 hours, I try to fill my flat while avoiding the daddy longlegs hiding under strawberry plant leaves. Who would even let their kid do that these days? Yet, it was fun and I made $50 in 2 weeks. Ha, talk about stagnant wages.....
These photos are from a creation made in March. I like making tarts instead of pies. With their flat bottoms they are easier to serve. I also like the abundant fillings of deep dish pies. Galettes have rustic free formed crusts. This 'tart-lette' has a free formed crust that encases a deep dish quantity of filling within the confines of a tart pan. A true expression of control freak gluttonous revelry. My kind of pie!
Pushing the boundaries of prudence and necessity, I add a lattice top and way out of character applique hearts. Showin' the love......
Kosher Status:
Parve
Number of servings:
11" tart, 10 servings
Main Ingredient(s):
Strawberries, Rhubarb
Preparation Time:
00:50
Cooking Time:
00:40
Skill Level:
3

(1 Easy - 5 Hard)

Estimated POINT value:


Ingredients:


1/2 recipe Perfect Pie Dough
1 pound washed, hulled and sliced strawberries

1 pound washed, 1/2" slices of rhubarb (I've never peeled it)

1 cup sugar

1/4 cup cornstarch

1/4 teaspoon cinnamon

1/4 teaspoon orange extract

2 teaspoon lemon juice

2 tablespoons margarine


Steps:


| | |
| --- | --- |
| | Wash the straweberries, hull and slice. Set aside. |
| | |
| --- | --- |
| | Wash the rhubarb and cut the stalks into 1/2" chunks. |
| | |
| --- | --- |
| | Mix the dry ingredients together. Toss with the strawberries and rhubarb. Add the orange extract and lemon juice. Toss again. Set aside. |
| | |
| --- | --- |
| | Make the pie dough as per the recipe. Take about 1/2 of the dough and roll into a wide circle. Place the tart ring over the dough and rough cut about 2 - 2 1/2" bigger than the ring. Place the bottom into the ring. Spray with baking spray. Gently fold the pie crust in half, lift and place over the tart pan. Open and gently relax the crust into the bottom of the tart pan. |
| | |
| --- | --- |
| | Put the fruit filling into the tart crust. Dot with margarine. Gently bring the sides of the crust up and pleat it into place around the tart. |
| | |
| --- | --- |
| | Roll some of the remaining dough in a circle large enough to create strips to cover the tart. Use a pastry wheel to cut strips 3/4" to 1" wide. |
| | |
| --- | --- |
| | Lay the strips over the top of the tart. I lay them at a 45' angle so make a more interesting lattice than just boxes. |
| | |
| --- | --- |
| | Roll out more dough and make heart cut outs with a cookie cutter. Brush the crust with egg wash and lay the hearts edge to edge around the tart. |
Brush the entire tart with egg wash. Bake at 375' for about 40 minutes. You want a golden brown crust. The filling should bubble around the edge and the juice should look clear. When done, remove from the oven and cool at room temperature. Cover with foil if the tart is browning too quickly.

The tart, especially if the juice has run over the tart pan, may stick. When the tart is just about cooled, remove from the pan. Serve warm or at room temperature.


Recently viewed recipes:



Strawberry Rhubarb Tart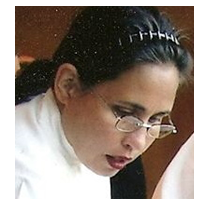 About Leah
Hi! Thank you for stopping by to watch me, Leah, cook kosher. I've been the owner operator of my boutique catering firm in Seattle, Leah's Catering, for the past 14 years.
Read more...
Leah's Blog

Aviva Makes Aliyah and The Sandwich Generation

Happy Chinese New Year! Happy Super Bowl! Go Hawks!

Tradition! Fun with the Seattle International Film Festival

Where Have I Been in My Life???

Making Kosher Salads

Blog Categories
Leah's Kosher Pantry

View what is in the pantry
Recipes

Appetizers
(44)

Appetizers - Dips and Sauces
(11)

Appetizers - Starter Courses
(10)

Beverages - Cold
(1)

Breads - Yeast
(10)

Breakfast Pastries
(7)

Dessert - Frostings
(6)

Desserts - Cakes
(13)

Desserts - Cookies and Brownies
(29)

Desserts - Dairy
(42)

Desserts - Pareve
(71)

Desserts - Pies and Tarts
(14)

Desserts - Tea Breads, Quick Breads
(8)

Desserts and Baked Goods - Gluten Free
(18)

Main Dish - Beef
(7)

Main Dish - Dairy
(3)

Main Dish - Eggs and Fritattas
(6)

Main Dish - Fish
(11)

Main Dish - Poultry
(14)

Main Dish - Vegetarian and Vegan
(9)

Salads - Dressing
(8)

Salads - Fruit
(4)

Salads - Grains & Legumes
(7)

Salads - Green
(1)

Salads - Pasta and Rice
(10)

Salads - Potatoes and Eggs
(5)

Salads - Vegetable
(15)

Side Dishes - Kugels and Souffles
(7)

Side Dishes - Potatoes and Vegetables
(17)

Side Dishes - Rice, Grains and Pasta
(7)

Soups, Stews and Cholent
(9)
Special Considerations

Dairy-Free Recipes
(230)

Gluten-Free Recipes
(134)

High Fiber Recipes
(18)

Low-fat Recipes
(11)

Nut-Free Desserts Recipes
(48)

Vegan Recipes
(101)

Vegetarian Recipes
(207)
Holidays

Rosh Hashana Recipes
(23)

Yom Kippur Recipes
(3)

Sukkot Recipes
(26)

Simchat Torah Recipes
(9)

Chanukah Recipes
(20)

Tu B'shevat Recipes
(16)

Purim Recipes
(9)

Passover Recipes
(44)

Lag Ba'omer Recipes
(6)

Shavuot Recipes
(24)

Shabbat Recipes
(34)
Cookbook Library

New Releases

Jewish Classics

Other Favorites
Kitchen Gadgets

Essentials

Small Appliances
Chef Of The Week

Barbara Williamson
Congratulations to our chef of the week.