Hamentachen Filling - Poppy Seed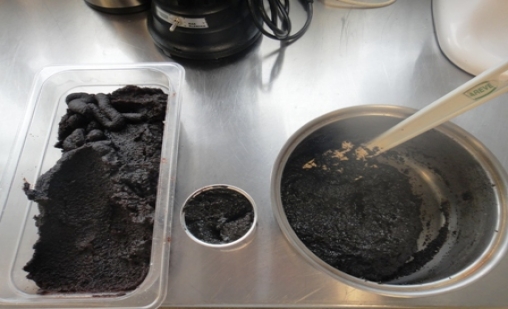 I received an email today asking if I have a recipe for poppy seed filling. I'm thinking two things; 1) someone noticed I didn't put up a recipe for poppy seed filling and 2) I have a can opener! So, like all of YOU, I start surfing the web as my cookbooks are at home and I am not. I check out a few highly rated recipes and say, "yeah, yeah" and start writing things down...nothing as it appears.
I check the #10 can in the pantry to see the ingredients. I'm shocked. The ingredients are poppy seeds, sugar and honey. Says to add eggs to lighten. For 13 years I've used it straight up...no wonder that lovely frum woman failed her drug test for life insurance. She ate 2 entire poppy seed rolls!
I have a small can I purchased because the label was nice....hmmm, no honey. Just poppy seeds and sugar and sugar syrup.
I have to decide; cook the poppy seeds or not to cook the poppy seeds. Food process or grind. Cracking my knuckles, I go with 2:1 ratio of poppy seeds and water. Soaking might be a good idea but I have an event tomorrow ~ no time! Combining the poppy seeds and water in a small sauce pan, the water pretty much is absorbed right away. I cook it anyway stirring constantly to see if I can soften the seeds and eliminate the liquid. A couple of the web recipes say to strain the water using cheese cloth. Ah, no.
Once satisfied with the contents of the pot, I scrape the damp seeds into the food processor. Nope, that isn't going to work. Just whirls them around but doesn't break them down. And, I'm not putting wet poppy seeds into my grinder which I purchased solely to grind poppy seeds...but we used the other day to make z'ahtar.
I run to the storage room to get a blender. This works better but I'm thinking the sound isn't right. Poppy seeds jamming the blade or something. Rather than burn out the motor, I stop and start checking the consistency. I add the sugar and honey....some fancy chestnut honey from Italy I have laying around; I'm such a snob. The honey makes the seeds too wet so I toss in a little flour as one recipe had called for. Then, I scrape all of it back into the sauce pan and over a medium heat stir constantly until the filling is the right texture.....and, for good measure zest 1/2 of a Meyer lemon into the filling. Lining it up with the other canned fillings, it all looks the same. Mine tastes better, fresher.
The food processor is dirty. The blender is dirty. The pot is dirty. Utensils are dirty. Now, where's that can opener!
Kosher Status:
Parve
Number of servings:
about 2 1/2 cups
Main Ingredient(s):
Preparation Time:
00:30
Cooking Time:
00:00
Skill Level:
1 - Easy

(1 Easy - 5 Hard)

Estimated POINT value:


Ingredients:


2 cups poppy seeds

1 cup water

1/2 cup honey

1/2 cup sugar

1 tablespoon flour (gluten-free if necessary)

zest of 1/2 lemon


Steps:


| | |
| --- | --- |
| | Put poppy seeds into sauce pan with water. Stir over medium heat until they are moist but don't have any liquid left. |
| | |
| --- | --- |
| | Transfer seeds to blender (skip the food processor) and blend. Add honey, sugar and flour. Blend until as smooth as possible. |
| | |
| --- | --- |
| | Return to sauce pan and medium heat. Stir until all liquid evaporates. |
| | |
| --- | --- |
| | Add lemon zest and stir. |


Recently viewed recipes:



Hamentachen Filling - Poppy Seed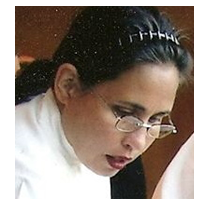 About Leah
Hi! Thank you for stopping by to watch me, Leah, cook kosher. I've been the owner operator of my boutique catering firm in Seattle, Leah's Catering, for the past 14 years.
Read more...
Leah's Blog

Aviva Makes Aliyah and The Sandwich Generation

Happy Chinese New Year! Happy Super Bowl! Go Hawks!

Tradition! Fun with the Seattle International Film Festival

Where Have I Been in My Life???

Making Kosher Salads

Blog Categories
Leah's Kosher Pantry

View what is in the pantry
Recipes

Appetizers
(44)

Appetizers - Dips and Sauces
(11)

Appetizers - Starter Courses
(10)

Beverages - Cold
(1)

Breads - Yeast
(10)

Breakfast Pastries
(7)

Dessert - Frostings
(6)

Desserts - Cakes
(13)

Desserts - Cookies and Brownies
(29)

Desserts - Dairy
(42)

Desserts - Pareve
(71)

Desserts - Pies and Tarts
(14)

Desserts - Tea Breads, Quick Breads
(8)

Desserts and Baked Goods - Gluten Free
(18)

Main Dish - Beef
(7)

Main Dish - Dairy
(3)

Main Dish - Eggs and Fritattas
(6)

Main Dish - Fish
(11)

Main Dish - Poultry
(14)

Main Dish - Vegetarian and Vegan
(9)

Salads - Dressing
(8)

Salads - Fruit
(4)

Salads - Grains & Legumes
(7)

Salads - Green
(1)

Salads - Pasta and Rice
(10)

Salads - Potatoes and Eggs
(5)

Salads - Vegetable
(15)

Side Dishes - Kugels and Souffles
(7)

Side Dishes - Potatoes and Vegetables
(17)

Side Dishes - Rice, Grains and Pasta
(7)

Soups, Stews and Cholent
(9)
Special Considerations

Dairy-Free Recipes
(230)

Gluten-Free Recipes
(134)

High Fiber Recipes
(18)

Low-fat Recipes
(11)

Nut-Free Desserts Recipes
(48)

Vegan Recipes
(101)

Vegetarian Recipes
(207)
Holidays

Rosh Hashana Recipes
(23)

Yom Kippur Recipes
(3)

Sukkot Recipes
(26)

Simchat Torah Recipes
(9)

Chanukah Recipes
(20)

Tu B'shevat Recipes
(16)

Purim Recipes
(9)

Passover Recipes
(44)

Lag Ba'omer Recipes
(6)

Shavuot Recipes
(24)

Shabbat Recipes
(34)
Cookbook Library

New Releases

Jewish Classics

Other Favorites
Kitchen Gadgets

Essentials

Small Appliances
Chef Of The Week

Barbara Williamson
Congratulations to our chef of the week.