Hamentachen Filling - Apricot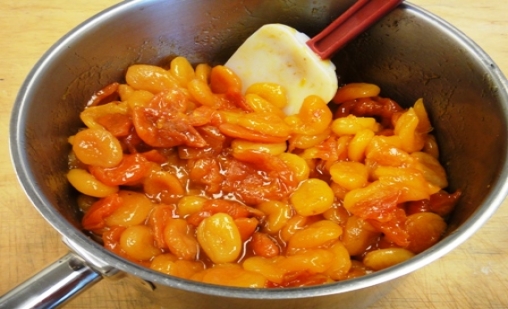 In the past, we've purchased our apricot filling in large 40 pound buckets. It isn't always easy to find pareve. Last year, there was a huge snow storm in the East and the trucks weren't getting through. There wasn't any apricot filling to be had in time for Purim. I love the slab apricots at Trader Joe's so I went and bought 24 bags. I didn't know my crew was going ahead with the filling until I found all 24 pounds of apricots immersed in water! We were plumping them so I could cook them in sugar to form a thick jam. Yikes! It made so many gallons I was freaked. But, it was so superior to the bakery supply house's filling with '14% fruit'. Ours is a spine tingling blast of apricot flavor. I love it...and so did everyone else. We used up the filling to the last drop.
I had to laugh when I pulled the recipe the other day. Notes dated February 2010 started: 24# dried apricots! This week I started with 3# of Mediterranean style apricots and 1# of the slab apricots. I think that the slab variety have a richer color, break down easier and have a more intense flavor. Play around and decide for yourself.
Kosher Status:
Parve
Number of servings:
fills about 36 cookies
Main Ingredient(s):
Preparation Time:
00:10
Cooking Time:
00:20
Skill Level:
1 - Easy

(1 Easy - 5 Hard)

Estimated POINT value:


Ingredients:


2# dried apricots

1 -2 cups water (depends on how dry your fruit is as you need enough to plump and cook the fruit

1 1/4 cups sugar (more if you like it sweeter)

Dash of salt

Zest of 1 lemon

Juice of 1 lemon


Steps:


| | |
| --- | --- |
| | Soak the apricots in water to let them plump, about 30 minutes. |
| | |
| --- | --- |
| | Add the sugar and salt. Cook over a medium low heat, being careful not to burn the mixture. If it is too thick, you may add more water. |
| | |
| --- | --- |
| | When the fruit has softened and the sugar and water have thickened, remove from the heat and set aside to cool. |
| | |
| --- | --- |
| | Transfer the mixture to a food processor and pulse to the desired consistency. I like to have bits of fruit in the jam. If the jam is too thick, you may add a little more water and stir. You don't want it runny but you don't want thick masses of fruit either. Stir in lemon juice and zest. |
| | |
| --- | --- |
| | To use, spoon a couple of teaspoons onto a round disk and pinch dough to form the hamentachen triangle shape (see dough recipe.) Bake as directed. |


Recently viewed recipes:



Hamentachen Filling - Apricot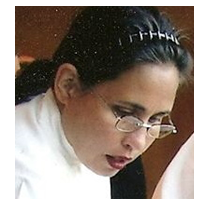 About Leah
Hi! Thank you for stopping by to watch me, Leah, cook kosher. I've been the owner operator of my boutique catering firm in Seattle, Leah's Catering, for the past 14 years.
Read more...
Leah's Blog

Aviva Makes Aliyah and The Sandwich Generation

Happy Chinese New Year! Happy Super Bowl! Go Hawks!

Tradition! Fun with the Seattle International Film Festival

Where Have I Been in My Life???

Making Kosher Salads

Blog Categories
Leah's Kosher Pantry

View what is in the pantry
Recipes

Appetizers
(44)

Appetizers - Dips and Sauces
(11)

Appetizers - Starter Courses
(10)

Beverages - Cold
(1)

Breads - Yeast
(10)

Breakfast Pastries
(7)

Dessert - Frostings
(6)

Desserts - Cakes
(13)

Desserts - Cookies and Brownies
(29)

Desserts - Dairy
(42)

Desserts - Pareve
(71)

Desserts - Pies and Tarts
(14)

Desserts - Tea Breads, Quick Breads
(8)

Desserts and Baked Goods - Gluten Free
(18)

Main Dish - Beef
(7)

Main Dish - Dairy
(3)

Main Dish - Eggs and Fritattas
(6)

Main Dish - Fish
(11)

Main Dish - Poultry
(14)

Main Dish - Vegetarian and Vegan
(9)

Salads - Dressing
(8)

Salads - Fruit
(4)

Salads - Grains & Legumes
(7)

Salads - Green
(1)

Salads - Pasta and Rice
(10)

Salads - Potatoes and Eggs
(5)

Salads - Vegetable
(15)

Side Dishes - Kugels and Souffles
(7)

Side Dishes - Potatoes and Vegetables
(17)

Side Dishes - Rice, Grains and Pasta
(7)

Soups, Stews and Cholent
(9)
Special Considerations

Dairy-Free Recipes
(230)

Gluten-Free Recipes
(134)

High Fiber Recipes
(18)

Low-fat Recipes
(11)

Nut-Free Desserts Recipes
(48)

Vegan Recipes
(101)

Vegetarian Recipes
(207)
Holidays

Rosh Hashana Recipes
(23)

Yom Kippur Recipes
(3)

Sukkot Recipes
(26)

Simchat Torah Recipes
(9)

Chanukah Recipes
(20)

Tu B'shevat Recipes
(16)

Purim Recipes
(9)

Passover Recipes
(44)

Lag Ba'omer Recipes
(6)

Shavuot Recipes
(24)

Shabbat Recipes
(34)
Cookbook Library

New Releases

Jewish Classics

Other Favorites
Kitchen Gadgets

Essentials

Small Appliances
Chef Of The Week

Barbara Williamson
Congratulations to our chef of the week.