WSJHS Cookbook Project
Posted: January 17, 2011 By: Leah Jaffee

The Washington State Jewish Historical Society has undertaken a very ambitious project. They are writing a cookbook based on family recipes, and the stories associated with them, of Jews in the Northwest. Titled "Yesterday's Mavens, Today's Foodies", the book will host a range of culinary traditions from the region.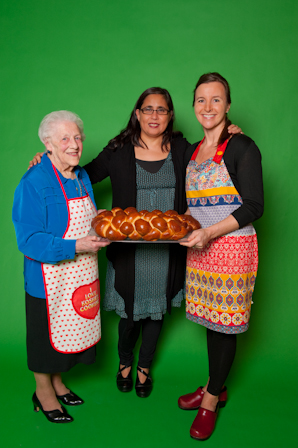 Photo by Dawn Lucrisia Photography
Today we did the photo shoot for the cover. This is an after shot ~ I will NOT be on the cover. My two favorite foodies will be, though, along with my challah. Catherine Scharon, a tireless Sephardic cook, serves her community at Sephardic Bikur Holim all manner of traditional specialties. Even at her age, she volunteers at The Kline Galland Home as well as The Summit, teaching residents the intricate techniques for biscochos and borekas. She has been my mentor in Sephardic cooking and I consider her another of my adopted Jewish mothers.
Hannah, feeding a husband and raising two starving teenaged boys, still has found time to host a young exchange student from Saudi Arabia. In addition to round the clock cooking for her family, Hannah is chef in residence at Hillel UW, feeding everyone else's young adult student. Every week I watch her create food at Hillel with the same enthusiasm with which she serves her own family.
I admire both these of these Jewish mothers for their dedication to family, community and food. I feel priviledged to work side by side with them. We haven't decided what will replace the green backdrop but I look forward to seeing my two friends grace the cover of the WSJHS cookbook...watch for it in November 2011!