It's A Shark!
Posted: September 19, 2011 By: Leah Jaffee

Done! Done, done and more done! It has been a marathon since Tisha B'Av. Six weeks of back to back events ending with the Stand With Us reception prior to their very successful presentation yesterday at McCaw Hall. Sheer will eeks out savory and sweet tidbits for 475 guests. The event doesn't suffer for being the end of the line; my perfectionism streaks across the finish line.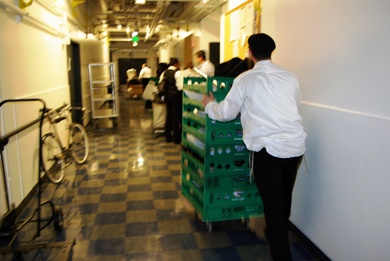 Very long hallways to the loading dock
Phillip, owner of Noshaway, has the next reception for The Jewish Federation. It's been a community day at McCaw Hall and lots of familiar faces are in the building. Phillip and I, viewed as 'competitors', have much in common given the market we serve. I consider him a friendly rival, we each have our followers. I made the decision long ago not do the jumbo sized, mega events. Too many plates, too much effort. Hats off to Phillip and Arthur for biting off that biz. Exiting the building, we pass Phillip and his wife Dana in the downstairs kitchen. "Have fun!".....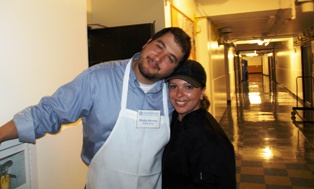 Phillip and Dana
No, with my crew and gear on the loading dock, I'm glad to be heading home. These guys have worked hard running back and forth a few miles to get the buffet ready. Rabbi Aryeh, Lecia as lead with Shannon and Wendy; part of a team that regularly knocks it out. I'm not the easiest person to be around at times....a lot of the time! Intense, focused and, yeah....demanding; I owe much to the servers who make the final lap happen. It is a tough business.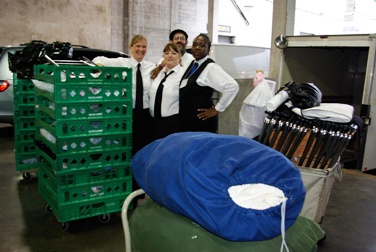 This is where I abandon the group and head towards the car. I scored on-street parking right across the street from the kosher Chinese restaurant, The Bamboo Garden. I feel a little guilty as I haven't eaten there for awhile. Calling Aviva with my usual excuse of not wanting to cook, she has compassion and suggests we order out 'the usual'. I sit in the waiting area and order take-out. I don't have to specify Aviva's custom requests; it's been the same order for 15 years.
Making my way to the car, exhaustion is setting in quickly. Zipping onto the Interstate, I'm home in minutes debating what I'm taking with me up the 3 flights of stairs. I know that my apartment has been severely neglected. I vow a 'personal day' to clean and organize.
A couple of weeks ago, one day when I didn't have to run out the door immediately, I turn on the TV to catch the news. The Food Network is on but it is too early for perky hosts whipping up 30 minute meals. Some guy is demonstrating an amazing floor cleaner. I realize that I'm not in a nightgown and haven't come from my bedroom. I've simply opened my eyes to lights on, wearing my regular clothes. Never made it off the couch! Blurry-eyed and rumpled, I grab my cell phone and credit card. I want that amazing cleaning machine. My life would be less chaotic if I only had that remarkable, eco-friendly, no chemical, steam cleaning machine. My apartment needs to be steam cleaned!
My 'personal day' has included an early meeting, a visit with my mother and brother-in-law, a quick visit with my BFF and a trip to the grocery store. Arriving home, I see the box I've been tripping over for 2 weeks....my amazing steam cleaning mop! Tidying up the kitchen, I make room to unpack the box. Easy assembly and I'm ready to clean. OMG ~ seriously, I have a full sized mop with variable settings and a hand held steamer with attachments.
I begin to steam clean the kitchen sink, seconds later I'm onto all the cabinets, the refrigerator exterior, the stove, and even my stainless steel garbage can. I want to make a commercial. I quickly assemble the mop. I'm in heaven. I've steam cleaned my entire kitchen in minutes. I have to meet my sister and I'd rather steam clean the bathroom. Ha! Just like the suited man on the info-mercial promised. The ab shaper upper was a bust, this is perfection.
Rosh Hashana usually means 'only 6 more months until Passover'....nothing to fear; I have my SHARK!!!