Whats for dinner?
Posted: February 24, 2011 By: Leah Jaffee

My 16 year old, Aviva, calls at 6:45 pm and wants to know when I'm coming home from work. Her girlfriend has gone home sooner than I expected, I need to be mom. I tell her that I'm finishing up the THREE HUNDRED blintzes for the Kiddush lunch this Shabbat and I'll be home by 7:30. She wants to know what's for dinner?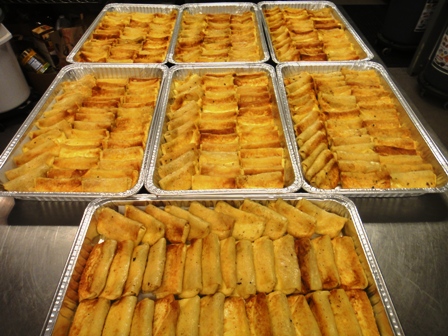 Seriously? I have to go home and cook....no way. Making macaroni and cheese earlier today, I syphon some off for home since I made 10 pounds more than we'll need. (Decided to make extra for the 'kids' over 40 who can't stay away from the kid's table!) Every blintz is perfect but I decide I can bring a couple home. The guests will never miss two nearly imperfect blintzes since I use the 'Jewish mother' formula for calculating quantities. I don't pack any sour cream or citrus berry sauce, too lazy. Rabbi Aryeh has washed and chopped 28 pounds of romaine and I have a small ziplock full. We have parmesan at home, I think I bought it in the past 6 months. I'm too tired to pack Caesar dressing....olive oil is good enough, right?
As I finish up the blintzes, I think of the expose done on Martha, yep, that Martha ~ when she was hauled off to prison to make 1/2 billion dollars. The TV show features her family, those loving relatives waiting until Martha is secure behind bars before talking. Her brother sneers that Martha, in the early years of her empire, fed her family 'CATERING LEFTOVERS'. That comment sticks with me, how can feeding your family food that others paid a fortune for be symptomatic of maternal neglect? I don't know about insider trading, but Martha ~ dear Martha, you are not guilty of some Dicken's type abuse. So, I tell myself tonight, "These are not leftovers. They haven't been served yet!"
The blintz project is a big job. I make the batter and I make the filling. Benoit graciously volunteers to make the crepes. Perfect, let the French guy do it! And, of course, they are beautiful. They have to be thin, flexible, without holes and uniform. These turn out fabulously.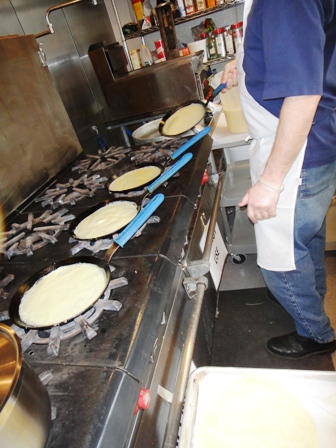 All I have to do is fill them and fry them, Benoit will package them as I go.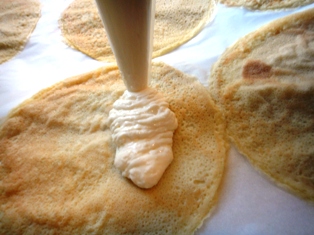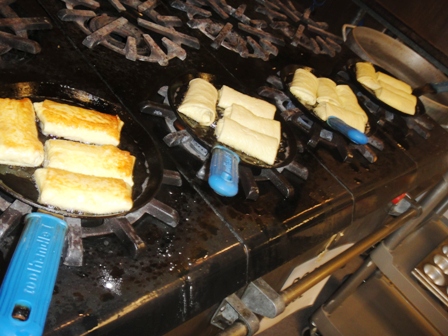 We have the system down...we've made thousands and thousands of these. Every time I make these fussy blintzes, people want to know if I've heard of blintz loaf.
Ah, blintz loaf ~ that's what we'll make when the crepes aren't perfect, when they aren't filled and rolled perfectly, and when they don't fry to perfection.
Then, we'll make blintz loaf!