Tu B'shevat Menu Ideas
Posted: January 17, 2011 By: Leah Jaffee

This Thursday is Tu B'shevat, the day that marks the new year of the trees fruit-bearing cycle in the Holy Land. The internet has many resources for learned and detailed information on the holiday. As with all things Jewish, there are so many layers of meaning to derive from study. Reflecting on the passage "Man is like a tree of the field" (Deuteronomy 20:19), we have yet another opportunity to consider our personal tree of life. How strong are our roots, how do our branches reach toward our potential and what fruit do we bear over the seasons?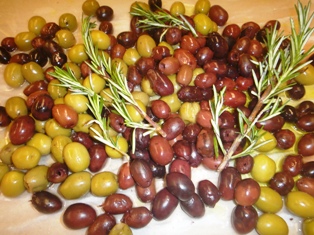 The kitchen is the place I think about the holidays and life in general. I spend more time in a kitchen than I do in a synagogue. Every holiday brings its own set of ingredients and none are more specific than Tu B'shevat. The grains of Israel, olives, figs, grapes, pomegranate, apples, pears, citrus, dates, almonds, carob and walnuts find their place at the Kabbalistic Tu B'shevat Seder.
Tomorrow, I'll prepare and photograph menu ideas for the holiday. I'm thinking Honey Whole Wheat Challah, Fig and Olive Tapenade with Rye Crackers, Herb Roasted Olives, Tu B'shevat Fruit Salad with Olive Oil Citrus Dressing, Fish with Pomegranate Sauce, Wheat Berry and Wild Rice Salad, Marzipan Pear Cake with Almonds, Date Nut Pinwheel Cookies, Carob Dipped Almond Brittle and Dried Figs Stuffed with Marzipan. I'm looking forward to experimenting with these items and hope you'll be inspired to try something on the list for your Tu B'shevat festivities.