Swedish Spread Kosher Style
Posted: June 4, 2012 By: Leah Jaffee

Think smorgasbord; not the giant spreads proceeding some Jewish weddings laden with potstickers and carving stations. This is Seattle and we have real Swedes here. While they combat assimilation and gentrification like the rest of us, a smorgasbord at The Swedish Club better look semi-authentic. Never mind that the caterer is a Jewish convert of mixed ethnicity cooking kosher. Think smorgasbord without pork and without meat and dairy cooked together. Okay, think Jewish kosher with a nod to Sweden; it's as close as I can get.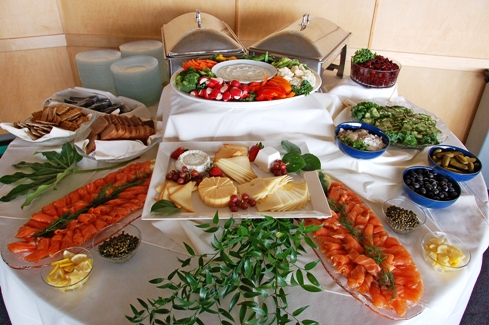 Gravlax in the foreground
Sometimes I'm asked what I've made for an event. Last Thursday, we had fun with some different items. I'll post most of the recipes as some are quite tasty. The menu consisted of the following:
Crudite Platter with Herbed Sour Cream
Assorted Cheeses and Rye Crackers
Rye and Pumpernickel Cocktail Bread
House Made Gravlax with Lemon and Capers
Olives, Pickles, Herring
Pickled Cucumbers and Pickled Beets
Swedish Potato, Onion and Anchovy "kugel"
Mini Salmon Skewers with Mustard Dill Sauce
Mini Rolled Swedish Pancakes with Maple Butter and Jam
Seasonal Fruit Platter
Swedish Almond Caramel Tarts
Swedish Apple Pie
Assorted Swedish Cookies