State of the Blog 2012
Posted: February 5, 2012 By: Leah Jaffee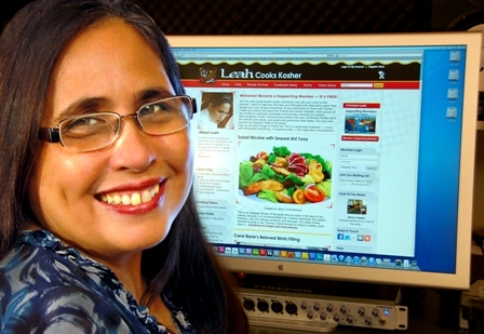 I want to thank everyone who has visited the site, used recipes and contacted me with questions and comments. Doing a 'soft launch' a year ago, I've never gotten around to big promotions of the site. I'm thrilled at the 22,000+ visits to LeahCooksKosher.com. Using the ClustRmap embedded on the homepage, it is really fun to watch more and more red dots fill the map and get larger. My knowledge of world geography is increasing and I'm intrigued at who might be logging on and where they live.
This is where I ask folks to fluff out their profile pages. I like to post a "Chef of the Week" from profiles with photos...even if of their dog! Statistically, it seems that men are more apt to put up a photo. If you're bashful or just prefer privacy, put up a food photo. It's easy!
I also want to thank those of you who have sent me family recipes. I look forward to having more time to try new items. My catering menu is enhanced by many items shared by customers and readers. They are favorites for a reason.
I've made so many items I'd like to share and photos files are growing. My goal is to get on a structured routine for uploading recipes and blogs. Admittedly, taking on the Hillel UW project has taken a chunk of my time. Catering is extremely busy. I appreciate your patience as I reorganize and refocus.
And, most exciting is the new video channel on YouTube. We're actually building out a studio kitchen so I can quit bumming nice kitchens. (Yep, not my kitchen in the videos!) We're also going to have the capability of Webinar cooking demos which should be really fun. So, stay tuned ~ this is a grassroots effort so I can't quit my day jobs!
Thank you for all your visits and, G-d willing, I look forward to sharing more in the coming year. XO, Leah