The Supreme Lucrisia Sisters (and mom)
Posted: January 4, 2011 By: Leah Jaffee

It is often said that time goes by faster as one gets older. No kidding! It isn't just that it is 2011. The hours, days and weeks pass so quickly that before I know it, I'm spending New Year's Day closing my business books. This year, Shabbat saved me from celebrating in such a dismal fashion. My sister Leilani came down on Sunday and we blew through everything. Balancing the check register, W-2's, 1099's, Labor and Industries, Employment Security, 940 and 941……NEXT!!! I even got new file folders, crisp and anal as only someone related to me could do.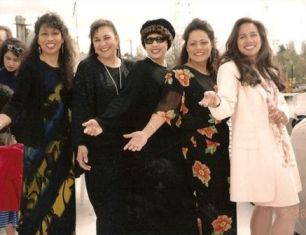 Saying 'aloha' to my father, zt"l (1998)
Over the years, my sisters have helped me in my various ventures. Jeanette, the eldest, baked and cooked for years until she became so allergic to wheat that she couldn't step into the bakery. It is too bad for me except now she is my gluten-free expert. I'll pick her brain over time. My 2nd oldest sister, Leilani is retired Air Force and Human Resources. She is the one who worked with me on Sunday.... drill sergeant
and HR; nothing getting by her! My sister Terri has spent most of the past number of years getting her Master's and counseling at risk kids in public schools. Her daughter Tomara worked with me in the bakery years ago; nothing getting by her either! My youngest sister Dawn, is a professional photographer and can't wait to get her hands on my photos. My brother, the handiest person in the world, actually built out my bakery space years ago. My work has involved my entire family.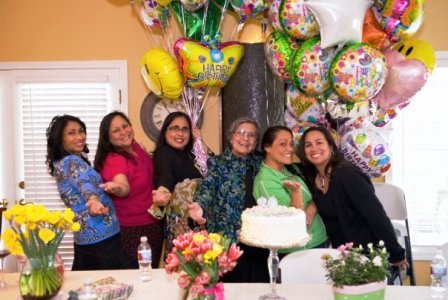 No one has been there more than my mom over the past 15 years. After her retirement, I've always had something for her to do. She worked in the bakery for years, as a 'volunteer'…of course, that didn't prevent her from being fired or quitting! G-d willing, she'll be 82 this year. I saw this festive picture taken at her birthday party last April. This pretty much sums up the Lucrisia sisters and our mom.
Love and thanks to mom and all my sisters and brother!
Benoit and Mom in the early days