Shofar So Good!
Posted: October 4, 2011 By: Leah Jaffee

Well, it seems that I owe my readers wishes for a Happy, Healthy New Year.....and for an easy fast.....and, at the rate I'm going I should add in a Happy Chanukah and Kosher Passover. Three day yontifs are tough enough feeding family and guests. It was a fine situation I found myself in last week: tailgate party for 100, BBQ for 200, Rosh Hashana for 300 and Shabbat dinner for 120. Whoa! That left zero time for the website or getting my hair done......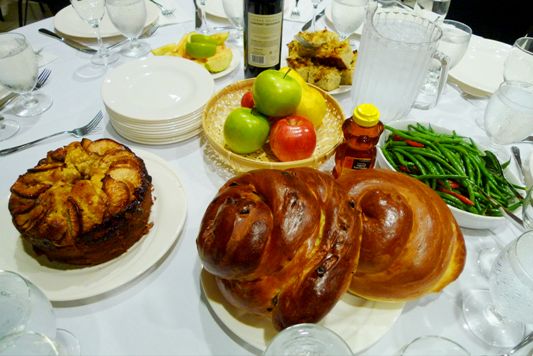 Family style dinner at Hillel UW
We tried something different at Hillel this year serving dinner family style. I don't handle front of the house so I haven't a clue as to how Kris got everything on the tables. Keeping the menu simple, I serve food that is straightforward keeping in mind all the gluten-free, diary-free and nut-free eaters. We serve:
My Classic Challah in crown form, with and without raisins

Chicken Marbella

Brown Basmati and Wild Rice

Parve Sweet Noodle Kugel

Dried Mango Tzimmes

Haricot Vert with Olive Oil

Apple Crown Cake
For the vegetarian option, I take tofu cutlets and marinate them in the same Marbella concoction of olives, capers, prunes, bay leaves, oregano, olive oil and red wine vinegar. It is actually a hit and marries well with all the other options on the table.
With Rosh Hashana dinner served, like everyone cooking for the 3 days, my thoughts turn to Shabbat dinner. Having been up for 37 straight hours before Rosh Hashana, it is all I can do to not sleep my mazel away on the first day. Second day, I'm back in the kitchen all day to make Shabbat dinner. For these young college kids, we keep it simple with
Chicken Soup with Matzoh Balls

Roasted Herb and Lemon Chicken

Potato Kugel

Broccoli

Mixed Green Salad with Sesame Pear Vinaigrette

Homemade Apple Pie
Benoit helps me and as a team, we knock out a dozen apple pies....plus 1 for me. Yep, I ate the whole thing. I need a new photo of apple pie for my website but couldn't get one on Shabbat. So, guess I'll be eating another pie soon! Check out the recipe; both the crust and the filling are super easy.
Three o'clock erev Shabbat, Ben walks in to be the mashgiach for cooking off the chicken. Ben, our ex-Hillel mashgiach, now married with a mortgage, is a welcome site; I'm beat and he's very helpful. He even blows a mean shofar. Taking a break, we go to the dining room and I dare to sit down. Making the blessing, I close my eyes and listen to the various sounds of the shofar. That couple of minutes is my personal Rosh Hashana. Back to the kitchen.
I do a break the fast dairy menu for Hillel. For my sanity, we absolutely keep it simple and use Dressel Collins Kippered Salmon, an Orzo Salad and Chic's Sweet Noodle Kugel. Add bagels and cream cheese, fruit and tea breads to round out the menu. This leaves me time for reflection on Yom Kippur...
Next week I'll double back with Stuffed Cabbage, etc. These recipes will be posted BEFORE Sukkot, G-d Willing! Honestly, I'm exhausted like many of the women of the community who prepare countless meals for family and guests over these three weeks of holidays. I just woke from a nap on the couch.....I think I'll make it!
Thanks to everyone who reads my blog and uses my recipes. I'm honored ~ Have a great New Year!