Sharon Hammel, Rest in Peace
Posted: April 4, 2011 By: Leah Jaffee

Yesterday, at the start of cleaning for Passover, my sister Jeanette calls. With her 'hello', I can tell something is very wrong. It's a call she says she doesn't want to make but thinks I'd be interested to know that her friend Sharon has died in a house fire. I'm at a loss of what to think. Sometimes I'm tired of thinking. I hardly know what to say to my sister as I feel her pain and grief from 100 miles away. Sometimes I'm tired of talking. It takes me longer to feel. With the Passover work party assembled behind me, I put aside the thoughts and feelings. I have to work, my usual escape. Until this morning.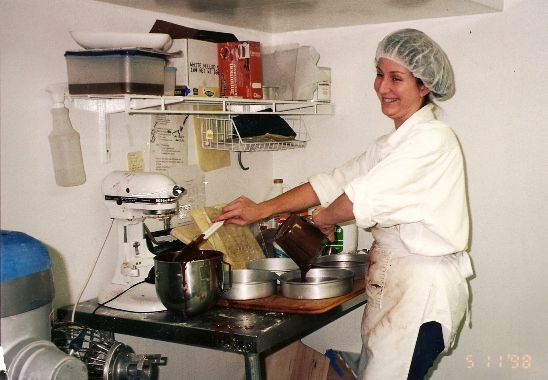 Sharon, in the old basement kitchen making chocolate cake
Since writing this blog, I have a stack of photos of people to thank for their efforts on my behalf and that of Leah's Catering. I've barely made a dent in the pile, recognizing that the faces that stare back at me require time and thoughtfulness to fully express my appreciation. My sister Jeanette, at the top of the list, is one of those people who were with me in the beginning. I have to skip over her right now and thank Sharon.
I'm really not sure how Sharon came to work in our basement catering kitchen. Twelve years ago she joined our small group of self-taught cooks. Raising a young son on her own, Sharon's dedication was to him and her work. She brought a smile and positive energy to her endeavors. I appreciated Sharon's easy manner, when frankly, I wasn't really sure what I was doing in the catering business.
Jeanette and Sharon became fast friends, continuing the friendship long after Leah's Catering had morphed into other incarnations. My sister has lived 1/2 the year in Friday Harbor, a small town on one of the San Juan Islands, for at least 15 years. Sharon moved up there with her son maybe 10 years ago. I haven't seen Sharon in years but certainly have heard about her adventures through my sister.
It is hard to believe that Sharon's son Taylor is already 15, and that she leaves him behind. Harder to believe is that Sharon's life came to such an abrupt end in a horrifying manner.
I woke up to NPR this morning to a piece about the appropriateness of the Japanese to sit amongst the cherry blossoms reading poetry in the traditional manner. The country struggling with trauma, some say it shouldn't be done this year. Others argue the cherry blossoms have always reflected the transitory nature of life. There is a cherry tree outside my window in full bloom.
Rest in peace, Sharon. You deserve it.
Mom, me, Jeanette
Sharon, Benoit and Jane circa 1999