Shana Tova and Thank You
Posted: September 15, 2012 By: Leah Jaffee

Shabbat is just out. Since closing the bakery, Rosh Hashana baking madness is modulated. I'm empathetic to everyone in the food business erev yontif; it'll be a long night. I'm only cooking for 100 people tomorrow. Rarely feeling like going into work after Shabbat ends, tonight is no different. I can go in at 5:00 am and get done what needs to be done before yontif, HaShem willing. I'm looking forward to sitting with friends and family tomorrow night. Before that, I'm anticipating the wonderful smell of challah, honey cake and apple cakes I'm baking in the morning.
I'd like to thank all of my readers for using my recipes. A special thanks to those who write and tell me of their successes baking and cooking. My catering business has been crazy this past year; busy, busy. I appreciate that readers continue to check out the site even when my posts are less frequent. I hope the recent uploading of videos inspires many of you to bake. I'm having fun doing them.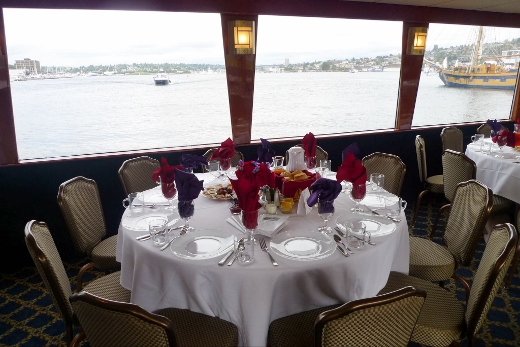 It catches me off-guard that my last blog post was a while ago, just before the August wave of weddings and other simchot. One of the joys of catering in August, if I can't take a vacation, is doing parties in parks and other outdoor venues. Last weekend, in farewell to summer, we celebrated a bat mitzvah with a tea party on a boat cruise through Seattle's waterways.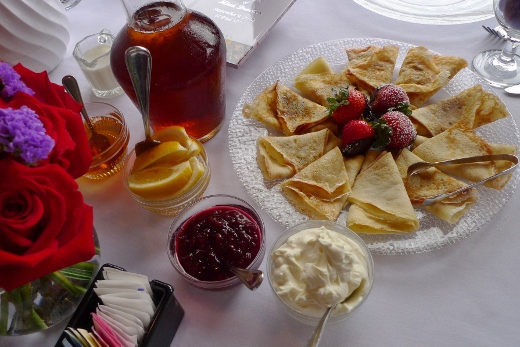 Crepes with Rhubarb Ginger Jam
Tea party menus are full of fussy sandwiches and baked goods. A purist, I head to work at 3:00 am to finish all the food. Watching the clock, we can't - quite literally, miss the boat. Lacking sea legs, I send a more than competent staff to setup the event. Cell phone calls from the water tell me that all is well. We end the summer season with another successful event.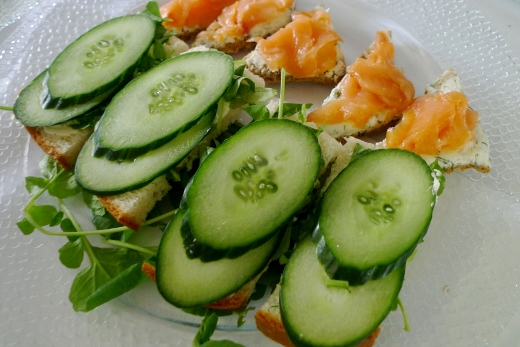 Lox on Rye, Cucumber and Watercress Butter
As I move into the fall season, the holidays beginning with Rosh Hashana, I reflect on how blessed I am. A close immediate family, two daughters whom I love to watch grow and blossom, kind and supportive friends, energetic and talented coworkers, a huge community appreciative of our efforts....and, everyone who has logged on to this blog and recipe website. It's fun to see the dots on the map of the world and wonder who all of you are.
Thank you for continued interest. May we all be blessed with a sweet, healthy and prosperous new year!