Ready for Passover
Posted: March 29, 2012 By: Leah Jaffee

There is something to be said for tradition; makes doing something over and over again that much easier. It's been a crazy busy first quarter catering. Cleaning for Passover was supposed to be an easy breeze as the University of Washington was on spring break last week. Less hectic in the kitchen, I start to strategize the clean.
With the end of Purim comes a more deliberate way of moving about the kitchen. Odds and ends of miscellaneous ingredients are either used, discarded or set aside to be given away. Every motion includes a minor nod towards the end goal of a spotless kitchen.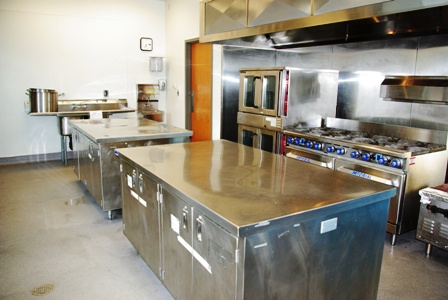 A week ago Monday, our new range replete with dual convention ovens arrives. On order since January, we've held delivery to avoid having to clean the oven for Passover. The range is beautiful, the oven capacity sports 6 full sized sheet racks. Eight burners guarantees I'll be at full tilt with jumbo pots of chicken soup. Yes, Passover cleaning and prep has arrived; arrived ahead of spring weather, tulips and cheap asparagus.
Weekly at Hillel UW, a program serving street youth serves meals to homeless young adults. Teen Feed moves about the community and finds itself at home in a kosher kitchen on Sundays. This year, the program staff asks if I could use volunteers to help clean for Passover. I swallow hard to clear my ears, shake my head in case I'm sleeping ~ nope, it's real. Folks want to volunteer to do something, anything, in support of Teen Feed. Teen Feed wants to support venues that support them; I'm lucking out. Bring 'em, bring 'em on Wednesday.
Wednesday comes and I'm expecting some high school kids on spring break looking for volunteer hours to graduate. Who shows up? Five adults from Microsoft, enthusiastic and eager. I try to give an overview of why we clean for Passover but they are only here for 4 hours; I don't want to spend the entire time wondering myself why we clean for Passover! I dictate the "opportunities" that need cleaning feeling that I'm speaking their language: corporate lingo. I ask if any project is speaking to anyone and immediately it's game on.
As I've said many times since these folks cleaned, scrubbed and polished the kitchen, "These are the folks we need every year ~ Type A, competitive perfectionists, motivated self-starters with post-graduate degrees!
I owe a very special thanks to
Alexis at Teen Feed for turning me on to
Katy Olmstead, Jim Lucey, Morgan Cole and Jamie Mann
(not pictured is Michael O'Neil)
Thanks for doing a mitzvah!