Not So Victorious Garden
Posted: May 1, 2011 By: Leah Jaffee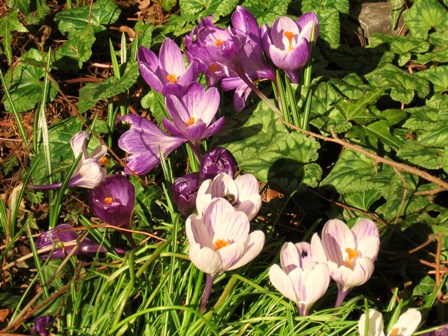 It is May and by Seattle's standards, we have a lovely spring day....maybe the 2nd this year. An illusion of sunny weather heightens the sense of freedom; freedom from polar fleece and hoodies. In reality, it is just a lack of rain in the air. White clouds hover over the region shuttering the sun from the eyes of potential worshipers. The promise of 65' F warms expectations of shirtsleeves, flip-flops and socks with sandals. The actuality of the current 56' F doesn't damper the yearning for vitamin D. We take what we can get, rain or overcast, rain or.....overcast; in hoodies with flip-flops.
Checking my mail, I see the 3rd monthly catalogue from the gardener's supply house to arrive this year. Thumbing the pages, I hear a little English girl begging her benefactor for 'just a little bit of earth'; a secret garden. If I miss anything living in an apartment, it is a garden or at least, garden boxes. Last year, determination sends me to the garden supply loading my van with build-your-own frames, dirt, compost, seed starters, etc. With the goal of transforming my mother's backyard, I hammer, dig and prep the earth for my starter plants.
The southern exposure of my building's windowed stairwell serve as greenhouse for my starter seeds. Dutifully, I water and rotate compostable cups of planted seeds. Reminicent of 2nd grade science class, everyday coming and going, I pass my buried seeds. At the tiniest sign of a sprout, victory would pulse through my veins. House plants I kill. An outdoor garden, I can grow!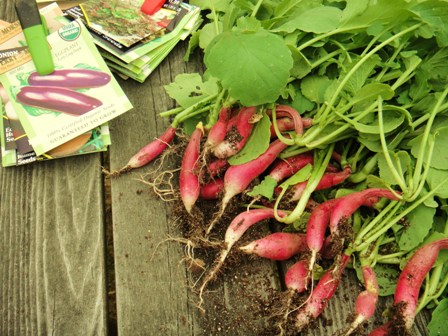 Radishes are easy, Heirloom radishes look cool. Alas, once the starters are planted, time is an issue. Thinking watering plants a great activity for my mother, I see she doesn't share the same enthusiasm. Living 5 miles away, distance also becomes an issue. Catering, mothering, starting the development of this website; all draw on my time. The plants need more water. There isn't much rain. Worse still, there isn't much sun. It is a bust of a year for gardening. Even the CSA delivery at Hillel consists of hearty crops limited to roots; beets, parsnips, carrots that join kale and chard.
This is almost the extent of my harvest. Spending at least $500 to plant the garden, these are some very costly veggies. Woman against nature and responsibilities, I don't feel so victorious. Tossing the catalogue into the recycle, this year I'll just walk the neighborhood and ask Mary how her garden grows.