Life at a Glance
Posted: June 21, 2011 By: Leah Jaffee

Like many in Seattle, I have trouble realizing it is June. June 21st, even. The longest day of the year. A record 3 days of sunshine in a row barely breaks 70 degrees. My equilibrium is off; until now life is suspended in perpetual March dreariness. People make small talk about the amount of vitamin D they are main-lining. Me, I've been working and working. Coming home at about midnight the other night, I catch a glimpse of roses blooming by the gate. I tell myself that I should 'stop and smell the roses' and take this photo. It isn't about the clarity of the shot, it is about the need to truly savor the moments.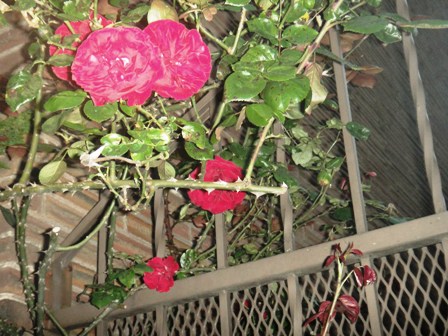 Catering 3 events this past weekend, my body reminds me that I'm not getting any younger. I have an acute sense of timing, enhanced by years in the kitchen. I can tell myself what time to wake up and set my internal alarm clock. But, this prolonged weather pattern and marathon of events leaves me disoriented. Yesterday, I glance at my wall calendar and see April's art deco image. My desk blotter calendar page is from December. Only my daytimer calendar is open to June. My brain struggles to grasp how it is 3 weeks into June....school is out for Aviva this week. Time flies.
This morning, not having to rush to work, I'm in bed when Aviva wakes. She asks if I'll make her some eggs for breakfast as she has final exams today. She wants a healthy, satisfying start to her day. I get up and head to the kitchen thinking didn't I just do this...like, 3 months ago? I join her for breakfast but I need a caffeine hit. I don't drink coffee. I ask her to get me a Coke. Handing me the not-so-smart choice for breakfast she mutters, "Gee mom, you're such an addict." Too early for disapproval. I'm still trying to recover from the weekend.
Aviva leaves for school and despite the Coke, I fall asleep on the couch with CNN looping the same nonsense. The phone rings me from my dozing and I hear myself sounding like my mother while she raised 6 kids and held a job. Trying to sound perky. I don't remember ever saying I'd be a bone marrow donor....2005?...I haven't lived at that address for 12 years! I try to imagine myself giving bone marrow at this point in my life. No, please remove my name from the list. Feeling guilty, I close my eyes for just a few more minutes....just a few, life is too short to waste it sleeping!
Yesterday, I call my mother as I haven't been to see her for a week. Thank G-d for siblings. My mom says she is about to walk to the bank and grocery store. It is literally uphill both ways. Recently hurting her knee, she has a brace and cane. What is she thinking?
I go spend the morning with her and run errands. As she struggles to the car, I see she doesn't have her cane. She really doesn't want it but I go back into the house. Settled into the car, her spirits have wilted. She's struggles with her memory. She is conscious of being 81 years old, didn't realize it is now 82.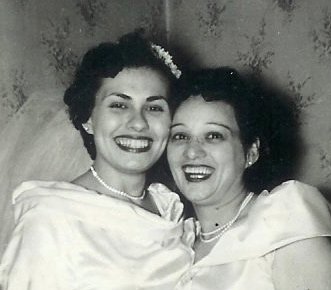 My mother on her wedding day with Auntie Flo in 1949
We all feel the angst of my mother's aging, of our own aging. My mother may forget her keys, lose her purse or think she can walk a mile to the store. But she remembers the days of her early life. Walking to the car, leaning on her cane with one hand and holding my arm with the other, she says with a sigh, "Ah, look at me. I used to be the belle of the ball." No doubt, mom - look at you.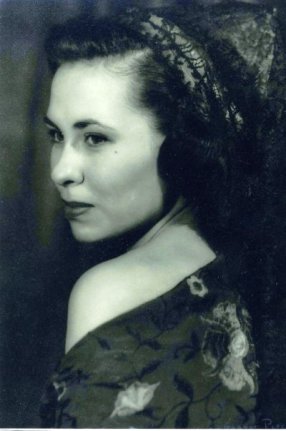 Dolores Mallori, as Filipino Queen for Seafair 1947