Judith Gamoran ~ My Adopted Jewish Mother
Posted: November 29, 2010 By: Leah Jaffee

The week my daughter Aviva was born, Judith Gamoran arrived in Seattle with her newly retired husband Rabbi Hillel Gamoran. I don't know which event has the biggest impact on my life; giving birth to my daughter or meeting Judith. Missing the welcome-to-town party as a guest of the University of Washington Jewish Studies contingent, I met the Gamorans for the first time at my Shabbat table. This is the beginning of the Leah's Bakery journey. Judith took a bite of my homemade challah and said, "you should sell this".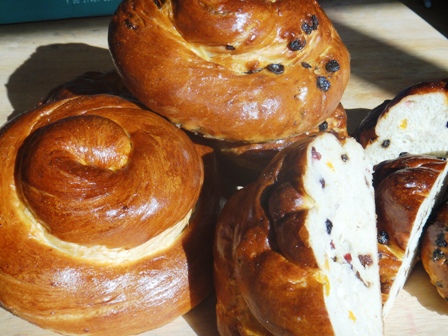 I'm paused here, fingers poised above the keyboard, reflecting. If I had it all to do over again, would I grab that challah from her hands? As the punchline to the old joke goes, "I'm thinking, I'm thinking." Certainly this business has taken both my money and my life! But, enough of the daydreaming. No do-overs here and why would I change anything? I gave birth to both a daughter and a business. Both require tremendous commitment and energy. Both are extensions of my G-d given creative talent and richly rewarding. No, I wouldn't want to be doing anything differently today. Life is good.
Judith's suggestion percolated for a year or so. I decided to build out half the basement of our house into a commercial-style kitchen. We'll skip the part about if that was legal, my defense being it was a crime of passion ~ or I'm insane.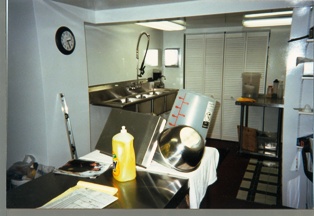 The other half of the basement was headquarters of "Design Rebellion", my freelance clothing design company. Perfect, I could now work day and night from home! What could be better than a home based business ~ 2 of them! But this is for another blog posting.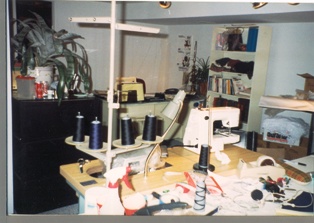 Back to Judith ~ we'd hang out together and chat about hemlines and vintage furniture. My favorite excursion was to participate in group hypnosis for weight loss. We did this years after meeting and my bakery was in full swing. Try losing weight while owning a bakery! A hypnotherapist walks into the bakery one day looking for real Jewish rye. As a weight loss guru for the rich and famous in LA, his appearance and demeanor are in sharp contrast to scrappy, free-thinking Ravenna. Sizing me up, he states that I have "about 10 pounds to lose". Ouch! Soon afterward, with Judith in tow, we join communal consciousness to think those pounds away. I still listen to my "Think Thin" tape to relax, but my waistline is evidence that thinking about losing weight isn't enough.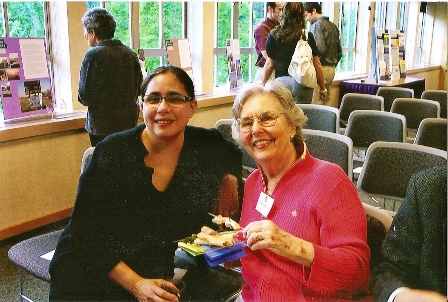 As with my many special relationships, Judith's visits became less frequent as I made even more challah and more of everything else. What was once 6 challot for a Shabbat at home became 600 a week for the community! I didn't personally make every last challah we sold but I made plenty. Now, every time I braid a challah I think of the weekly batch I used to make at home...and hear Judith, "you should sell this!"
I hope the weather is treating you well back home in Illinois ~ I love you!