Jane Eyre, Corn Chowder, Yom Kippur and Larry
Posted: May 18, 2011 By: Leah Jaffee

I'm a person of books. Busy as of late, I miss long hours of turning pages, losing myself in other worlds and other lives. I love to read. There are books for every facet of life, books for every season of every life. I haven't been able to keep every book I've read. Cumbersome as I move from city to city, neighborhood to neighborhood, many end up at the Goodwill bin or left by swimming pools at sunny resorts. Words, like casual acquaintances, leave an impression and recede in memory.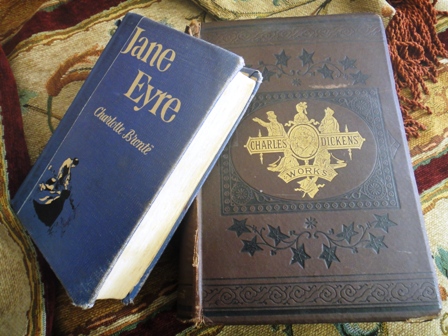 "Jane Erye" (Bronte) and Volume 1 of "The Works of Charles Dickens"
I toy with the idea of a Kindle but think I have my fill of computer screens. I hate to see libraries and bookstores going the way of Blockbuster Video. Fingering pages of cookbooks stirs my tastebuds. Holding religious books is a tactile link with concrete spirituality. Salt water and sand trapped between pages of the page-turner who-dun-it honor the well deserved respite. It isn't just the access to words on a page, or the story of the text. The book itself has a life story of its own.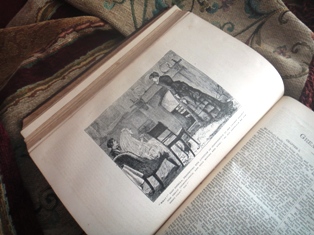 Moving in 1963 to a big house on Beacon Hill, we discover an upstairs study containing volume after volume of books printed in the 1880's. The room, uninsulated against the seasons for 40 years, does not protect the little library. Brittle covers, faded and dusty gold leaf embossing, encase Collier's Unabridged Classic Works. At 8, I squirrel away a copy of Dicken's most famous stories. There is no explanation as to why I still have this volume 47 years later except that I can't just get rid of it. Books, with tissues protecting the illustrations, aren't made this way anymore. 131 years old, the book sits on my shelf with no value except to me. When I'm old, maybe I'll have time to reread "Great Expectations" or "Oliver Twist".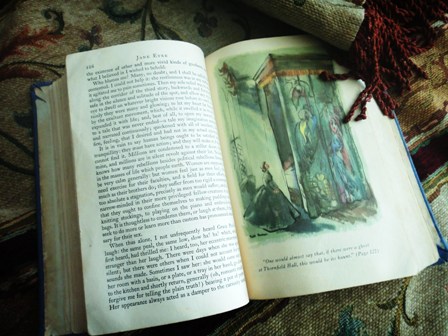 "Jane Erye" is another story. This book is a second hand library copy complete with hand stamped due dates on the inside cover. It was given to me in 1980 by someone I didn't marry. With the recent release of the movie of the same name, I watch the Orson Welles version on BluRay with surround sound and popcorn. Pulling this book from my shelf, I open it to the inscription that I don't remember reading 31 years ago. The language is 'est' jargon, the enlightenment craze of the '70s. The person who gave me this book, Larry, talks me into doing the est training in 1979. I'm not the same me. We aren't the same us. Life moves along and I make different choices.
Larry calls me 12 years later, a few days before I'm marrying Marty. With a touch of sadness, he asks if he is going to spend his life trying to catch me between marriages! Over the years, I see this book on the shelf and I feel a tinge of guilt. In est lingo, I don't think I ever 'got' his feelings for me.
I start thinking about how Werner Erhard ripped off Judaism. The 10 days between the weekend trainings mimic the 10 days of Awe. Those of us in the est training are to 'clean up' our relationships in that 10 day period in preparation of enlightenment. Saying sorry is a great way to lighten up.
A couple of years ago, with 18 years of Judaism under my belt, I decide that I should clean up the long ago past with Larry. I find him on LinkedIn, successful in Silicone Valley as I expect. I email him that I'm sending an old-fashioned 'est' apology for being insensitive to his feelings in 1980. I receive an email in return saying "Holy Cow!", "I'll take it" and....."do you still make that corn chowder?"
The Rabbis in all their wisdom have always known the power of 'keeping the space clear'. In "Jane Eyre", Jane hears over the moors the haunting voice of Mr. Rochester. In the end, she forgives him....keeping the space clear. Sitting with my mom in the little funky theater, with a huge Coke and popcorn, we dab our eyes watching the new release.
It isn't Yom Kippur, then again, everyday is Yom Kippur. It is too hot for corn chowder. But, it is always a good time for a remake or reread of an old classic.