Happy Passover ~ yep, 6 more days!!!
Posted: April 20, 2011 pm By: Leah Jaffee

I can't believe I didn't send an email blast wishing everyone a happy and kosher Passover. Luckily, luckily, we here far beyond the borders of the Holy Land have SIX, count 'em, more days of Passover. So, I can still wish everyone who has been logging on to the site a very happy, hopefully restful remainder of the holiday. I know that many are fortunate enough not to have to work during chol hamoed. I know because I get to see about 800 of your faces for meals Thursday and Friday while I'm working. I'm looking forward to a fun time. Seriously, the tough days are behind me....the rest is a good time.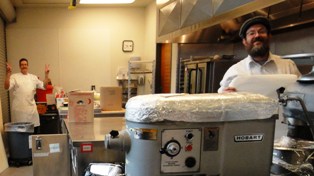 Frank and Rabbi Aryeh (less stressed last summer)
I can say that because I just met Rabbi Aryeh at Hillel. The service team left the kitchen spotless after the madness of Sunday and Monday, and the large crowd throughout the building for Seder. The weeks of planning and prep have paid off. Everything is ready to go. We'll be back at it in about six hours and have lunch ready at 11:30 am. Definitely a good time.
I'm a little disappointed in myself in that it was so intense prior to yontif that I didn't get many more recipes posted. I'm still going to work on getting some of my most popular and favorite items up for Shabbat and the last days. There are just so many wonderful things to make. We ended up jumping on the quinoa bandwagon erev yontif. I needed to make stuffed Portabello mushrooms for the vegetarian option for the Seder. I decided that going the protein route with the quinoa was probably a good idea.
Personally, I can barely look at quinoa when it is cooked. I feel like a million eyes are staring back at me. Paranoid I guess but I asked the Rabbi if we could serve quinoa and meat on the same plate. He, of course, asked why not? I said that maybe FISH EYES and meat shouldn't be on the same plate. Go ahead. Take a look again....doesn't it look like......
Okay, did I ruin quinoa for everyone now?