"GoyofKosher.com"
Posted: November 27, 2012 By: Leah Jaffee

It's been a scramble since returning from Kosherfest. So many ideas; so many events to cater! Last week, with 450 meals to prepare for a Bat Mitzvah weekend of events, Thanksgiving throws a wrench into my production schedule. Reminiscent of the old bakery days, this secular Thursday holiday is usurped by more pressing obligations. Sending my kids off to family, I drown my sorrows in pumpkin pie; yep ~ 2 of them. I ate 2 pumpkin pies in 5 days.
Alone in the kitchen with the airplane droning sound of the range hood, the intermittent cycling of the refrigeration motors, the periodic ice falling in the ice machine and with Edgar Allan Poe heart trobbing and mental anguish as I watch the clock consume Thursday, I hear my Blackberry ping ~ I've got mail.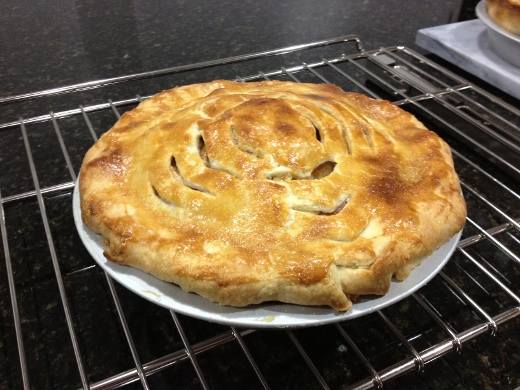 Gordon, the talented videographer and editor responsible for my great YouTube and ifood.tv videos, has sent a photo. The subject line reads, "Guess what I made?" I'm getting used to people sending me photos of their edible creations. I wasn't prepared to see that Gordon had made apple pie. Going to friends, and inspired by filming and editing, he decides that he can make an apple pie.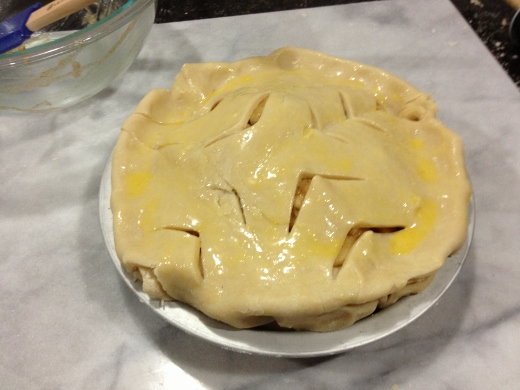 He actually makes two apple pies and two trips to the store for apples. Apparently, my instructions should be clarified ~ the egg in the recipe is to brush ON the pie, not to mix with the filling. I have to admit that I'm amazed and flattered that he would feel confident to make the leap from boxed cake mixes to homemade apple pie. I write back that I'm worried, that the next thing I know there will be a website called "GordonCooksKosher.com". He replies no, it'll be called "GOYofKosher.com".
Given that most kosher food is bought intentionally by non-Jews, he may be on to something!