Freeze!
Posted: April 4, 2012 By: Leah Jaffee

We've been in Passover cooking mode for 6 days and we are almost done with what can be done ahead. Meals for about 1,800 and only 3 of us cooking; not bad. The magic word is freeze....everything. Gefilte fish, chicken soup, matzoh balls, brisket, chicken complete with marinade, salmon already boned and portioned, kugels and dessert. We couldn't do 300 - 350 people a day for lunches without the ability to prep ahead.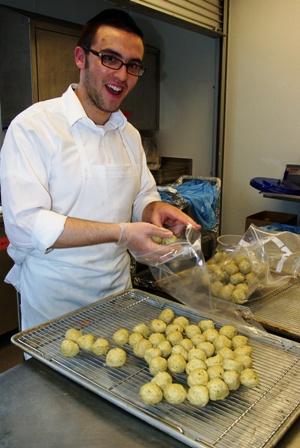 Hillel Meyer packaging matzoh balls for the freezer.
Not ever being sure that Seattle will get chicken and meat as scheduled, I begin Passover prep with my meat and chicken. I get it in fresh, prep on sheet pans and then toss with the marinade. Double-wrapped, it gets labelled and stored in the freezer. This leaves us able to focus on the last minute salads and vegetables that must be made fresh....and, maybe some time before the Seder to take a shower!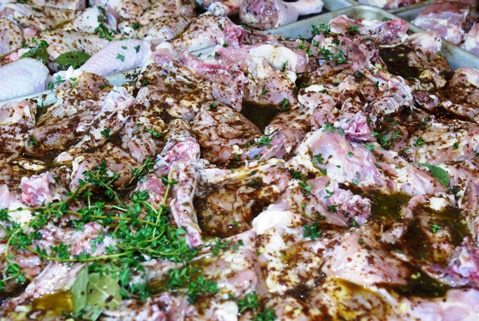 Balsamic Chicken - ready for the freezer
Chicken Marbella Passover Style