Chabad of Bellevue and Issaquah Lag Ba'Omer
Posted: May 25, 2011 By: Leah Jaffee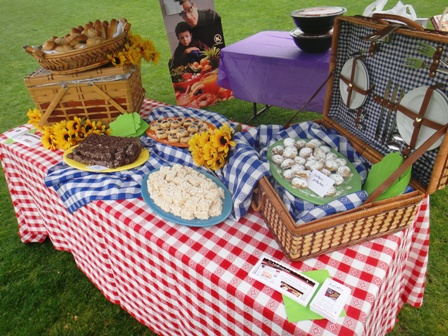 The Chabad of Bellevue and Issaquah hosts a huge turnout for Lag Ba'Omer last Sunday. Not having an event booked, I agree to set up a table offering complimentary treats. In exchange, I schmooze it up with folks I haven't seen in a while and talk up the website. I also get to stand in the great out of doors and take a whiff of nay-cha. We're situated in a well manicured park so I don't wear my off-road shoes. We don't hit the first 70' day of the year. We're spared the rain, I leave my down coat in the van.
Setting up my table, I hear a rumble of motorcycles. A procession of kids and adults has walked about a mile from the Eastside Torah Center to the park. Apparently, this motley crew of young and old, of Jews from all over the world, has been led by members of "The Tribe". The Tribe is the only all Jewish biker club. I'm thinking the fresh air is getting to my brain.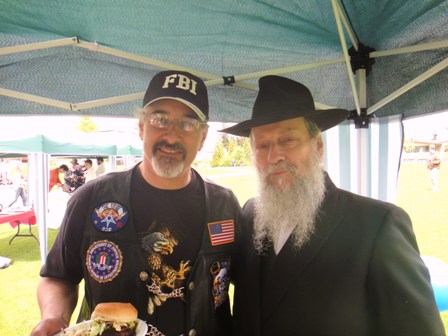 A member of The Tribe with Rabbi Sholom ber Levitin
But, there you have it. Jews do wear black leather beyond tefillin straps! Pictured above is my rabbi, Rabbi Sholom ber Levitin. He's the Regional Director of Chabad of the Northwest including Alaska. That is a lot of territory to cover and he's not doing it on a motorcycle.
When I think I'm tired, I think of how tirelessly I've watched R. Levitin serve the greater community and his shul these past 20 years. And, he's been serving much longer than that. I can at least take a break on Shabbos. No rest for the Rav. I admire how hard all the Chabad rabbis work, going to bizarre outposts to create vital Jewish communities. It is truly amazing given there are other ways to spend a lifetime.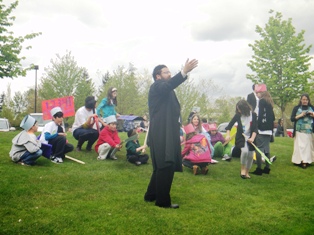 Rabbi Farkash giving an impressive d'var Torah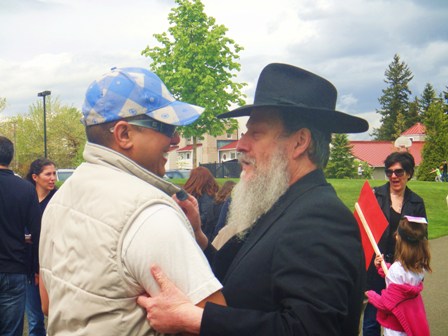 Looking like one of those "Have you put on tefillin today" holds.
Today, flipping on the news, I'm shocked. Some place called Joplin has been ripped apart by a tornedo. I realize that I didn't turn on the news Sunday after the Lag Ba'Omer festivities. Yesterday, I just focus on paperwork and shopping and don't watch the news. I feel like I'm in a time warp; I always watch the news. So much devastation and I'm oblivious.
My thoughts wander to Cynthia in Oklahoma, her friends and family, and others in that area who have contacted me. The red dots on my homepage ClustRmap seem smack in the path of all these tornedos. My thoughts and prayers are with the communities being ravaged. The devastation is beyond my capability to process.
Tonight I happen to end up on a Chabad website that originates near Joplin. The local Chabad rabbi has loaded his car and is driving to the disaster area. He's looking for the handful of Jews he knows to be from that area...and, willing to help anyone in need. I'm continually amazed.
---