Cleaning for Passover Olympics
Posted: April 3, 2011 By: Leah Jaffee

Like all extreme sports, Passover Cleaning requires years of practice to get the maximum result with the least amount of energy spent. This is our 7th year catering the Passover Seder and community lunches at Hillel UW. The Karen Meyers Gamoran Center for Jewish Life gets a workout this time of year. Every corner of the building is used; for cooking, eating, working and storage.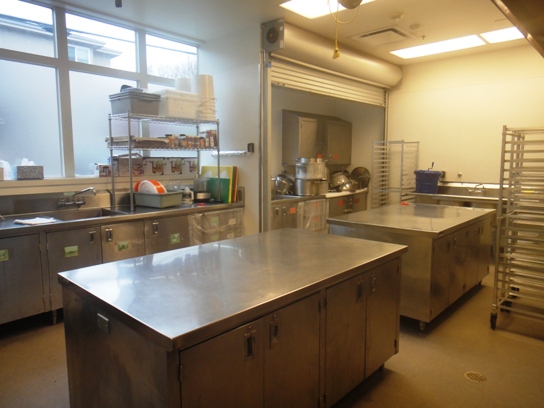 For those who don't know about this spring ritual, I recommend you Google "Passover Cleaning" and see what comes up. Me, I'm too beat to explain it tonight. The gist of it is, before we can prepare food that is 'chometz-free', that is without any leavening, we must ensure that the kitchen and equipment are free from such products and by-products. The 'forbidden foods of Passover' is worth another Google search. THAT, I cannot explain as it can vary from community to community and many books are devoted to the subject.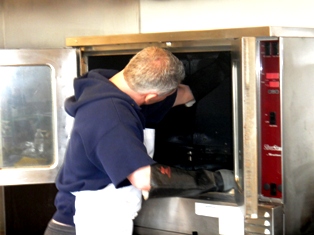 Tony cleaning the ovens and racks before they are blasted with heat.
This is a blog; the venue where I try to put into words the scramble of thoughts bouncing around in my head. One cannot ask too many 'why' questions about Passover cleaning as defining words are elusive. I take cleaning to the edge of insanity and then back down. I have to reserve energy to cook which requires resisting the ever pressing and even more passionate 'why' questions...asked by my crew, not me. I know better than to ask. I become a slave to ritual and leave it at that; maybe it's Stockholm syndrome. I know that sometime down the road, say around day 18 or 19 of production, 'why' will become 'why me!!' But, by the end, just like any other athlete, the high of having cleaned, cooked and served under incredibly strict rules and regulations will leave me feeling empowered. Exhausted, but empowered.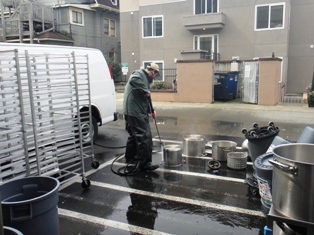 Rabbi Aryeh pressure washing before boiling (kashering)
We've known this day is coming since last year. Putting things away last year, Rabbi Aryeh typed an inventory of things on hand. I've done Passover cooking commercially for 12 years and have a comprehensive collection of equipment especially for Passover. We have very little equipment to kasher. The focus is on the main counters, sinks, ovens and refrigerators. I have hundreds of sheet pans, cutting boards, utensils, etc. all packaged away in the storage area. Once the kitchen is cleaned and kashered, we only have to bring up the cartloads of equipment and put them in their customary places.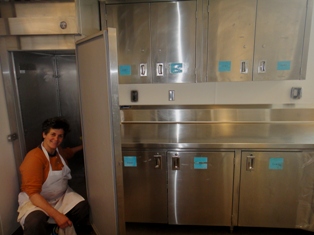 I like it when people are smiling like Phyllis. I'm hopeful!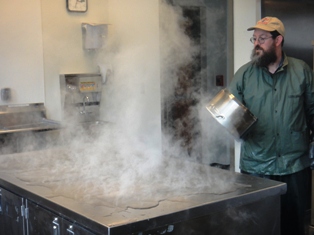 Water, water everywhere....and then we mop!
It's been a long day and I'm going to bed. Tomorrow, the ingredients start to arrive and I'll confirm the production schedule. My goal is to get many more Passover recipes up on the website before the end of the week. Cross your fingers and stay tuned!