Chami Gross ~ My Foodie Rebbe
Posted: November 29, 2010 By: Leah Jaffee

Years ago I auctioned off a "Hawaiian Dinner" for a half dozen couples. My friend Chami, the original foodie in the community, made her gorgeous ice bowl.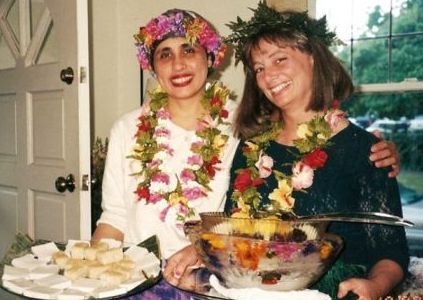 The entire outer bowl in the photo is ice embedded with tropical flowers. She's serving her homemade mango sorbet with exotic fruits in the inner bowl. I'm holding Japanese sweet rice and Hawaiian coconut pudding, haupia, favorites since living on Oahu as a kid. The evening saunters as we sit around plastic palm trees and a gaudy tropical print tablecloth. The kosher luau boasts ribeye teriyaki steak on the grill, coconut chicken skewers, Portuguese sweet bread, Asian noodle salad...and, when it eventually ends, a gigantic pineapple upsidedown cake. In July, living in Seattle, we still dream of sunshine!
One year during Sukkot, Chami and her husband Andy (last name Gross ~ says it was shortened from 'Disgusting' at Ellis Island) have my family over for lunch. Any meal is an excuse for experimentation and this meal's dessert is some sort of cake infused with copious amounts of rose water. The texture reminds me of a solid air freshner and I can't swallow it. All eyes focus on me for my culinary verdict. Desperately feigning graciousness, I thank G-d we are outside. Running out of the sukkah to the bushes I burst into laughter, hilarious refrains trailing me. Even now, as I cruise the household product aisle in the supermaket, I always think of Chami and her rose water.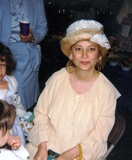 In retrospect, I have Chami to thank (or, sometimes blame!) for the path I walk with kosher food. Fusion cooking for Chami is blending unique tastes with HaShem's holiness. She expresses her talents and world view through her Shabbat table. While I haven't seen Chami since her move to Florida, I know she graces her community with many wonderful feasts.

May your plans for making aliyah be speedily realized!
I love you!