Challah Braiding: The HD Epic in Surround Sound
Posted: January 25, 2010 By: Leah Jaffee

I'm not a movie star. I don't want to be a movie star. I want to show people how to do a selection of braids for challah. That's all I want.....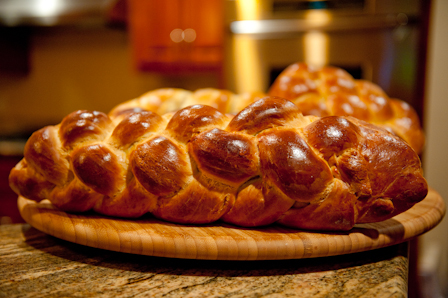 Photo by Dawn Lucrisia
The salad dressing video has issues...."look mom, no hands!" I'm not sure about the challah videoS. The quality is much better as it was shot with a camera that cost the same amount as my car. We spent 4 hours shooting, and I didn't realize I was supposed to write a script! Not with cute quips and homilies, but to give the camera guy the heads up as to what was going on. Okay, next time we'll have a script, I promise.
I made a huge batch of dough and baked half of it in various shapes the day before we shot. Bringing the rest of the dough to use for the braiding demonstration, I still had to show how to make the dough. So, I made even more. When it was all said and done, everyone at my sister's job had a challah to take home! The kitchen was covered with rolls, single strand crowns, double strand coils, all the way up to the 12 braid. Pretty insane but I'd seen more - Rosh Hashana through Simchat Torah we made 3 tons one year. Ask me if I miss those days!
Watching some of the editing process the other day, I felt like I was riding shotgun in the cockpit of the star ship Enterprise. Huge Mac with all the latest software under the control of mad creative energy (do I hear a sinister haaa-haaa-haaa in the background?). I appreciate artistic types who take the reins and pursue their vision. But, wow.....seriously, or maybe not seriously because I like a good laugh; do we really need "instant replay" streaming across the lower portion of the screen to review that nifty knot roll? Or, to break up my unintentional 'Lucile Ball and the chocolate factory scene' imitation, is slow motion necessary? I don't know - what about that blinking "do not attempt this at home"...is that a good idea on a cooking demo?
I ask my nephew, Cha Cha Malone, to write a little jingle to muffle my winded breathing as I knead the dough. But, the project may require a score, something big and monumental with clashing cymbals. Oy, with the Republicans threatening to defund public tv, maybe I can pitch "Challah Braiding; The Epic" as a mini-series.
(Just kidding Gordon, is it done yet?)