Casual Italian Supper
Posted: December 1, 2010 By: Leah Jaffee

The first night of Chanukah is tonight but I shift my thoughts forward to December 12th. Setting aside work for the mini pre-launch of LeahCooksKosher.com, I focus my attention on the party at hand. A very good client is hosting a casual wedding shower with both men and women in attendance.
This photo is taken at this particular client's home at a previous event years ago. I'm only now taking a camera around with me on a regular basis so photos of our events is pretty sporadic. This kitchen is lovely with window exposure to Lake Washington. Large enough to spread out, working here is a dream.
As with all parties, before even planning the menu I am considering the overall logistics. What can we make for a crowd that travels well from the kitchen? What are the resources available at the client's end for use in the final preparations? Confirming this is a casual buffet, I start to build my menu based on my conversations with the client.
I do inquire as to the budget. It is important to utilize a client's resources well. I simultaneously balance the budget with the buffet, maximizing the offering by selecting menu items with varying costs. Serving the kosher community requires continually increasing my menu selections to avoid repetition, especially at private parties with loyal clients. My parameter shifts with every consideration.
Luckily, the dinner is dairy so I can ignore another set of rules associated with catering meat events. The family is Sephardic, has a built in bar so they will provide the drinks, owns enough dishes for the guests and the wife is a creative table designer who will handle the linens…and, they want an Italian 'supper'. I'm all over it!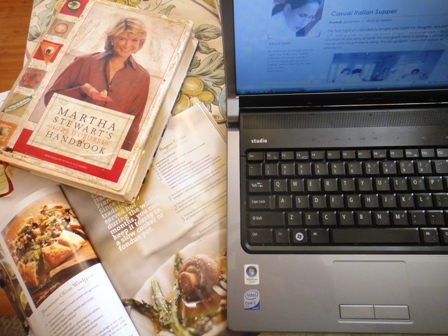 I frustrate people with my slow paperwork. I like to let the concept of their event, no matter the size, sink in and mature. What I see in the course of the day begins to inspire my thoughts. This time, while waiting in the checkout at the supermarket, I see this month's issue of Better Homes and Gardens Special Publications, Ultimate Italian. Tossing it into the cart, intuitively I know my party menu lies in its pages.
We've predetermined that the entrée is manicotti. I'll stuff it with spinach, leeks and ricotta. Now, to build the rest of the menu.
For appetizers, I see Herbed Roasted Olives. We do marinated olives but I haven't roasted them before. This sounds interesting.
The magazine suggests a Asiago-Artichoke Dip which sadly necessitates that I use Parmesan cheese instead of Asiago, artichoke bottoms instead of hearts, and nix the prosciutto. (These things are not kosher as per the Va'ad rules I operate under.)This edited version starts to look similar to my Artichoke Bottom and Parmesan Dip except I'll add wilted arugula and sliced green onions as suggested. I'll add freshly roasted red peppers instead of jarred, too. These additions will change things up a bit. We'll make our own Crostini.
Skimming the pages, I see the elegant biscotti….what about Martha Stewart's savory biscotti from her book Martha Stewart's Hors D'oeuvre's Handbook, love those with the nutty browned butter, toasted pine nuts and capers.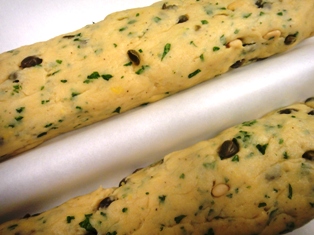 Staying on budget, I want one other appetizer, something without carbs. Kale-Goat Cheese Frittata wedges; score! Frittatas are favorites with Sephardic Jews and this one is gorgeous with the sun-dried tomatoes and chevre. I don't have to substitute anything….how perfect is that!
For the bread, Rosemary-Olive Focaccia jumps off the page. I'll use Baking with Julia for the dough but I'll use the Kalamata olives, fresh rosemary, garlic and lemon zest on some mini rounds; shallot and figs as per the magazine on others. Yum!
Rounding out the manicotti entree….forget manicotti; I see this beautiful leek and fennel rustic tart called Parmesan-Olive Wedges. I want to pair that with Angel Hair with Pine Nut Pesto, Homemade Mozzarella Cheese Caprese Salad, and a crisp Caesar Salad with Homemade Croutons.
The client loves to bake so we'll skip the Gluten Free Italian Pear Cake. Too bad! Okay, off to type up and cost out the menu…and, send it off to the client. Wish me luck. We'll fill in the photos as we make the food!