Benoit Daures ~ The French Guy
Posted: November 30, 2010 By: Leah Jaffee

What can I say about Benoit and Leah's Bakery and Catering? Could it even exist without all the long hours and bickering we put into the endeavor? I owe Benoit much for all his coaching and prodding and knife sharpening and running around. His dedication and fabulous customer service made him the face of Leah's Catering. Most people still say to me, "Oh, you're Leah".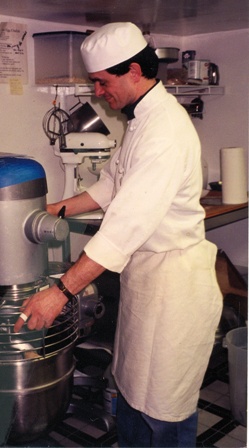 It's like this; Benoit is the trained French chef and I'm the clothing designer with a 9th grade cooking class under my belt. Benoit continues to be my crash course in everything I should have known already and some things I should have already forgotten. The specifics of execution and techniques are up to me to figure out....certificates of accomplishment from the School of Hardknocks pepper my wall. "Who knew?" and "Ask me how I know that!" are standard phrases I utter in my kitchen. Benoit is the cultural sieve in my professional life keeping me abreast of what others in the culinary world are doing....and, often that just reminds me that I LOVE what I'm doing.
I don't know if ADD crossed with bi-polar conjures up any images for my readers, but that is what Benoit and I are like as a team. Not saying who is whom. My guess is that out of all of my co-workers, he's been fired or quit the most. This feat usually signifies the level of passion and commitment exerted to an event. It can get intense in the kitchen! He ignores my demands, I've learned to sneer back in French. The rest of the crew ignores us. Sometimes if feels like living in a sitcom or a reality show without the camera.
Benoit is a tireless and dedicated worker who transforms service into an art form. He is the requested server at our private dinner parties as he commits to meet the needs of guests. Living far from his native France, he's found family in many homes of the Jewish community.
Benoit is also a talented photographer who's less notable work includes "Leah crimping pie crust" featured below.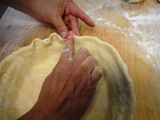 The photo below is is one of his more creative views of the catering world.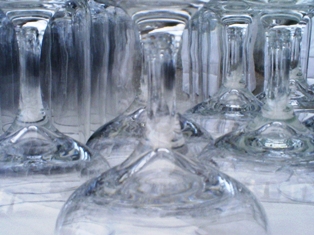 Thanks, Benoit for your unwavering support. I love you!