Babka Wedding 'Cake'
Posted: July 10, 2011 By: Leah Jaffee

Vanessa and Craig tell me in April that they are engaged. I'm thrilled. Many employees, seasonal college help, come through the bakery over the years. Vanessa arrives and helps me with office work. Smart, calm, soft-spoken and fluent in Spanish, she is the perfect balance to my harried and intense, loud Spanglish in the final moments of an event going out.
I admire Vanessa's service in the Peace Corp. She joins after graduating college and I lose my competent help. Over the years, I get postcards from Panama. She lives in a dirt hovel she built herself and spends her time helping the locals. Once her stint is up, she stays on to help with basic medical training in remote villages. Eventually, she heads to DC to go to grad school. I meet Craig when I visit on my way to the Inaugeration. I think he's perfect for her. My babka is a favorite of Vanessa's and I schlep some out to DC.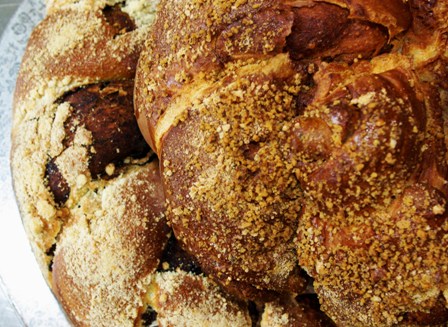 Meeting Vanessa last spring for coffee, I ask if she'd like me to make a wedding cake. She says that she and Craig are thinking babka! I start thinking Babka Wedding 'Cake'. This past Friday, I create my version of a double-decker babka and hope it will be appropriate....and, stay fresh sitting in the car over the weekend!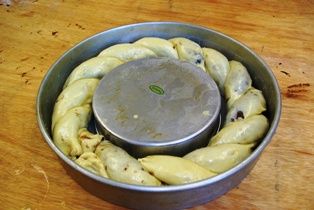 This is the base layer for the 'cake'. Making double braided strands of chocolate coils, I lay them into a 16" cake pan. To ensure the ring maintains it shape, I flip a 9" cake pan into the center. The babka ring goes into the oven immediately and it blooms to perfection.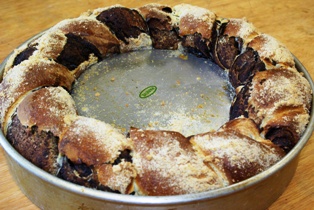 I can't remember if it is chocolate or cinnamon walnut that is Vanessa's favorite so I make both. The top layer is a braided 'crown' in a 9" pan, dusted with the crumb topping and walnuts. Again, it goes into the oven without rising and I watch it become big and puffy. 45 minutes later I decide it must be baked and hope for the best.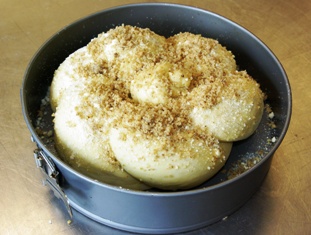 For the base of the cake, I use a 1/2" thick cake board that is covered in silver foil. In the center, I place a 5" thick styrofoam cake dummy, also wrapped in silver. The chocolate ring is placed on the base, the cinnamon walnut crown on the center. If it were really the wedding cake, I'd tuck flowers between the layers. I haven't spoken to Vanessa in months to really discuss what I'm doing. I leave the babka plain, let it speak for itself.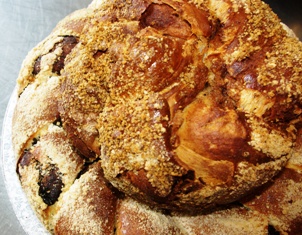 You can't tell from the picture but this is HUGE. It is at least the size of 7 loaves of babka....enough for the 50 guests at the reception. I'm a little reluctant to bring it to the garden reception because it is odd, beautiful but odd...if not outright weird. I arrive at Vanessa's parent's home in a small town outside of Tacoma. Seeing Vanessa, I tell her I have the babka in the car and ask her if she really wants it. "Of course!" We put it on the appetizer table and curiousity and a sharp knife get the best of it. I'm happy to report that most of the babka wedding cake is consumed by the time I head home.
Mazel tov, Vanessa and Craig!