The End of an Era
Posted: March 12, 2011 By: Leah Jaffee

Thursday night, after getting a dinner party out the door, I come home and drop onto the couch. MSNBC rotates through the nightly line up as I doze. I catch the breaking news interruption and can't believe my eyes. An earthquake has hit Japan. A helicopter is chasing a tsunami as it rolls towards the coast. This is real time, not the replays. Holding my breath, the tsunami overtakes the beach and with its miles wide energy rips over, through and around everything in sight. Vehicles moving along the roads are gobbled up by the rushing water. This isn't a Tom Cruise end of the world B flick; this is real. This is horrifying.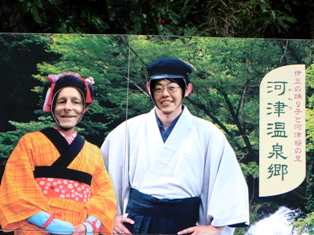 Daniel in kimono, Asami (in cardboard stand with face cut-outs)
Wide awake, I stagger to my laptop to email my friend Daniel in Tokyo. He left for Japan the day I returned from Bali so we missed chatting long distance between NYC and Seattle. I've known Daniel for 21 years. Straddling life between Duvall and NYC, he eventually moved more permanently to NYC. Occupying a rent controlled studio apartment on the Lower East Side for 30 years, he just recently succumbed to the gentrification of that neighborhood and has left NYC.
Daniel is a videographer and an artist. During summer in Duvall, artists created art in the wooded acres of his backyard. Giant zippers attached to tree trunks, scary monsters of twisted metal and spooky shrines to amuse pepper clearings of the winding pathways. Once my oldest daughter Rebekah went out to the show with friends and ran into someone who worked with me. Asked how she knew about the installations, Rebekah replied, "Daniel is a good friend of my mom's. She met him when she used to be cool."
Daniel built the house in Duvall from reclaimed lumber and windows. Sitting at Alki Beach last December, we saw Magnolia Bluff in the distance. He tells me how he and a friend spotted beams floating in the water near the Bluff. Going out in a boat, they tie them together, towing them to a beach for pickup. They become the roof support beams in his very unique home. Daniel has always been able to build and create things. Even my garden boxes years ago.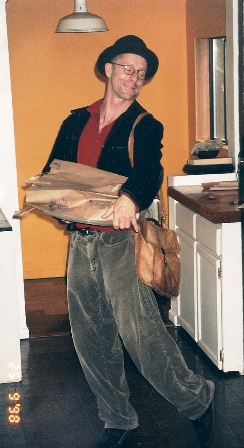 Daniel, Duvall 1998
The Duvall property has just been sold. It used to be a novelty to drive out east of Seattle, past Bellevue and onto a tree lined road towards the valley across to Duvall. Microsoft burbs have chiselled away at the adventure over the years. The trees have been cut to one stand depth interrupted by street curbs in anticipation of more sprawl. Pretty depressing.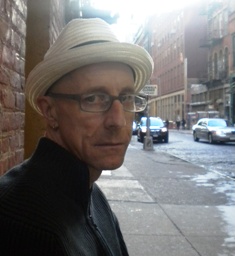 Daniel, SoHo 2009
With both the apartment in NYC vacated and the house in Duvall sold, it feels like the end of an era. Daniel has moved for the spring to Tokyo to help with his friend's art projects. He also designs fabulous "Water and Light Shows" projected onto sides of bare buildings and set to live music. He's done these shows in NY and other cities, countries...but, none as beautiful as the one last year in Tottori, Japan.
http://web.sanin.jp/p/daisenking/1/23/43
(scroll past all the Japanese type to the great photos, please!)

Http://www.otter-fe.com/ami/index.html
(Asami's gallery showings/artwork)
Daniel responds to my email on Friday morning. He and Asami are at an awards ceremony in Tokyo when the quake strikes. Everyone evacuates the building. He describes the scene outside as an exodus. With public transportation shut down, everyone is walking between all the halted cars. Asami, dressed in full traditional kimono and shoes, walks 3 miles with Daniel to find a clothing store. Changing clothes, they find some abandoned bikes and continue the ride home. 5 1/2 hours of walking and riding into the evening and cold night. I should add that Daniel has an illness where even the minimal amount of walking causes great pain. I'm sure in all those miles and hours he never complained. He's written of Asami's 'little Japanese shoes' making it difficult for her, but nothing of his own discomfort.
It is 3 am by the time they are home and able to have something to eat. They are only starting to see the news we have been watching for hours here.
I haven't spoken to Daniel. I know him well enough to not have to speak. I feel his pain. NYC for him is gone, Duvall is gone...and, in the most horrific disaster, Japan slips into the chaos of earthquake, tsunami and nuclear disaster. He has the money to leave but I don't think he'll leave Asami and her family. He may be far enough away from the catastrophy physically, but his heart has joined the collective of the Japanese.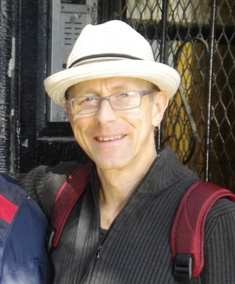 Daniel took this photo before the awards ceremony.
I love you, Daniel ~ be well. Be safe.