Ahead of Your Time
Posted: February 2, 2011 By: Leah Jaffee

I'm in Bali ~ sitting on the balcony level of my very nice hotel overlooking the main lobby entrance. Not only is this the only place to get free wi-fi, it is prime real estate to see who else is staying here. So, the ulitmate multi-tasker that I am gets to both sight see and work.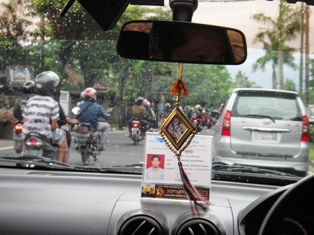 This is the view from the back seat of the taxi cab as I was going to the hotel yesterday. Steering wheels and traffic are on the opposite side of what we are used to in the US. The main street from the airport is only two lanes each direction yet it appears as a random mishmash of swerving vehicles and motorcycles.....lots of motorcycles! Putting on my seat belt, I say the Shema for the 100th time since leaving Seattle. The bikers are serene as they dart in and out within inches of vans and cars.
I didn't have a universal power adaptor for my laptop. Hopping onto the shuttle to "Hardy's" earlier today, I'm already a seasoned passenger. I'm not flinching, pushing my foot on an imaginary brake pedal or blurting out gasps. But, I do stare shamelessly at what I see; entry level motorbikes are essentially the family vehicle. I saw one with a family of four riding down the street. Another, more like a Vespa with a floor board, was driven by a man with a toddler standing between his knees. Only his arms held the child in place as he grasped the handle bars. And, he's going to enter the streaming traffic!
While purchasing the power adaptor, I remember that I need a watch. Driving 30 minutes to the hotel last night, I saw a Galleria Mall with a Planet Hollywood, etc. I knew that the requisite high end shops were in there but, yadda, yadda ~ who cares. I'm at "Hardy's", one notch up from a flee market and the watches were the next counter over. I never wear a watch at home but there isn't a clock in my hotel room. Between the time change, date change and daily obligations ahead, I need a cheap watch; waterproof! The young man takes a few seconds to size me up. He reaches into his inventory and pulls a matte black, slender, waterproof, CHEAP watch that couldn't have been more perfect. Sold!
On the main floor of Hardy's is a grocery section. I wander the aisles looking at products, many with familar brands. I am keeping kosher on this trip so I thought, great! Looking over the labels, I see that in keeping with the 95% Muslim population on this island, the certifications are all Halal. Luckily, I've brought a suitcase of food AND I'm on a restricted diet; no wheat, dairy, meat or eggs. Biggest Loser - Bali!
While waiting for the shuttle to pick me up, a woman leaves the store in a wheelchair. Her husband walks over to a bicycle, hops on, and rides away. The woman has her back to me and is wrestling with something in front of her. All of a sudden, a third wheel drops down and extends in front. Piloted by some energy source, she trails after her husband. Ex-pats of some variety, they ride off to deal with the traffic. Absolutely amazing...and, insane!
(I'm distracted....a entire busload of women, all dressed in beautiful saris, all Caucasian, are exiting the hotel. There is a yoga master here with a group of about 250 followers. I'll have to learn more.....)
Meanwhile, I'll see if I can explain what I'm doing here!