Sufganiyot are the coveted sweet for Chanukah. We never made them commercially at the bakery as I feared how many sufganiyot would be ordered....and, feared my staff's reaction if I asked them to make thousands. Another reason we didn't make them is that I'm a purest. I love these fresh out of the oil. I usually have my fill eating the duds; the blobs of dough dropped into the oil to test the temperature. As with many things I make, my pleasure is in watching others eat something I know they can't get anywhere else.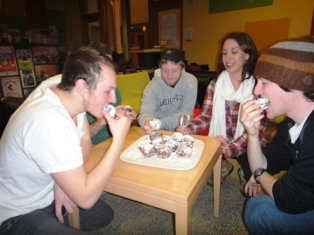 Program director and students at Cafe Levine, Hillel UW.
Many recipes are similar so I opted to use one from my 1963 copy of McCall's Cook Book
. It is the bible of cookbooks in my family. My mother, four sisters, BFF (Best Friends Forever), daughter and niece all have this book. Vintage early 1960's is the best. I have multiple copies; each successive find at Goodwill as thrilling as I imagine winning the lottery would be. Of course, sufganiyot are "Jelly Filled Donuts" or even "Bismarks" in the index. The World of Jewish Entertaining
by Gil Marks has a similar recipe with good tips. This is another must have cookbook I frequently reference.
In my recipe steps, I've inserted many pictures to demystify the process; don't be frightened! Ultimately, these are easy to make. Have the kids help knead and roll the dough, and cut them out. You do the frying. Offer an assortment of fillings; I've used a gourmet jam here. But, a chocolate hazelnut spread or whipped marshmallow filling sound great to me! That is a perfect Chanukah party.
Kosher Status:
Parve
Number of servings:
15
Main Ingredient(s):
Flour - Unbleached All Purpose
Preparation Time:
01:00
Cooking Time:
00:10
Skill Level:
3

(1 Easy - 5 Hard)

Estimated POINT value:


Ingredients:


1/2 cup soy milk (or milk for dairy version)

1/2 cup sugar

1 teaspoon salt

1/2 cup margarine (or butter for dairy version)

1/2 cup warm water

2 packages active dry yeast (4 teaspoons)

2 eggs

4 cups all-purpose flour

3/4 teaspoon nutmeg

Oil for frying (canola or grapeseed)

Strawberry - mango jam


Steps:


| | |
| --- | --- |
| | Heat milk in small saucepan until bubbles form around the edge of pan; remove from heat. Add sugar, salt, and butter; stir until butter is melted. Let cool to lukewarm or, 130' if using instant yeast. |
| | |
| --- | --- |
| | Combine 2 cups of flour, yeast, nutmeg in a large bowl. Add the milk mixture, eggs and the water. Beat until smooth, about 2 minutes. |
| | |
| --- | --- |
| | Add most of the remaining flour, mixing by hand to form a soft dough. Add flour as necessary so dough is not sticky. |
| | |
| --- | --- |
| | Put dough on work surface and knead until smooth, just a couple of minutes. |
| | |
| --- | --- |
| | Cover with a towel and let rise in warm place until double in bulk, about 1 hour. When you press 2 fingers into the dough and it keeps the indentation, the dough is ready. |
| | |
| --- | --- |
| | After dough has risen, punch down and knead for 2 minutes. Invert the bowl over the dough and let the dough rest for 10 minutes. |
| | |
| --- | --- |
| | Roll out the dough into 1/2" thickness. If the dough resists being rolled, cover and let rest for a minute or so. Continue to roll to an even thickness. |
| | |
| --- | --- |
| | Cut out donuts using a 2 1/2" round cutter. Reroll the trimmings, letting dough rest if necessary. Cut out additional donuts. Cover with towel and let rise for another hour until double in thickness. |
| | |
| --- | --- |
| | Slowly heat 2" - 3" of frying oil in a heavy skillet to 375 degrees. I use a flatbottomed wok on the gas range. Drop 3 - 4 donuts into the heated oil. They will sink, bubbles will form and the donut will rise to the top. Let it cook for about 1 1/2 minutes and then gently turn them over using a slotted spoon. Let cook about 1 1/2 minutes longer. The correct oil temperature is important. Too hot, the donut browns to quickly and will be raw in the middle. Too low, the donut will absorb too much oil and be heavy. |
| | |
| --- | --- |
| | Gently remove from oil and drain on papertowels. |
| | |
| --- | --- |
| | Fill pastry bag fitted with 1/4" round tip with jam of preference. I'm using Strawberry Mango. |
| | |
| --- | --- |
| | With a small paring knife, cut a slit about 1 1/4" long into the center of the donut. Insert the tip of pastry bag and squirt in about 1 teaspoon jam. |
| | |
| --- | --- |
| | Dust with granulated or powdered sugar. Enjoy! |


Recently viewed recipes:



Strawberry Mango Sufganiyot