WSJHS Cookbook Launch
Posted: December 6, 2011 By: Leah Jaffee

Last month, having the pleasure to cater the Washington State Historical Society's Cookbook launch party, I'm able to test out numerous recipes. The project, chaired by Cindy Masin, is a wonderful overview of favorite foods eaten by our local community members. With recipes as diverse as our ethnically eclectic melting pot, there is plenty to learn and appreciate within the 300+ pages. Stories, peppered throughout the book, seat readers at the table with generations of families enjoying their traditional dishes.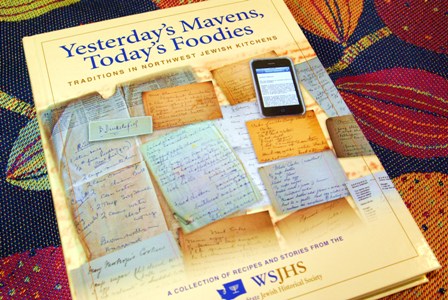 Yesterday's Mavens, Today's Foodies
A Collection of Recipes and Stories from the
Washington State Jewish Historical Society
The Society gives me free reign to design the menu for the launch party. Whoo-hoo! Next to cooking, this is my favorite task. At this point, the manuscript is at the printer so I am emailed a copy. Who knew that a file that big could come over the Internet? Speed reading the entire cookbook, I print a variety of recipes to fit my outline. I want to make foods related to both our Ashkenazic and Sephardic communites. Loving to bake, I want a sweet table, too.
Yeasted Coffee Cake, Biscotti
This is the menu I served:
Chickie's Kiggle (page 140)

Beet and Herring Salad (page 81)

Party-in-Your-Mouth Salad (page 94)

Faux Chopped Liver (Page 4)

Quinoa Tabouli (page 92)

Pumpkin Borekas (page 13)

Yaprakes (page 19)

Zucchini Quesado (page 74)

Yeasted Coffee Cake for the New Year (page 56)

Almond, Rasp., and Dark Chocolate Biscotti (226)

Prune Ribbon Cookies (page 251)

Eileen Mintz's Rugelach (page 232)

Sutlach (page 258)
Judging by leftovers, every item is successful. There is a general rule about avoiding serving items to guests that you've never made before. Well, this entire menu requires that I follow the recipe to the letter. I want to maintain the integrity of the original submission. All recipes are tested by the WSJHS committee. I can report that those I made for the event are easy to follow and yield an excellent product.
I also got to schmooze with community members, many whom participated in the creation of the book. Esther Maimom is able to chide me for using too much cinnamon sugar on top of the borekas! Marc Jacobson, pictured below on the left, taste tests his Chickie's Kiggle. It is also an opportunity to confess that I serve it all over town these days; it's one of my favorites! I'm particularly moved that Craig Sternberg recognizes Eileen Mintz's (z"l) chocolate chip coffee rugelach. The community lost Eileen, a vivacious foodie, far too soon.
I'll be posting a video shortly about the Yeasted Coffeecake. It is a beautiful pastry and rolled like I've never rolled anything. I learned a lot about our community and different foods working with this book.
If you are looking for a great gift for Chanukah, consider purchasing "Yesterday's Mavens, Today's Foodies" and support the Washington State Jewish Historical Society.