Vote!
Posted: October 31, 2012 By: Leah Jaffee

Post-yontif catering throws us into a tail-spin for a couple of weeks. 8 hours of sleep in 4 days catering a marathon is followed by a bar mitzvah party and UW reception. Cleo and I go to our respective couches and drop. Last Shabbos, I'm 18 hours under the blankets; TGIS! Coming out of Shabbos hibernation, I hear of a storm swirling off the east coast. Doing event planning for 3 days, I'm distracted by the devastation.
I've been catering through 2 wars, Katrina, Joplin and now this. While I'm safely calculating tablecloths and creating menus, my events large and small are specks on the global stage. I like to keep a perspective that is mindful of the times; minimize the urge toward more than necessary. Tasteful, elegant but not over-the-top. The majority of my customers fall into this mindset. Watching the destruction on TV, homes washing away and burning to the ground, it is challenging to at times to imagine a beautiful wedding and put the details to paper.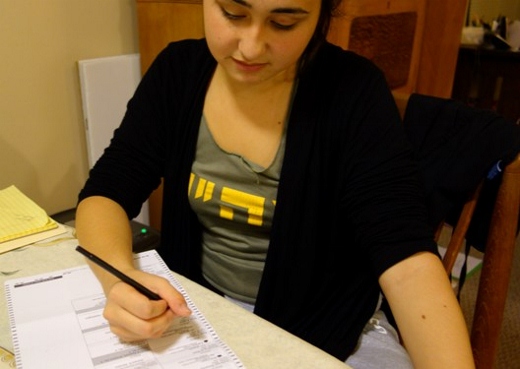 Weighing on my mind is the election. Everyone needs to vote and I wonder how the storm will affect those displaced, without power, having basic survival on their minds. Looking at my mail-in ballot, I call for Aviva. It's time to vote. It is her first time and I'm excited to work through the issues with her. She registered while at a local summer festival at the Seattle Center. I'm proud she took the initiative.
Our ballots are addressed to the same address but she has omitted the apartment number. Sitting across the table, she is apparently in a different Congressional District. Weird. How does that happen? She can't vote for our Congressman. Moving along, I give a quick overview of the issues to Aviva. Should pot be legalized? Should there be same sex marriage? Should we levy a tax to pay for a safety study of the tunnel being built along the waterfront where a ferris wheel is perched on a pier? I look at the storm destruction of the NYC subways on TV, I think of the fault Seattle sits on: I'm never going in that tunnel!
This has been an insanely busy year catering, thank G-d. I haven't written as often as I'd like and hope to do more in the future. Cleo and I look forward to knocking out great kosher food and sharing our experiments. I appreciate everyone who has stopped and read my blogs, watched videos and made recipes.
I'll be going to Kosherfest in a couple of weeks and expect to find new products to use and share. I also wonder how I'll find wonderful New York. Second to Seattle, I know NYC....hard to imagine what the city is going through at this time. My thoughts and prayers for all those whose lives are disrupted.
For all the rest of us: VOTE! Give money; give blood!